Peperomia is an easy-to-care-for plant that is currently available in over 1,000 varieties. All are part of the Piperaceae family, named for its similarity to pepper plants. Peperomia are succulent-like tropical plants native to Central America, South America, and the Caribbean.
Although each variety has its own quirks, all peperomia plants share the same basic care components: bright indirect light, well-draining soil, and infrequent watering. They are drought-tolerant, slow-growing and compact in size, making them ideal for small spaces.
Peperomia foliage comes in a huge variety of colors, thicknesses, shapes, and sizes.
Check out 25 of our favorite peperomia species and you'll agree: there's a peperomia suitable for everyone.
Peperomia Argyreia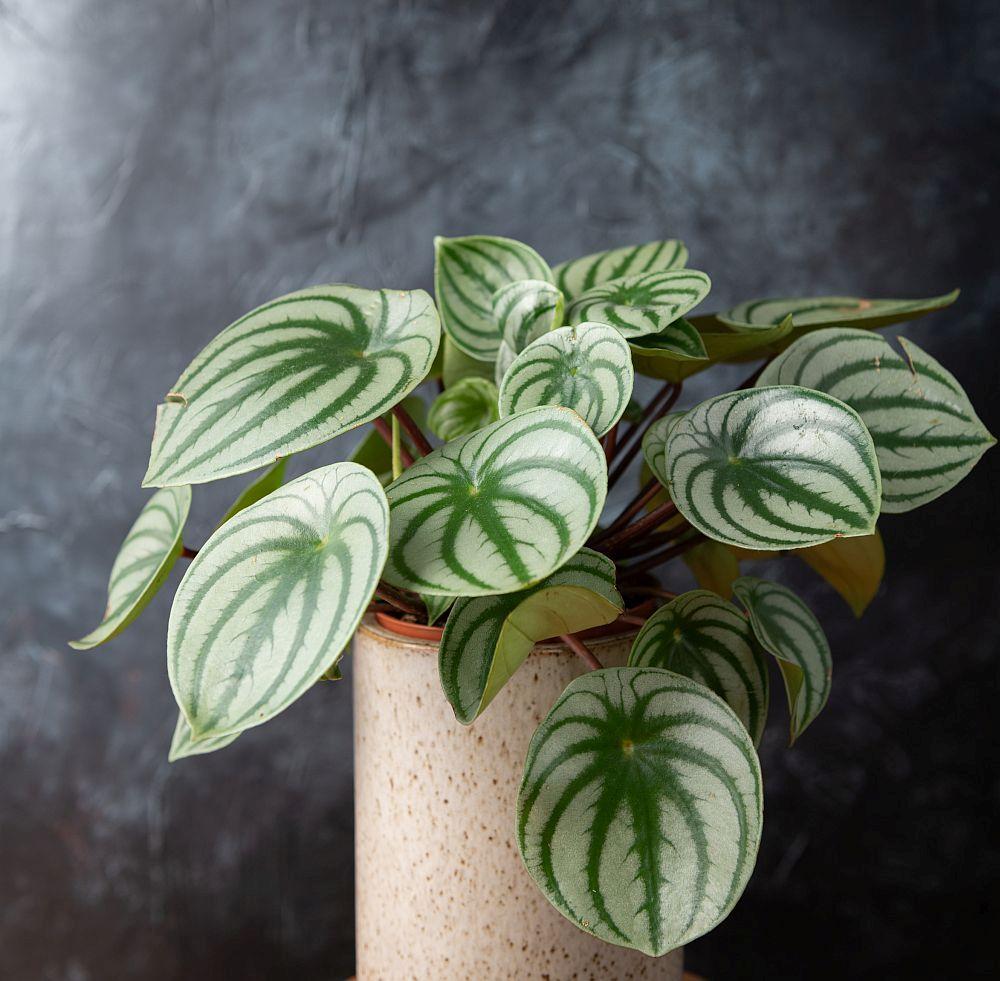 Peperomia Argyreia, or Sandersii, is most commonly known as Watermelon Peperomia for obvious reasons. Not only does its leaves mimic striped watermelon rinds, its stems are a bright watermelon red.
This most popular type of peperomia comes in several sub-varieties. Some varieties have very subtle striping patterns while other watermelon peperomia plants feature a dark green base and silvery white stripes.
Peperomia Clusiifolia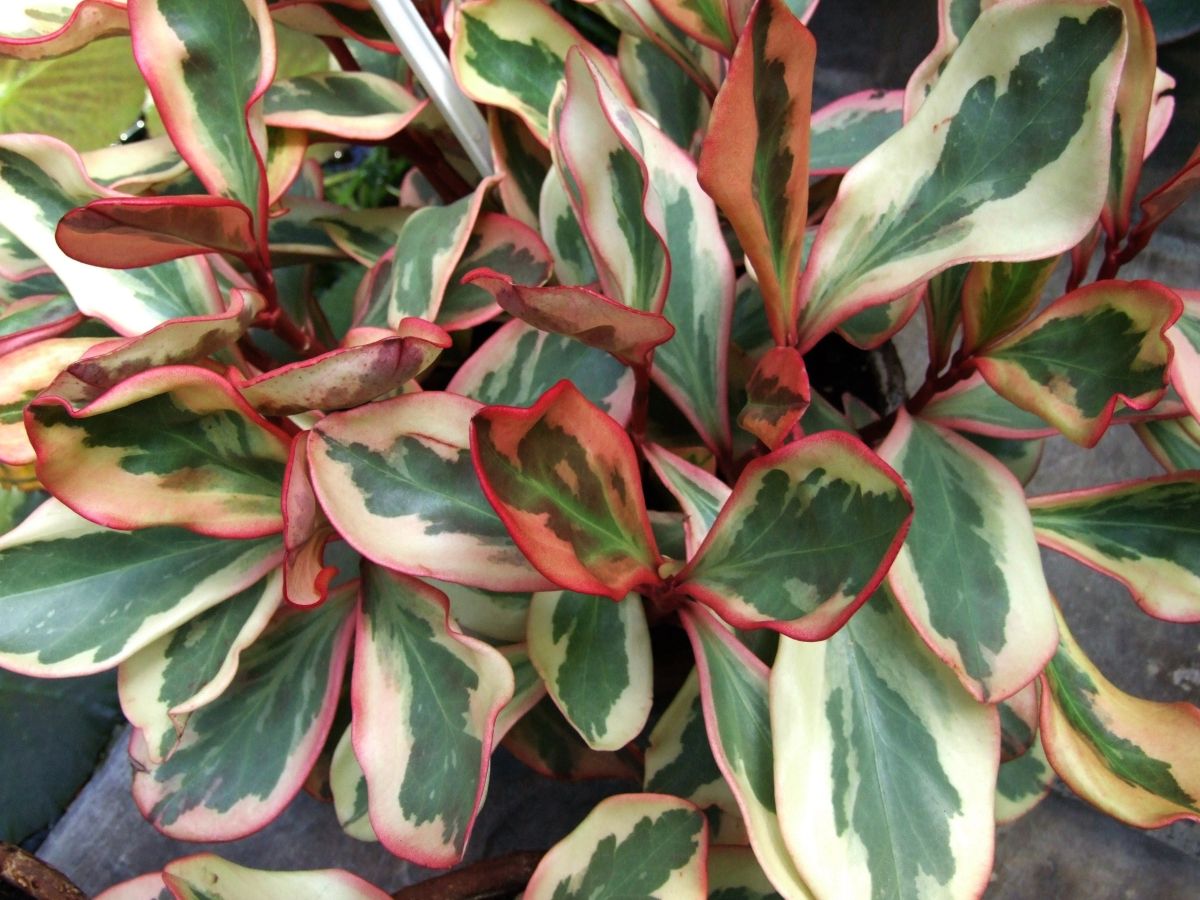 Peperomia Clusiifolia has much thinner leaves than many of its peperomia cousins, but they are long and gorgeously variegated in shades of white, yellow and green.
Its stems are red or pink, and the rosy hue thinly outlines each leaf. This red leaf outline is why its common name is Red Edge Peperomia, but it's also sometimes called Jelly Peperomia.
Even at full maturity, it will only be between 6 and 12 inches tall. Keep it in bright but filtered light to keep its colorful leaves at their most brilliant.
Peperomia Columella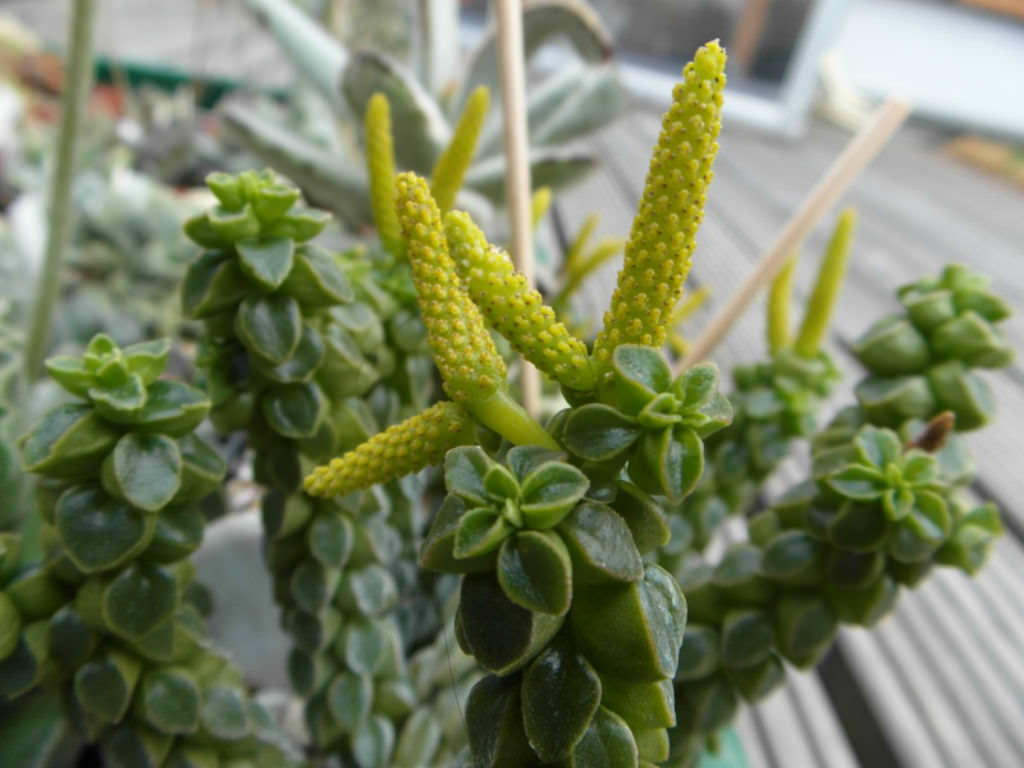 Peperomia Columella is a striking houseplant with a strong succulent appearance. It resembles a Dragon Scale plant, but on a miniature dimension, with triangular leaves that hide its petioles.
Thick stems grow in a columnar form, with leaf clusters growing equally around each stem.
It has a dark green color and unique shape that makes it stand out in any peperomia plant display. Peperomia Columella can be hard to find, so look for sustainable sources online.
Peperomia Elongata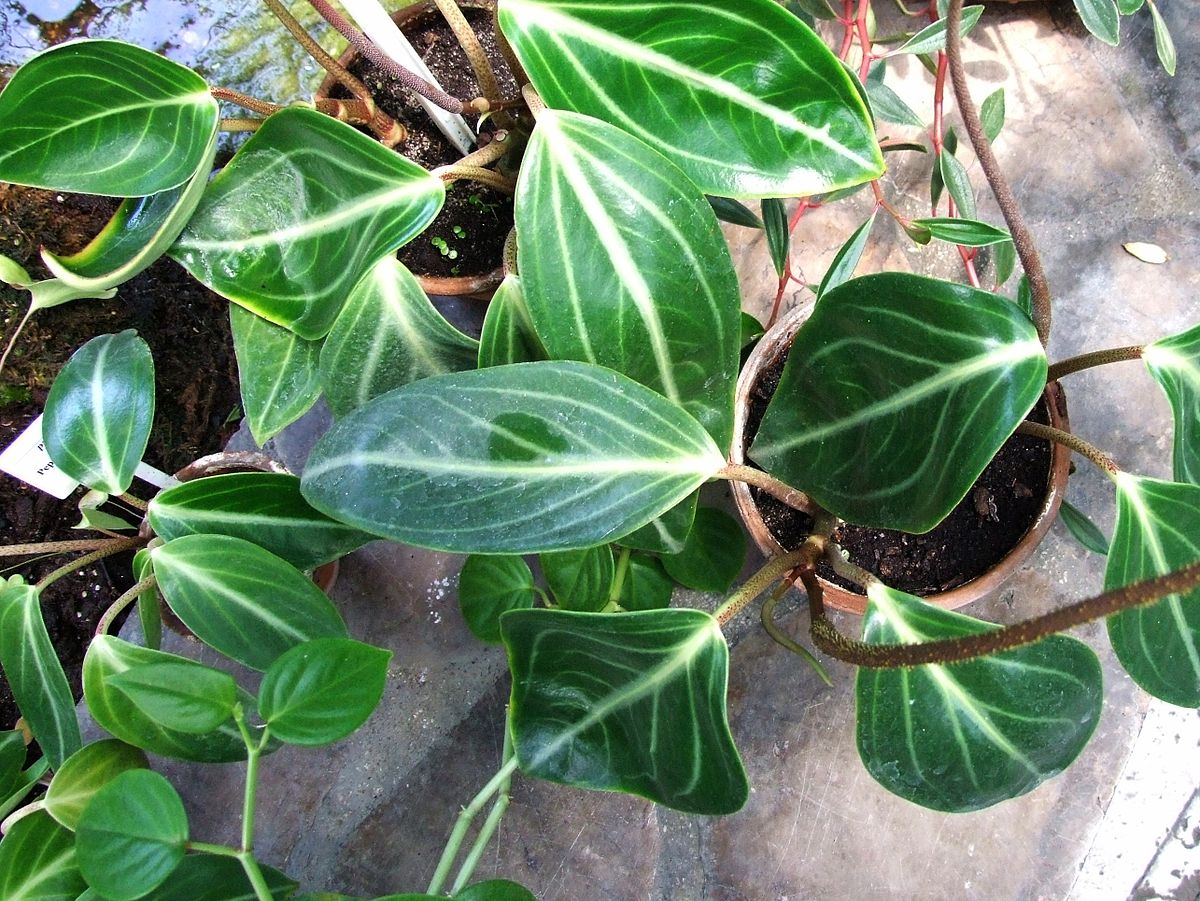 This unusual peperomia is endemic to South America and has long, slightly wavy foliage in a deep, jungle green. Each glossy leaf has a white rib down the middle and is fuzzy underneath. Although it resembles Green Princess Philodendron, it needs more arid soil and less frequent watering than philodendrons. It also needs plenty of indirect light and its deep coloration will fade in dimmer conditions.
Peperomia Ferreyrae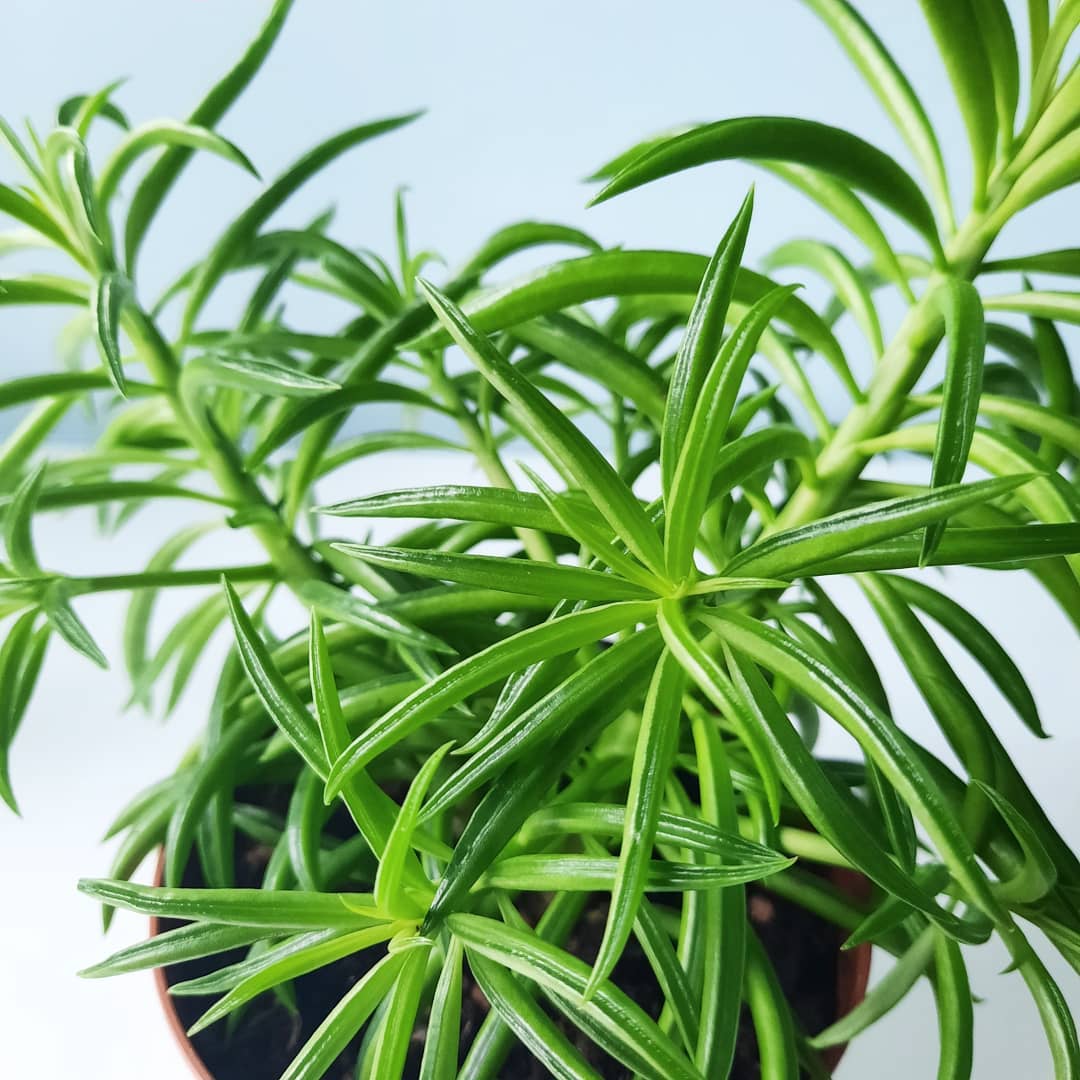 Peperomia Ferreyrae is the answer if someone asks, "What type of peperomia looks like green beans?"
Also called Happy Bean, it's one of the more succulent-looking plants in the peperomia family, with thick tapered leaves in a brilliant green hue.
Peperomia Ferreyrae remains compact in size, making it a great desk accessory. Unlike many other peperomia plants, Happy Bean doesn't go dormant in the wintertime. Therefore, you must provide it with adequate light and water year-round.
Peperomia Ginny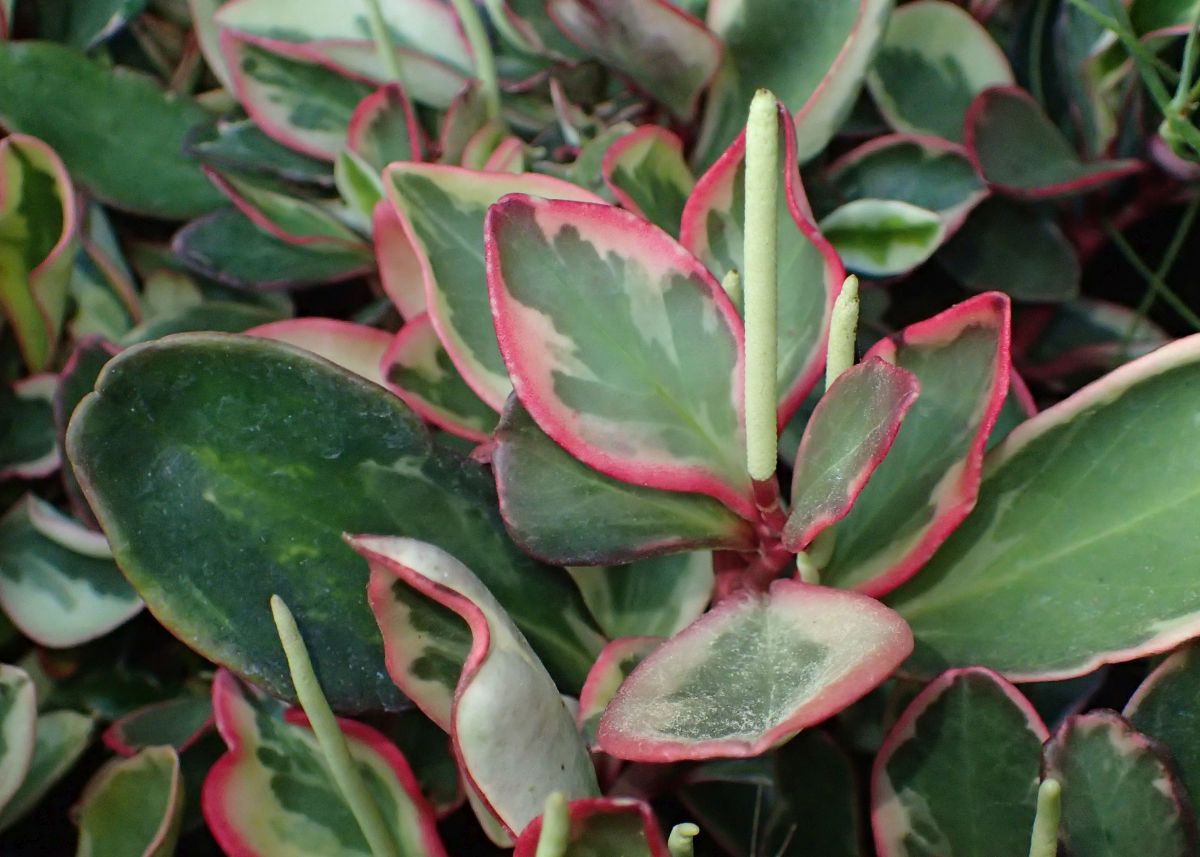 Peperomia Ginny is native to Venezuela and the West Indies. It's a colorful, petite houseplant with oblong leaves in gorgeous mottled patterns of green, white, yellow, red, and pink. Other names include Tricolor Peperomia Ginny, Pink Edge Ginny, and Rainbow Ginny.
It needs a bright, but filtered, light source to maintain its vibrant colors. Be careful of overwatering, as it has delicate roots prone to rotting if they're allowed to stand in water.
Peperomia Graveolens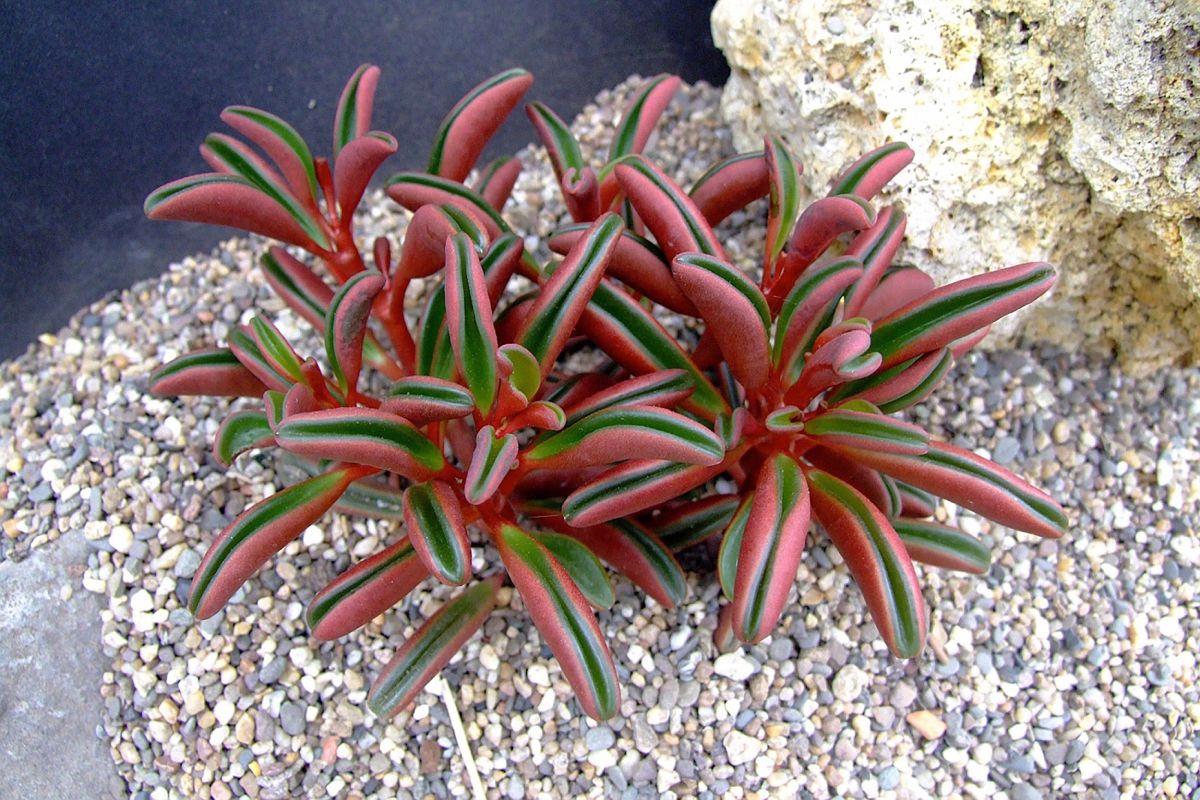 Peperomia Graveolens is a mini-shrub with a decidedly succulent appearance. Also called Ruby Glow, this variety has leaves shaped like a thick canoe that feature green tops and bright red edges.
Its maximum height is only 10 inches, and it loves receiving plenty of filtered light near a sunny window. Always allow the soil to dry out between waterings, as this species stores a lot of water in its thick leaves. Overwater Peperomia Graveolens and you'll soon lose your plant to root rot.
Peperomia Hope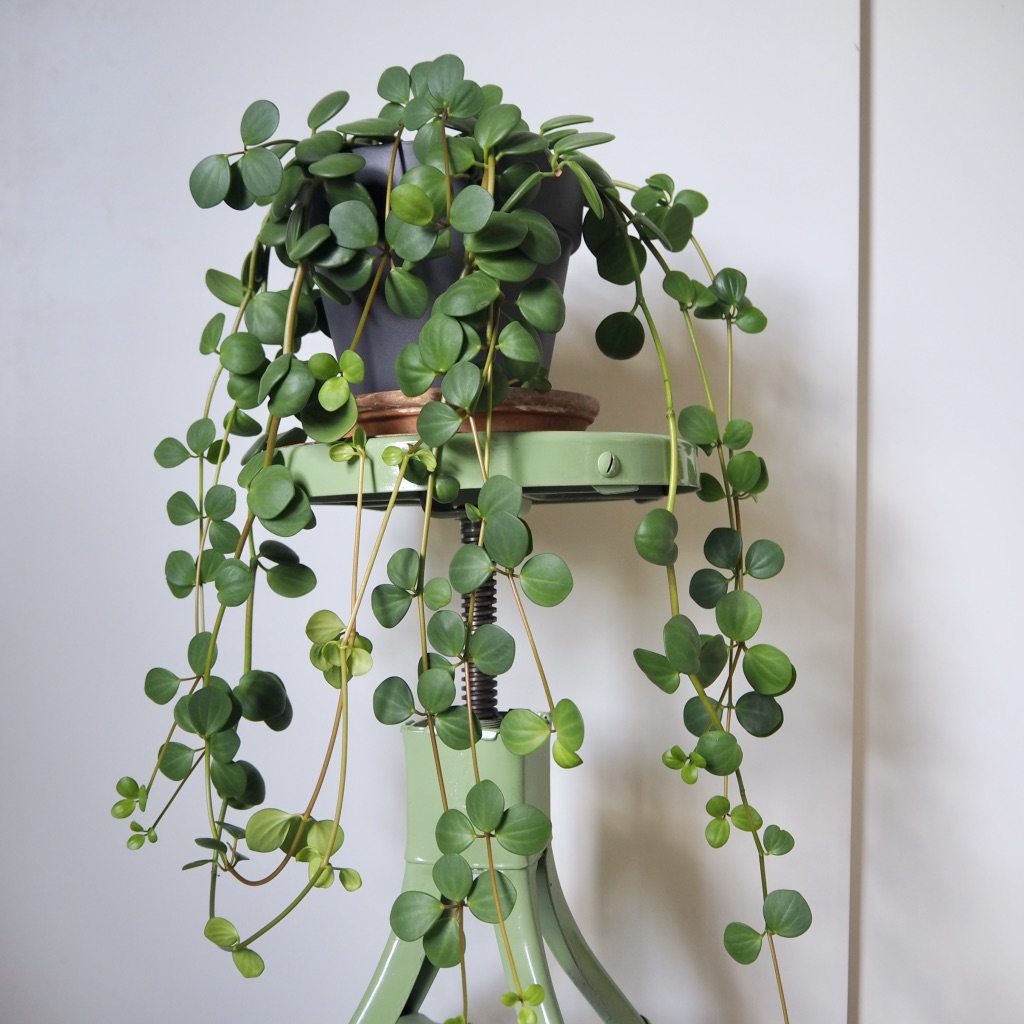 Hope peperomia is easy to find at most garden centers and features thick, round, green leaves atop pink or orange trailing stems. Native to Central American rainforests, Peperomia Hope enjoys warm temperatures and high humidity. If you notice its leaves fading, it could be due to receiving too much direct sunlight. Because it's a vining plant, it's a great addition to a small hanging basket.
Peperomia Hutchisonii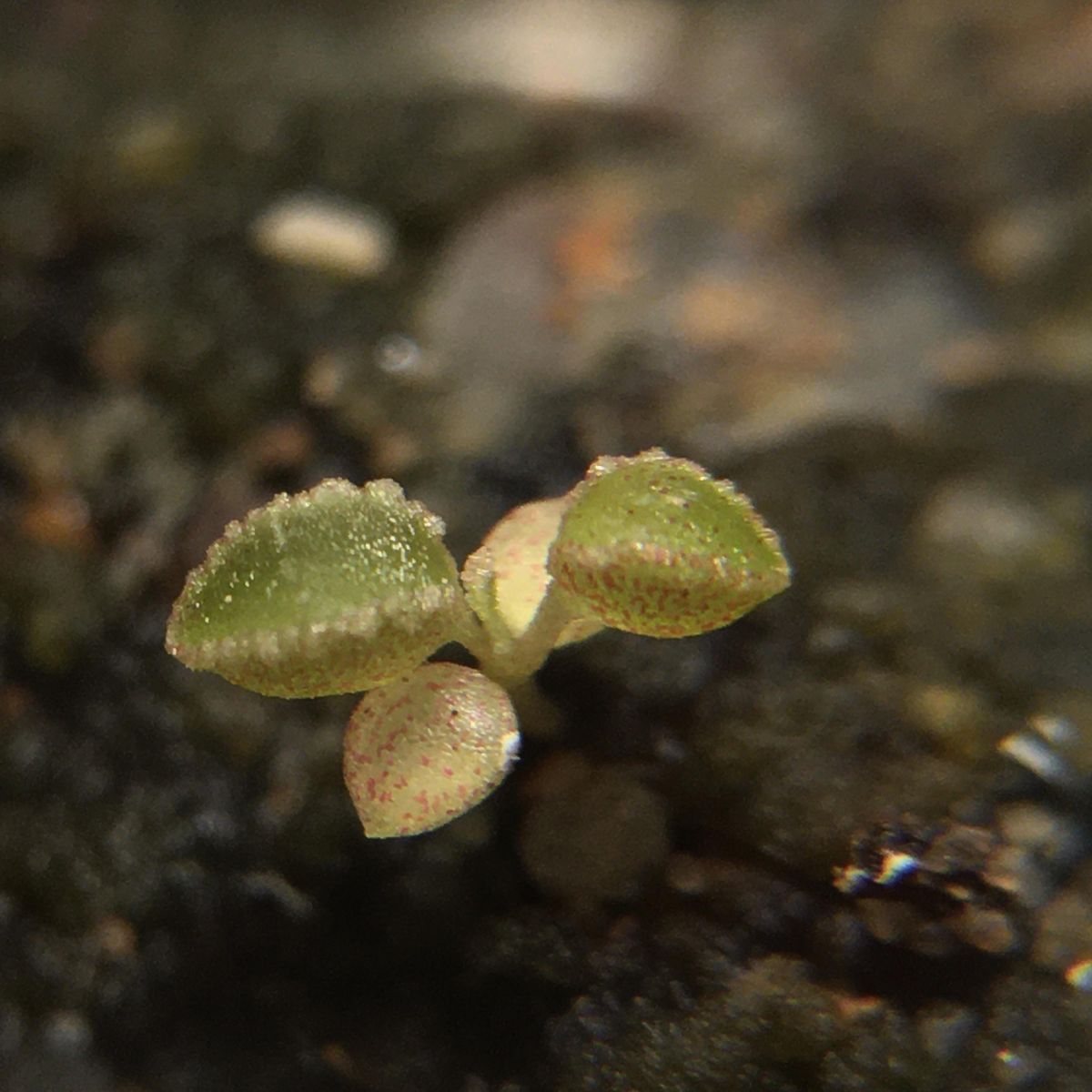 Also called the "Dinosaur of the Peperomia", Peperomia Hutchisonii is perhaps the most unusual species in the Piperaceae family.
Its thick, bumpy leaves resemble rocks or shells covered in toad skin and it's grey-green coloration adds to its decidedly prehistoric appearance.
Though it looks unusual, it needs the same type of care as other peperomia plants. This peperomia variety is still difficult to find, but you can usually find one (or its seeds) being sold by exotic plant retailers online.
Peperomia Incana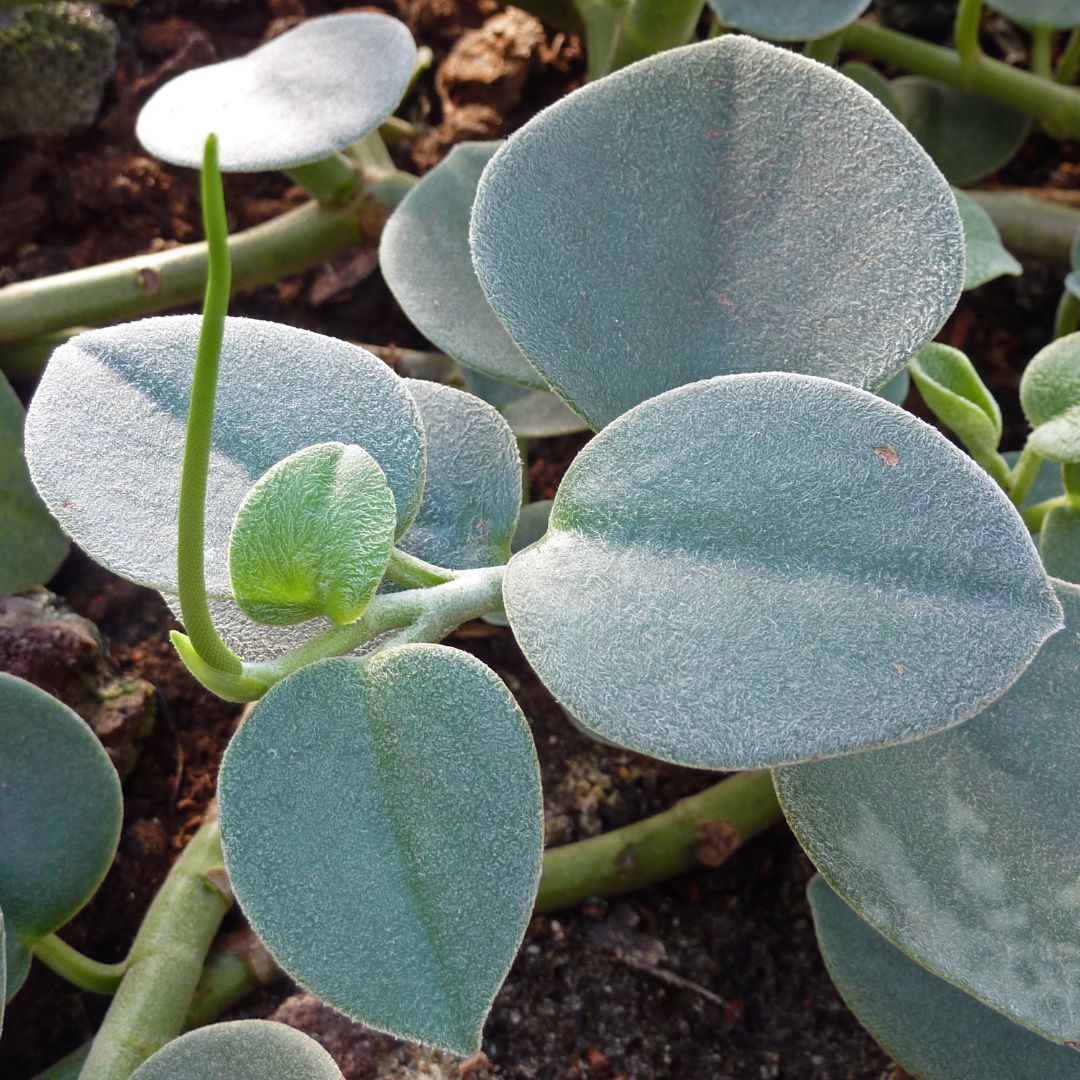 Soft, pale, and velvety, Peperomia Incana is a beautiful houseplant in a room filled with feminine decor. Its light sage green leaves are heart-shaped and set along thick, fuzzy stems.
It's commonly known as Felted Pepperface and its peachy fuzz almost looks white in certain light angles. Peperomia Incana likes filtered bright light, but its delicate leaves can burn if the sun is too intense. It can adapt to lower light conditions.
Peperomia Kimnachii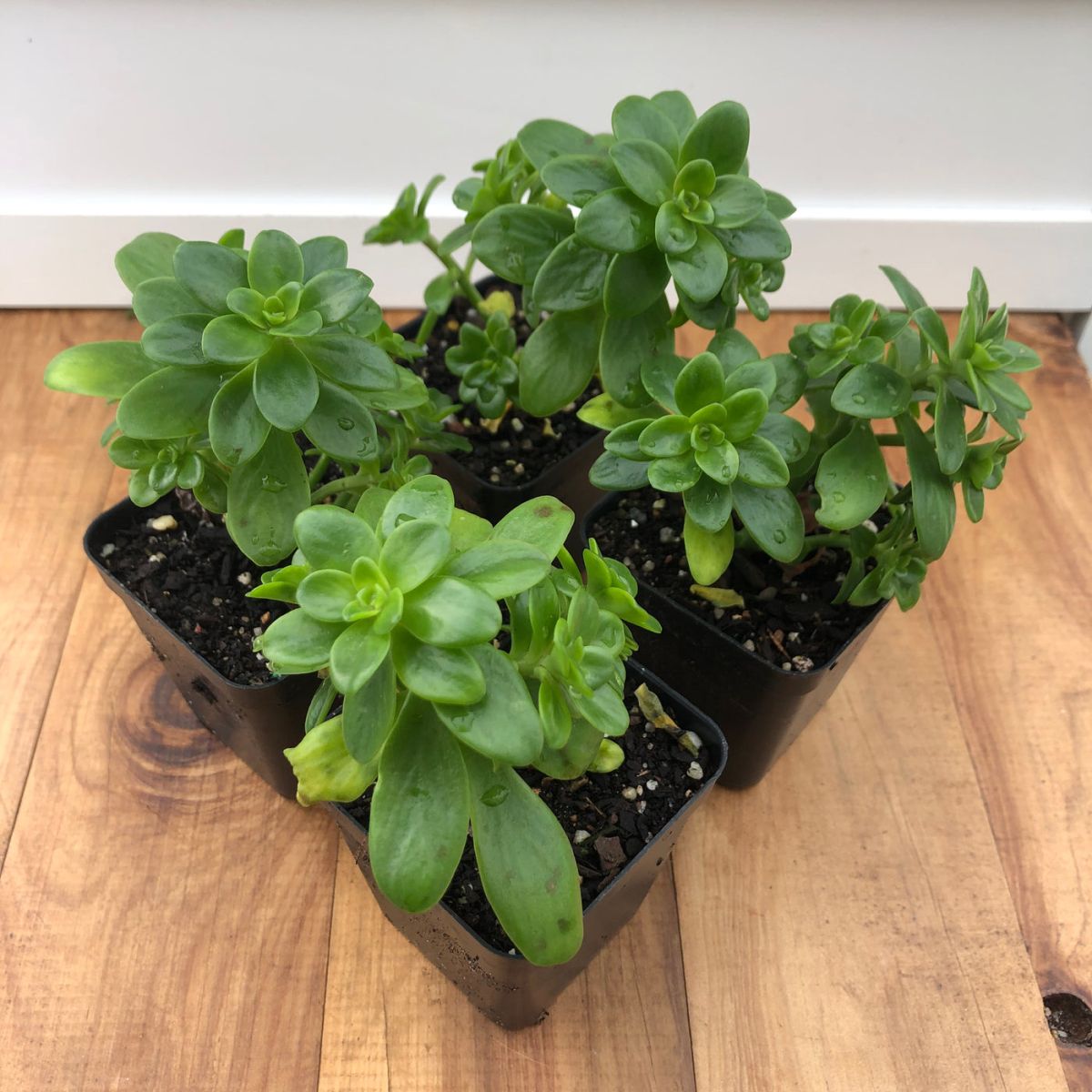 Peperomia Kimnachii is one of the taller peperomia varieties, sometimes growing up to three feet tall. It has a fascinating twiggy appearance, with thick, succulent-like leaves that grow in vertical green clusters.
Native to Bolivia, you can control its height with light exposure.
In low light conditions, its stems grow longer to reach toward the light. If you prefer a more compact shape, provide a strong filtered light source.
Peperomia Metallica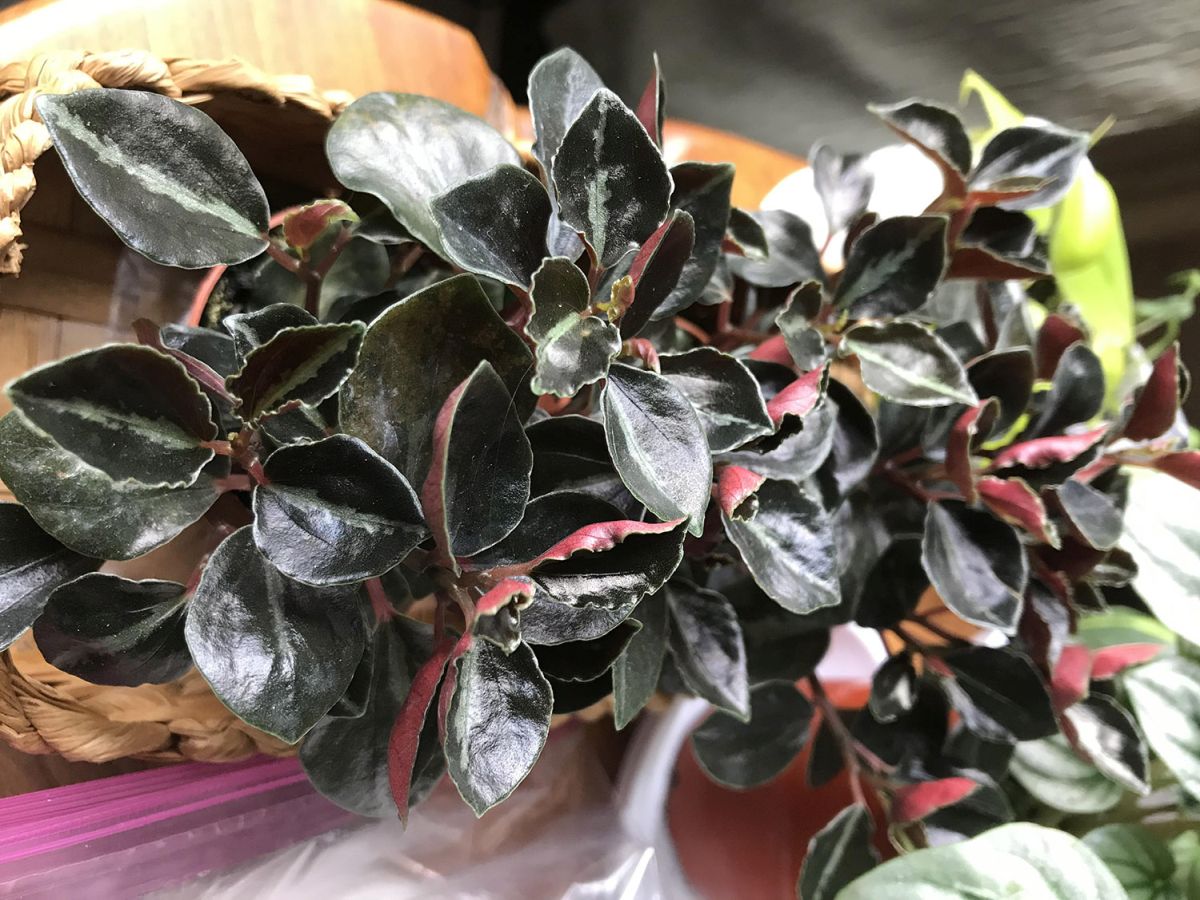 As its name indicates, Peperomia Metallica's leaves have a unique, metallic sheen. The most popular variety is darker than other peperomias, with almost blackish-green leaf tops and dark burgundy undersides.
There's also a rare variegated species that has a lighter color scheme, with lime green leaves edged in a random, mottled combination of maroon, brown, and pink.
Peperomia Metallica has a compact, bushy shape and grows well under medium light conditions.
Peperomia Obtusifolia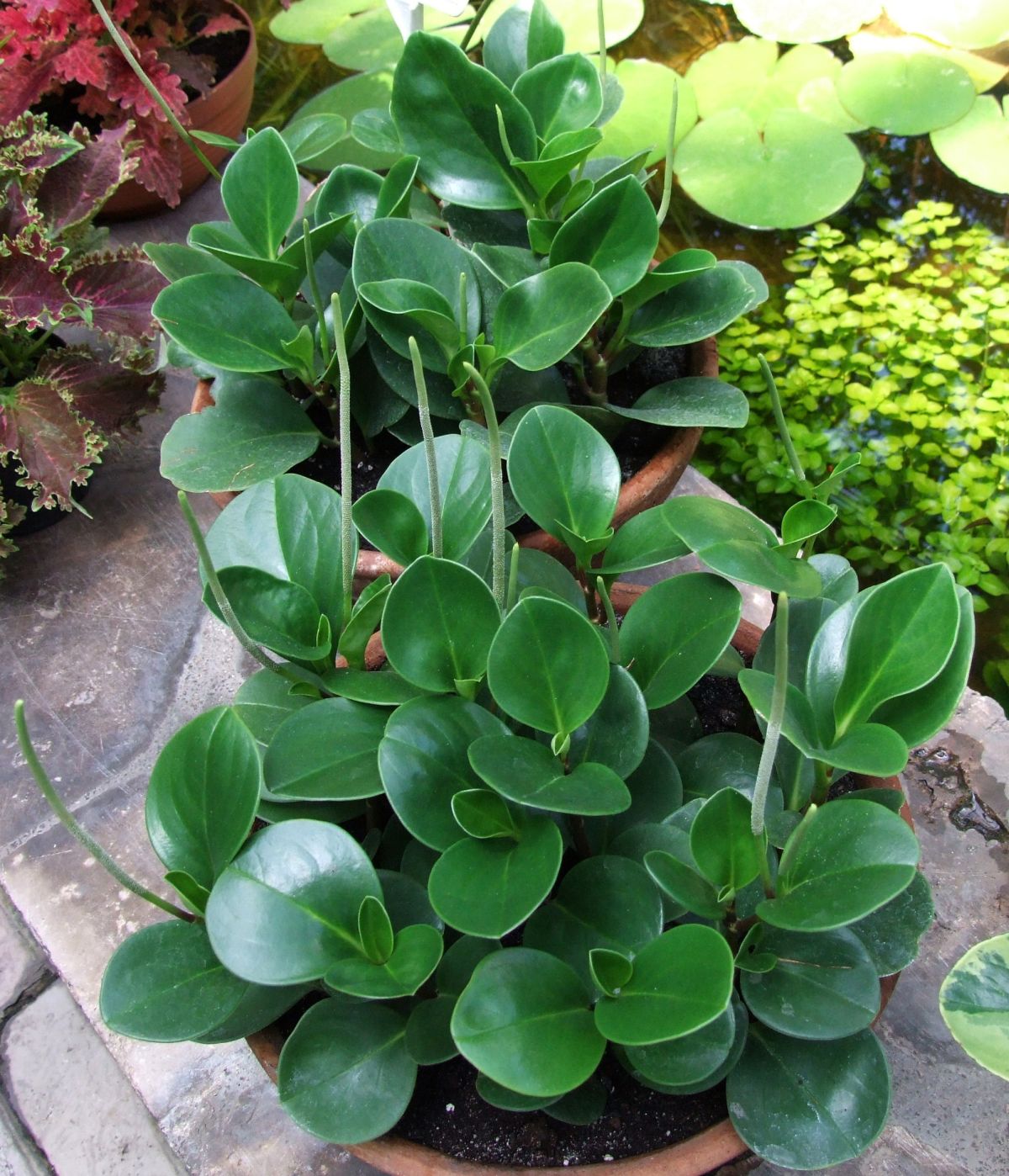 Peperomia Obtusifolia is commonly referred to as baby rubber plant because its thick, glossy leaves are miniature versions of larger genuine rubber plants.
It has solid stems and somewhat cup-shaped leaves that are great at retaining water. It rarely grows over 10 inches tall, so it will fit nicely on a small windowsill or nightstand.
Peperomia Orba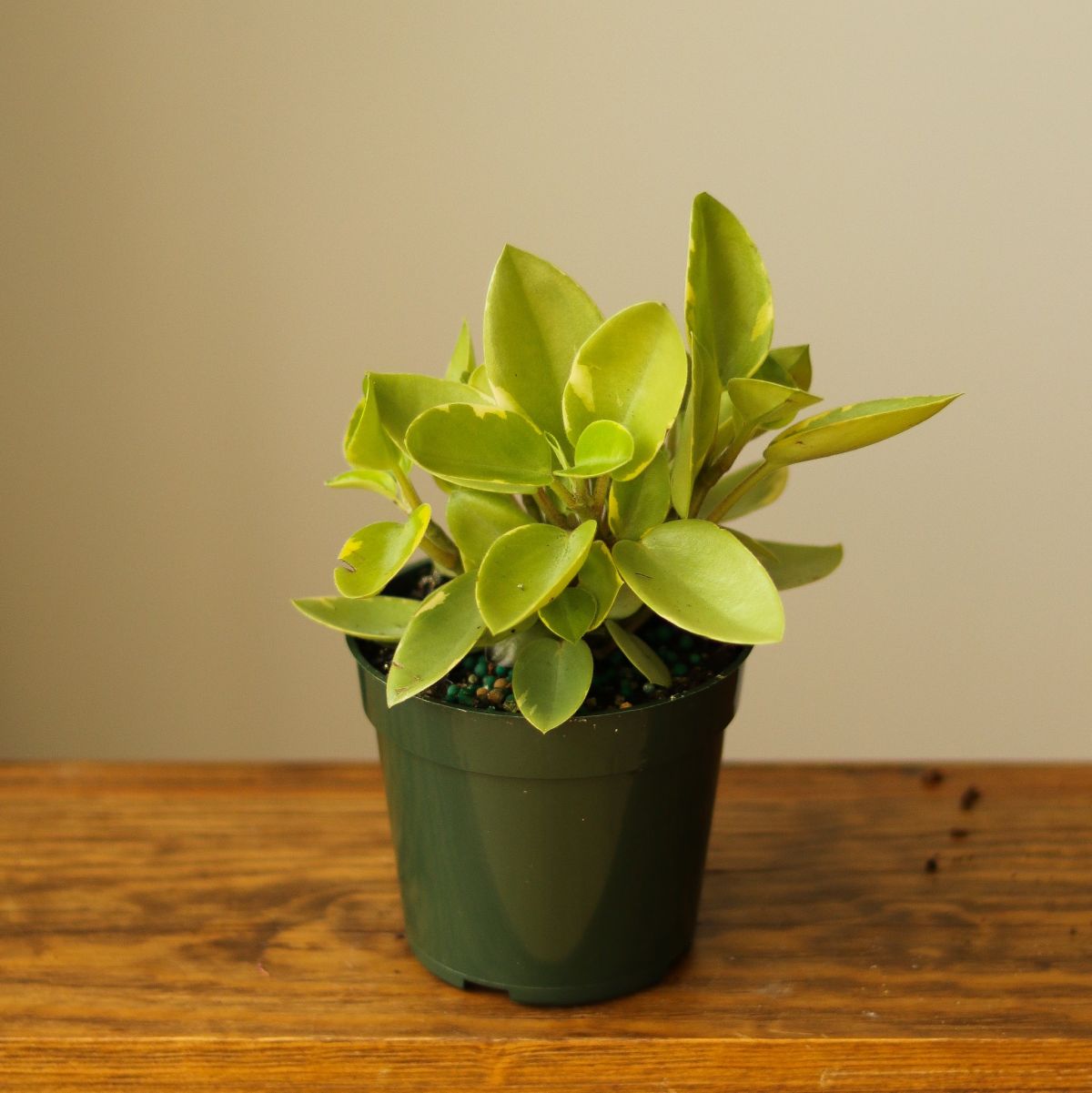 Also known as teardrop peperomia, this tiny vining plant has shiny, slightly fuzzy lime green leaves in a delightful teardrop shape.
It rarely grows over 6 inches tall, but some varieties will trail 12 inches or more. Astrid and Pixie Lime are two hybrids. Pot two or more peperomia Orba types together in one pot for a gorgeous green grouping.
Peperomia Perciliata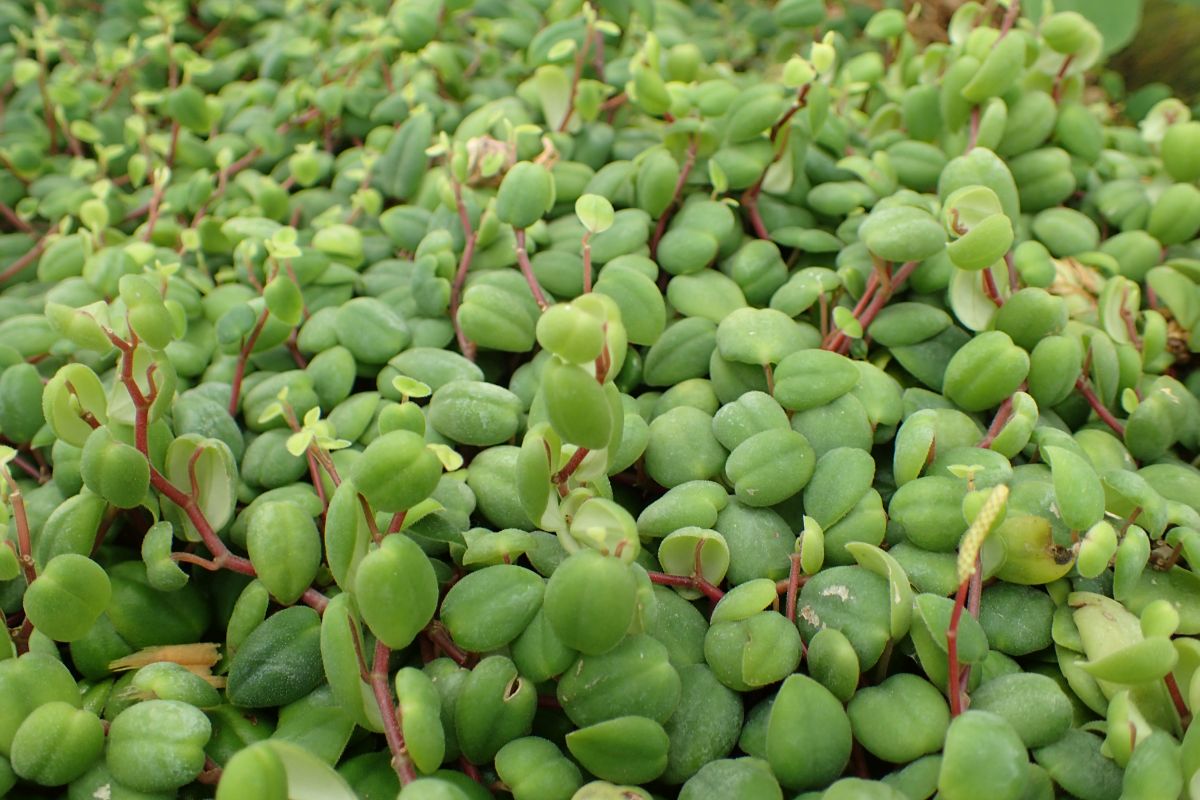 Peperomia Perciliata is an adorable miniature houseplant with tiny, heart-shaped green leaves.
This Ecuadoran native is rare, but can be found online. Perciliata will grow well in a pot, but it really loves the additional heat and humidity inside a terrarium.
It will start growing upright, although once the stems reach 2 to 3 inches long, they will start to trail over the sides. When healthy, it will produce delicate white flowers that add to its appeal. It's also known by the name Peperomia Fagerlindii.
Peperomia Puteolata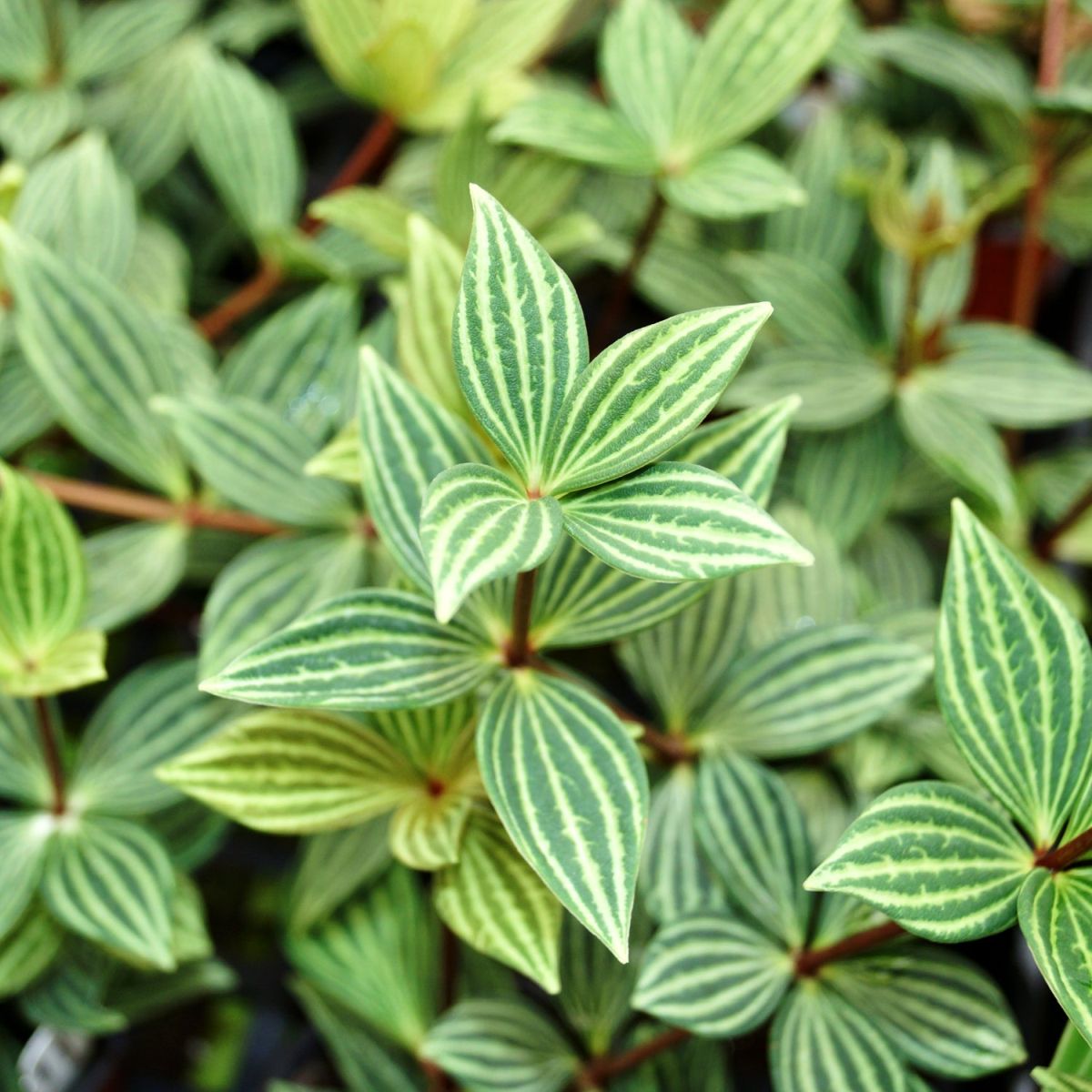 Peperomia Puteolata has beautifully striped, pointed leaves that form in clusters around purplish-colored stems. Leaves may be dark green with almost white stripes, or less dramatic variations of dark and light green.
It usually grows upright, but its stems can be allowed to trail, if you prefer. To maintain an upright growth pattern, you may need to secure heavy stems to a stick or bamboo pole.
It thrives in bright, indirect light and may also be called Parallel Peperomia because of the clear lines on its leaves.
Peperomia Quadrangularis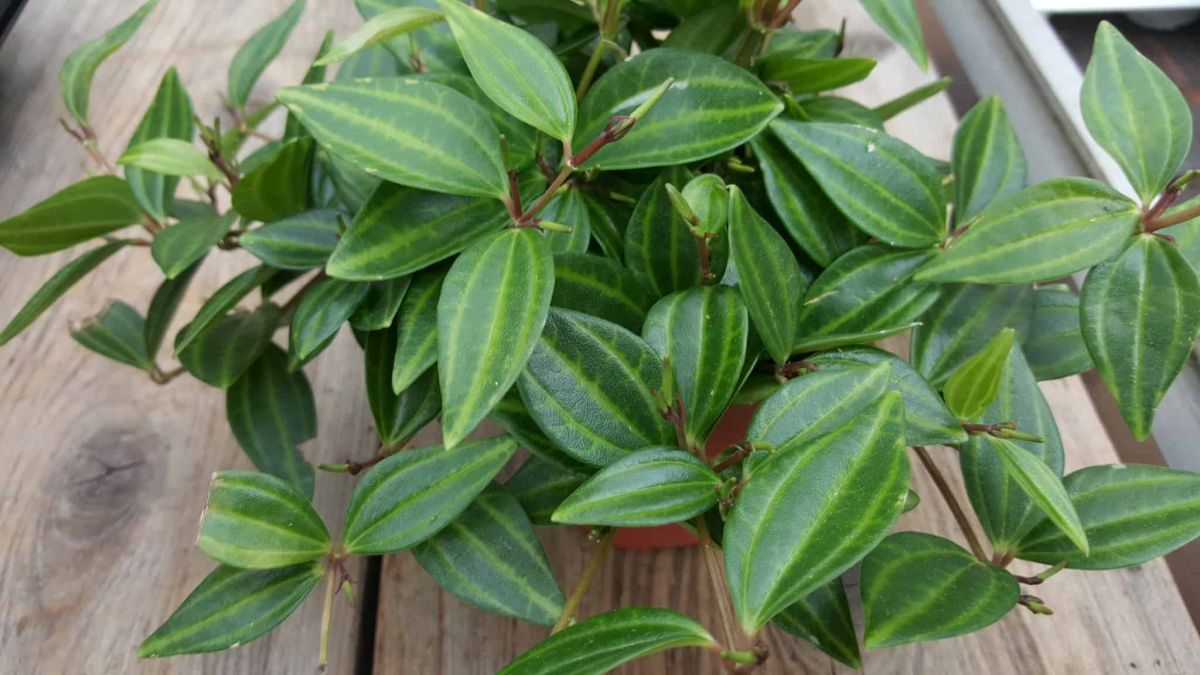 Peperomia Quadrangularis is one of the more common types of peperomia and has many common names, including Peperomia Angulata and Beetle Peperomia.
Its faintly striped leaves are oval-shaped with a point at the end. Some types have reddish stems and that red tint can also appear on new leaf growth.
It's small, like many peperomia varieties, so put multiple plants into one pot to create a larger houseplant that will trail over the container's sides.
Peperomia Raindrop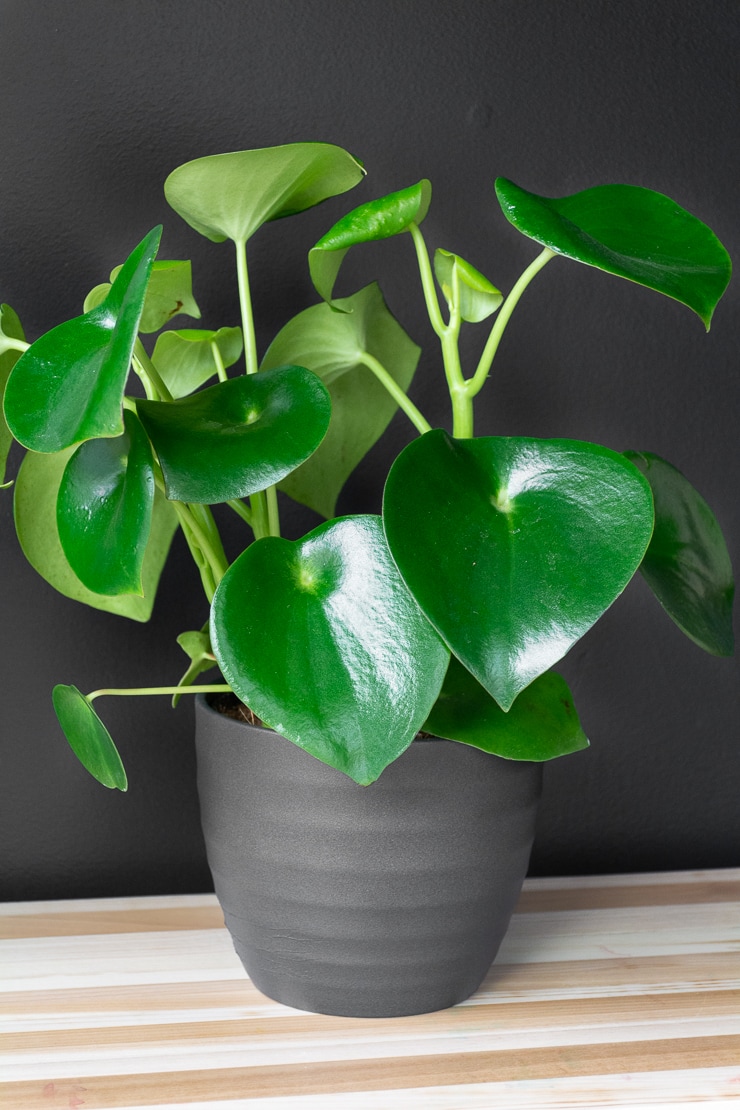 Peperomia Raindrop—also called Coin Plant—is often mistaken for Chinese Money Plant, but they are from two different plant families.
Its shiny, heart shaped leaves are dark green and can grow up to six inches across. Overall, it remains under a foot tall, making it a good houseplant in small apartments or offices.
Raindrop Peperomia grows well in natural light or under a plant light and must be rotated regularly to maintain its shape.
Peperomia Rosso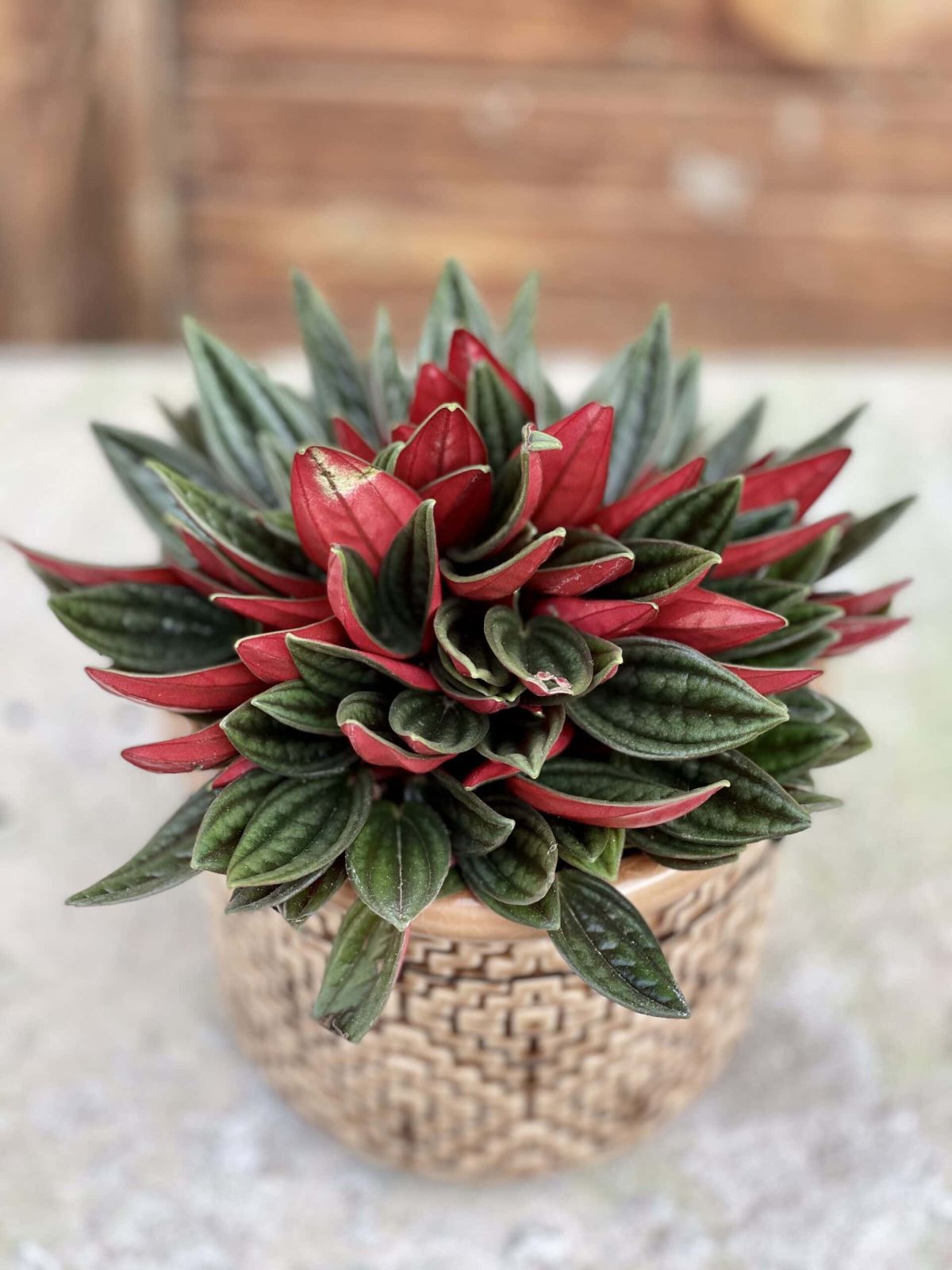 Peperomia Rosso may also be called Peperomia Caperata, Emerald Ripple Peperomia, or Radiator Plant.
It's small leaves grow in a rosette pattern, providing a compact structure. The leaves are variegated in shades of green, somewhat wrinkled and grow atop dark red stalks.
Most only grow around 8 inches tall and their color vibrancy can fade if the plant doesn't receive enough sunlight. However, avoid exposing it to direct afternoon light as intense sunshine will burn its delicate leaves.
Peperomia Rotundifolia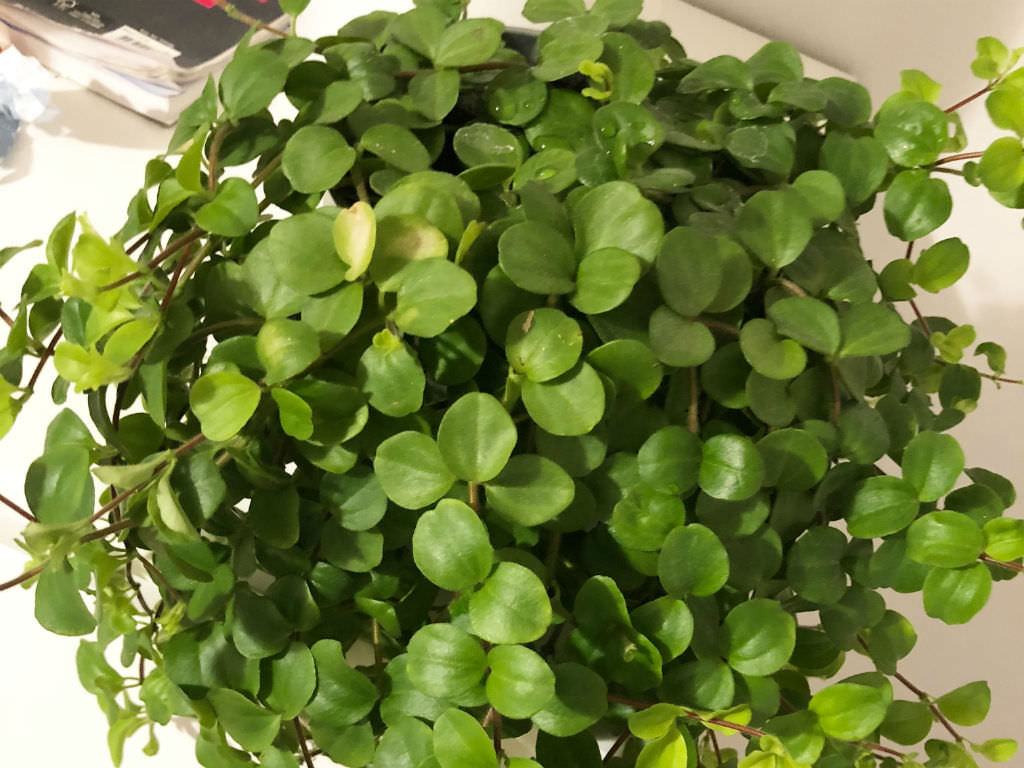 Peperomia Rotundifolia's name means "resembling round leaves" and its thick, round leaves have been compared to coins or medallions.
It has thin, trailing stems that will intertwine into a thick drape over time. Because it's often confused with the common jade plant, its common names include Trailing Jade and Jade Necklace. Rotundifolia is a great hanging basket plant for small spaces.
Peperomia Ruby Cascade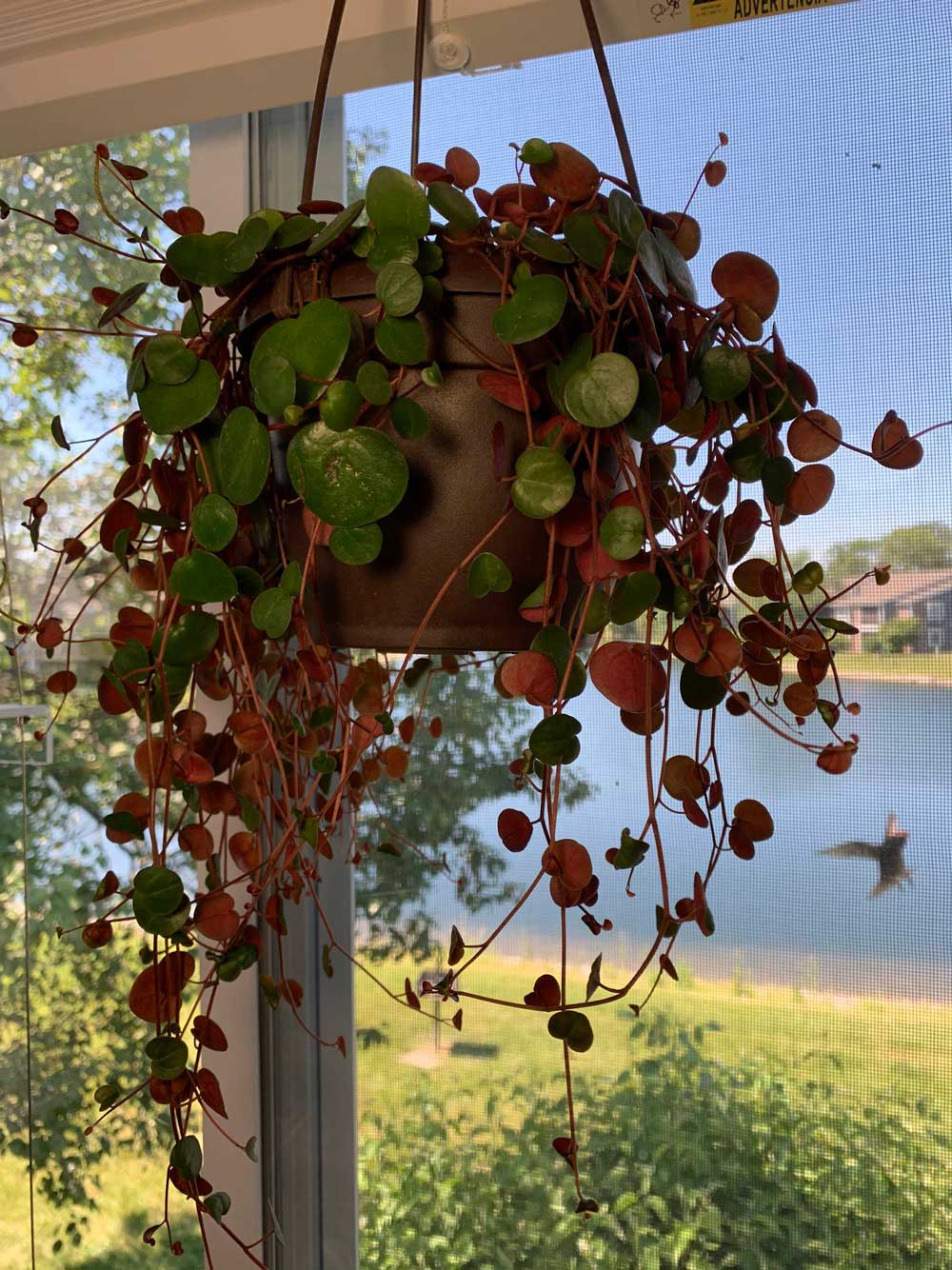 This gorgeous vining plant gets its name from its ruby red stems and leaf undersides, which contrast with the glossy deep green leaf tops.
This brilliant color pairing makes a stunning addition to your houseplant collection.
Its trailing stems grow longer than other peperomia varieties and can reach lengths over two feet. It's adaptable to a wide range of light levels, and can grow equally well in artificial light or natural sunlight.
Peperomia Scandens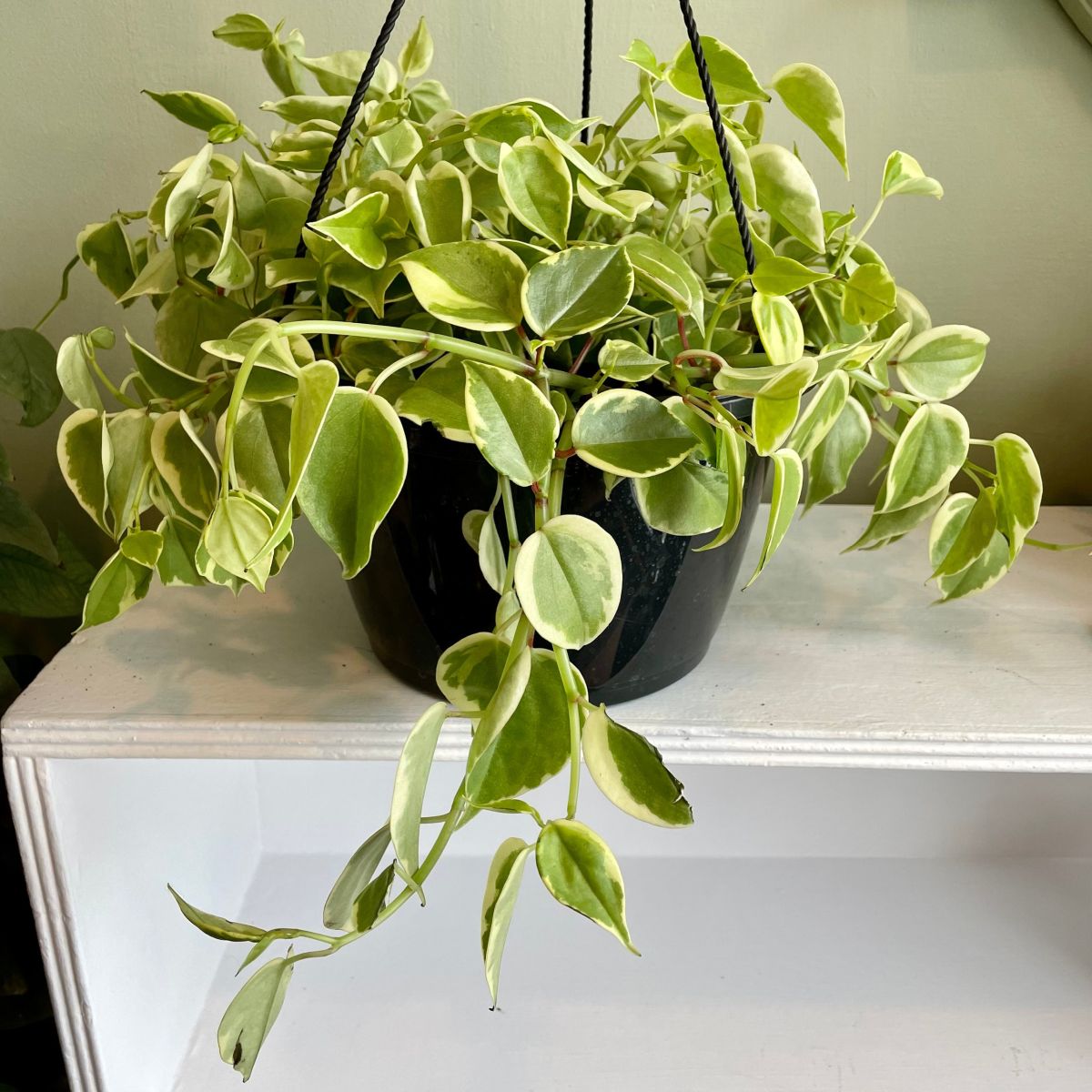 Peperomia Scandens is one of the longer-vining types of peperomia, with pinkish stems that can grow up to 5 feet long. Its leaves are shiny and glossy green, with a familiar heart shape.
Also called Cupid Peperomia and Scandens Variegata, it's native to South American forests and grows up trees in the wild.
This plant loves dappled sunlight and should not be placed in direct bright light. It also grows well under artificial plant lights.
Peperomia Serpens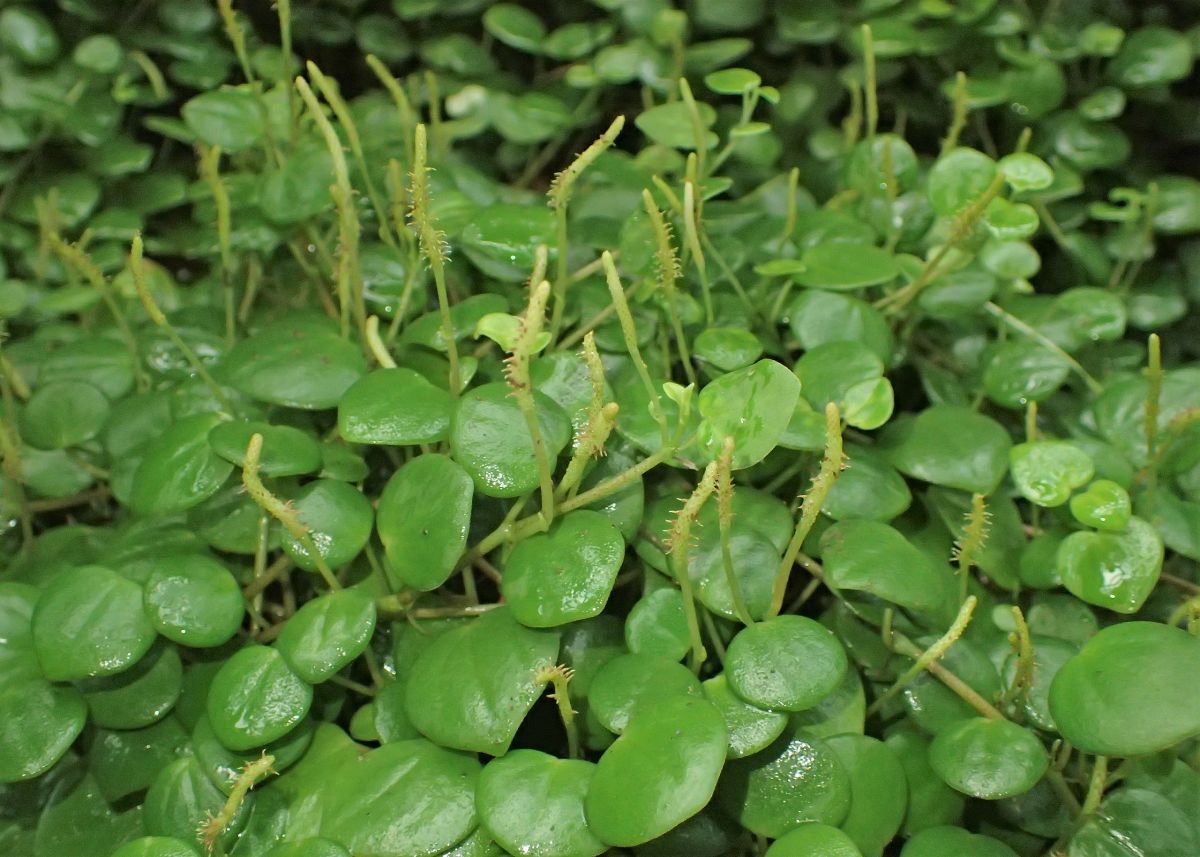 Peperomia Serpens is a vining plant that resembles a miniature ivy. Its thick green leaves can burn in intense sunlight, and it only needs between 2 and 6 hours of indirect light each day.
Additional names for Peperomia Serpens include Hoya Serpens, Vinagre plant, and Peperomia Serpens Variegata.
It's sometimes mistaken for philodendron or Pothos, but its leaves are much hardier and drought-resistant.
Peperomia Verschaffeltii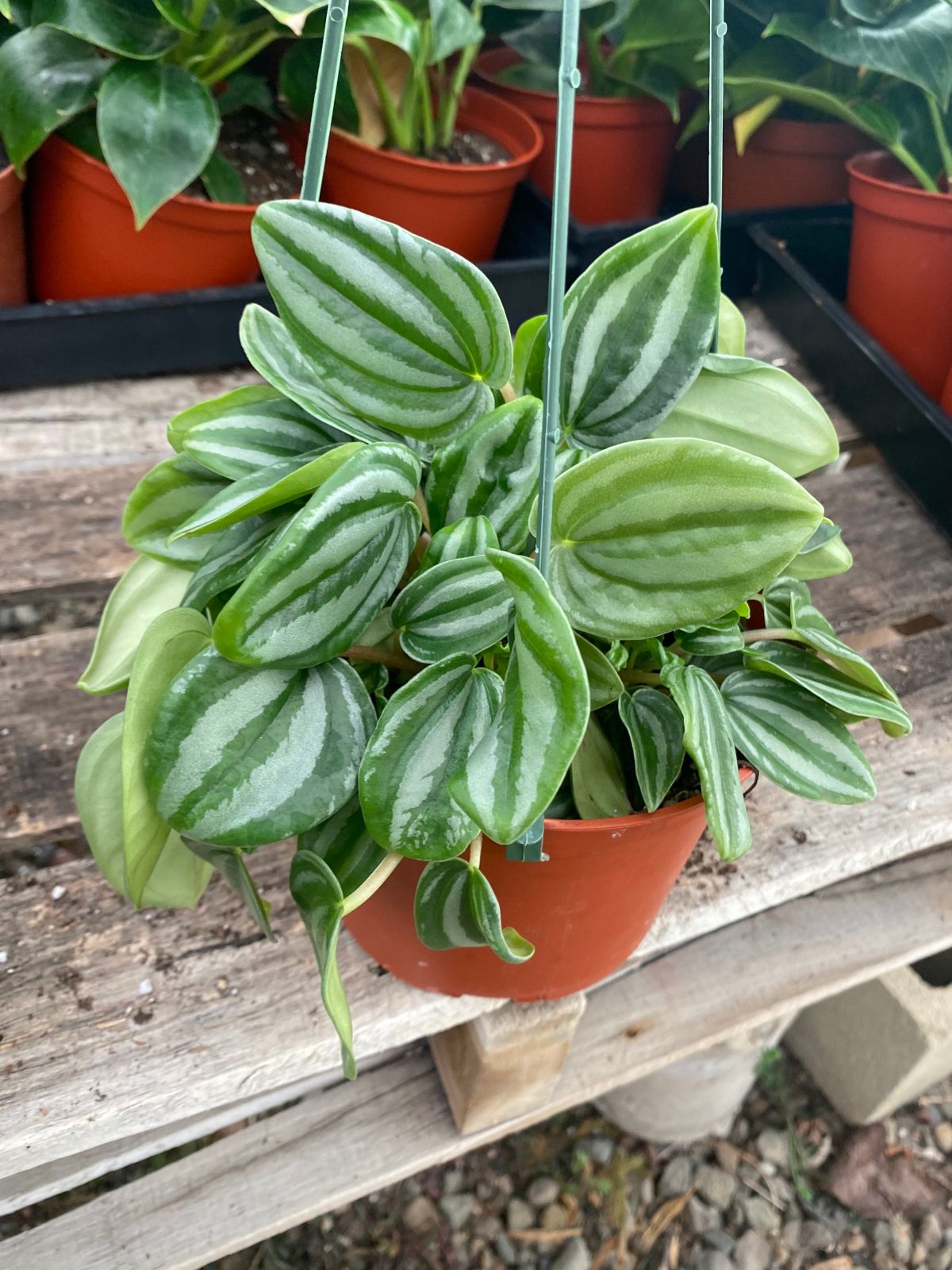 Peperomia Verschaffeltii is native to Brazil and resembles a dwarf version of Watermelon Peperomia.
It has stunning oval leaves in a deep blue-green, with wide, silvery white stripes. The leaves overlap in a rosette pattern that gives it a lush, compact appearance.
This popular desktop peperomia only grows six inches tall and six inches wide. It needs plenty of filtered sunlight, but water it sparsely as its delicate roots are subject to root rot.
Peperomia Verticillata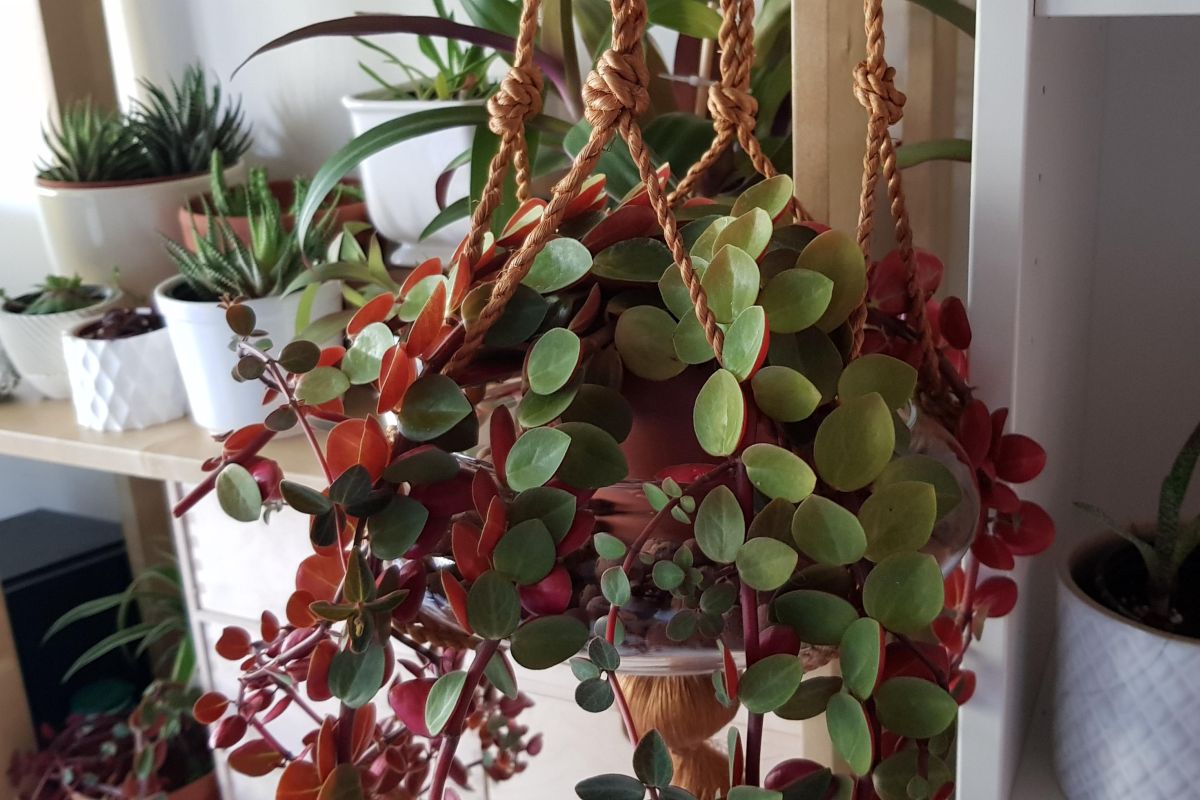 This vibrant peperomia species has fuzzy leaves that are bright red on one side and deep green on the other.
The cup-shaped foliage grows in clusters of four on thick red stems. Native to Bolivia, it's also called Belly Button, Red Log, and Double Duty.
You must rotate your plant daily because it tends to lean toward its light source, which should be steady throughout the day. Regular pruning helps it maintain an attractive shrub shape.