Are you getting deja vu? Normal! Peperomia polybotrya, or the raindrop Peperomia, looks a lot like the wildly popular Pilea peperomioides or Chinese money plant. They're not the same, though, as they naturally hail from completely different parts of the world. The raindrop Peperomia is a great choice if you like larger, glossy foliage.
Let's go into Peperomia polybotrya care and how to grow this plant in your home!
| | |
| --- | --- |
| Name(s) (common, scientific) | Raindrop Peperomia, coin leaf peperomia, Peperomia polybotrya |
| Difficulty level | Easy |
| Recommended lighting | Indirect |
| Water | Let dry halfway |
| Soil type | Well-draining |
Peperomia polybotrya natural habitat
Also known as radiator plants, Peperomias are a large genus in the family Piperaceae, which also includes black pepper plants. A bunch of Peperomias are grown as houseplants, including Peperomia polybotrya, the raindrop Peperomia.
The genus Peperomia is mostly found in Central and South America, where the different species grow in tropical regions. This is no different for Peperomia polybotrya, which occurs in forested areas in Colombia and Peru. Here, the species is protected from the harsh sun by taller trees, while its succulent-like leaves and stem make it more resistant.
One natural characteristic of Peperomia polybotrya is that it doesn't grow overly tall. At a maximum of around 40 cm/5.5″, it's the perfect choice for the smaller home.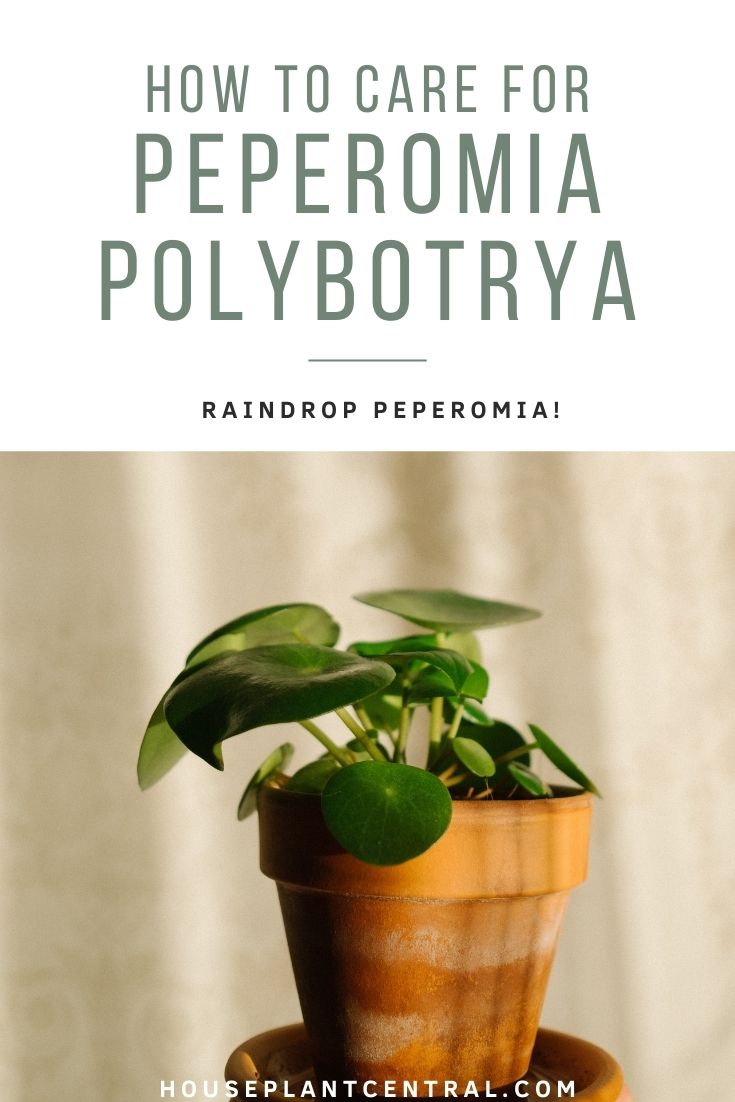 Peperomia polybotrya light & temperature
Light
In its natural habitat, Pepermia polybotrya isn't used to receiving much direct sun. After all, it grows in forested regions and doesn't get very large, meaning taller trees will block out the harshest light. This doesn't mean it doesn't appreciate plenty of light in the home, though.
Find your raindrop Peperomia a spot by a window that receives plenty of indirect light but not too much sun. Some rays in the early morning or late afternoon are fine, but intense afternoon sun can burn a Peperomia polybotrya.
Your plant will probably survive in low-light conditions (further away from a window), but this is not recommended. It tends to quickly grow leggy and really doesn't look as nice as a specimen grown in bright indirect light. Use artificial light if you don't have enough windowsill space.
Temperature
Again, keep the species' natural habitat in mind! They occur in the tropics, meaning they're not big fans of the cold. Normal room temperature is fine and a bit warmer won't be a problem either, but try not to let things drop below around 15.5 °C/60 °F.
The above also means you should be careful to avoid placing your raindrop Peperomia too close to an A/C unit or drafty (single-pane) windows.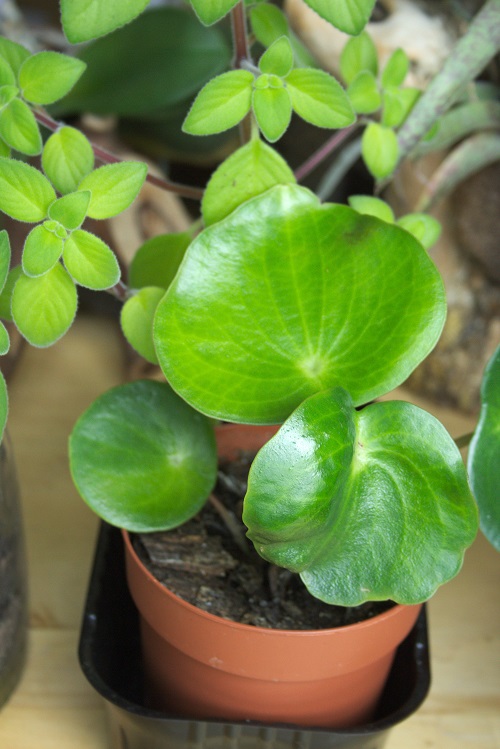 Peperomia polybotrya soil and planting
As you've undoubtedly noticed in the photos in this article, Peperomia polybotrya has pretty fleshy leaves and stems. It's not a full succulent, but it does require a good level of drainage like succulents do. Without a well-draining soil type, it can easily succumb to rot.
To make sure the soil doesn't retain too much water, try using a commercial cactus mix, possibly even with some extra perlite mixed in. You can also opt to make one yourself: just mix normal potting soil with a good handful of perlite and some fine orchid bark. A terracotta planter tends to dry quicker than a plastic one, so that's worth considering if you tend to be heavy-handed with the watering.
This isn't usually a plant that has to be repotted very often. It has a limited adult size and it doesn't grow that quickly. You can go one pot size up every year or every other year.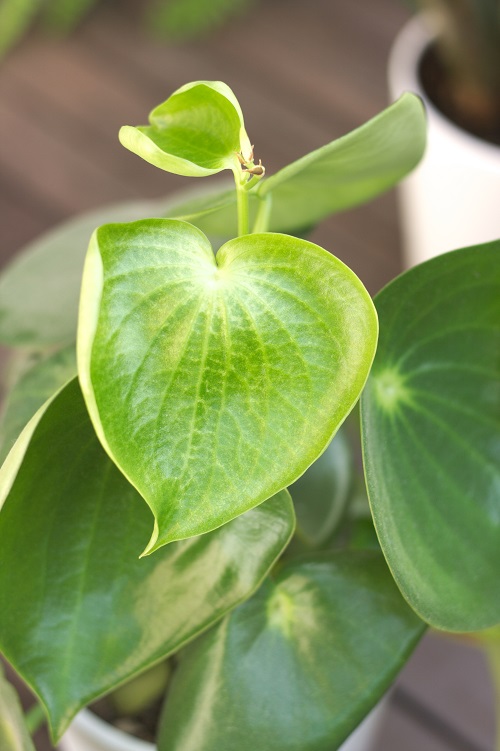 Watering Peperomia polybotrya
When watering a sturdy Peperomia like this one, you should again keep in mind that the species can store water in its fleshy foliage. It doesn't need that much, especially not during the winter months when it likely isn't actively growing!
You shouldn't water plants on a schedule, as soil dries out quicker or more slowly depending on the conditions. Instead, feel the weight of the planter (light means time for watering, heavy means you should wait a bit longer). Alternatively, my favorite method is to just stick my finger in the soil. It should be about halfway dry before you water again.
Check your plant regularly, especially if you think you may have overwatered it. Leaves yellowing, browning and falling from the bottom up, especially combined with a mushy brown stem, means you need to uproot your Peperomia polybotrya immediately and head to the section on propagation. Leaves looking limp and crisping up likely means you should water a bit sooner next time.
Propagating Peperomia polybotrya
As with many common houseplants, multiplying a Peperomia polybotrya is a breeze. Stem cuttings are the most common method: just a piece off your plant that's at least an inch or two long, has a leaf or two on top and some nodes that roots can grow out of on the stem.
Water or soil?
You can propagate a stem cutting in water or soil. Water propagation is handy because it allows you to see the roots growing in real-time, but it has the disadvantage that you'll still have to pot the plant later.
Propagation in soil can be slightly more challenging, with cuttings wilting sometimes before they can root.
Water propagation. To propagate a Peperomia polybotrya stem cutting in water, just remove the bottom leaves from the cutting. Prepare a glass or vase and place the cutting in there so that it's about halfway submerged. Set the whole thing in a light spot that doesn't get direct sun and be patient!
Soil propagation. If you'd like to go the soil route, prepare a planter with the same soil mix you'd use for an adult raindrop Peperomia. Dip the end of the cutting in rooting hormone if you have it and then stick it in the soil, deep enough that it doesn't fall over.

You can just put the planter on a windowsill at this point, but your chances of success are much higher if you supply high humidity. Try a seed starting dome or just placing the whole thing in a plastic bag until you're sure it has rooted.
Bonus: Leaf propagation
Yes, like Begonia, Peperomia is one of those plants that can be propagated using a single leaf! I've seen houseplant enthusiasts use this ability in a few different (but similar) ways.
Snap a leaf off the plant, leaving the stem, and pop it in water. Tiny new leaves can sprout on the petiole, after which you can pot the whole thing.
Remove a leaf, leaving barely any leaf stem. Press it into a planter with soil. The leaf will often root and sprout a new plantlet at its base.
Take a leaf and cut it in half horizontally. Set both sides in soil and they'll grow new plantlets.
With all these methods, it's extra important to provide plenty of humidity. Try the plastic bag technique! It's also a good idea to use some rooting hormone.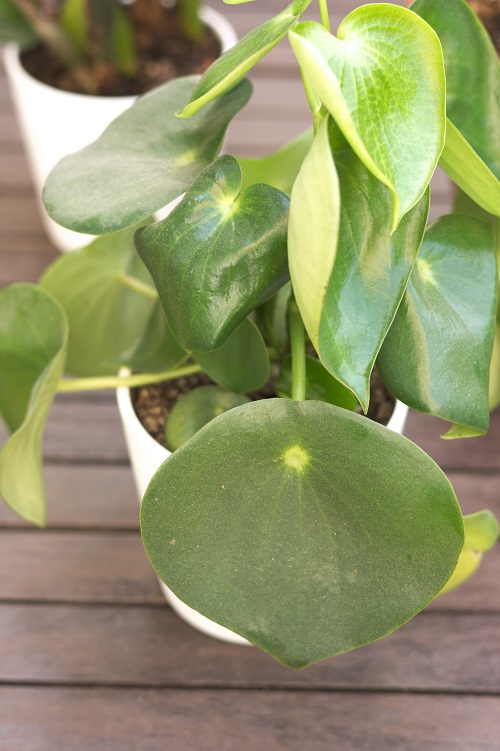 Peperomia polybotrya fertilizer
Because it's not the quickest grower, Peperomia polybotrya is also not the heaviest feeder. You can use a regular liquid houseplant fertilizer during the growing season, though be sure to stop feeding your plant once winter rolls around.
You can add some fertilizer every other week or every month. It's usually recommended to dilute the plant food a bit more than the manufacturer states on the bottle, to half strength for example.
Buying Peperomia polybotrya
The raindrop Peperomia is one of the more popular members of the genus (along with Peperomia obtusifolia, Peperomia caperata and a few others). As such, you shouldn't have too much trouble finding one.
Your local plant store or garden center might carry this species. You can also buy Peperomia polybotrya online.
Peperomia Varieties

Peperomia Orba
Peperomia Ruby Cascade
Peperomia Hope
Peperomia ferreyrae
Peperomia Ginny
Peperomia Clusiifolia
Peperomia Graveolens
Peperomia Rosso
Peperomia Watermelon
Peperomia Caperata
Peperomia Obtusifolia
Is Peperomia polybotrya toxic to cats and dogs?
Nope! Like other members of the genus Peperomia, this one is considered non-toxic. It's not explicitly on the ASPCA list of safe plants, but many of its cousins are. Still, keep your raindrop Peperomia away from pets to reduce the risk of a mauling!
---
If you have any more questions about Peperomia polybotrya care or if you'd like to share your own experiences with this popular houseplant, don't hesitate to leave a comment below. Happy planting!
Peperomia polybotria photo in comparison image © Sharoh on Adobe Stock.