There are lots of benefits to growing flowering plants indoors. They not only add a touch of nature to your interior but can also be therapeutic. They help reduce stress and improve environmental wellness.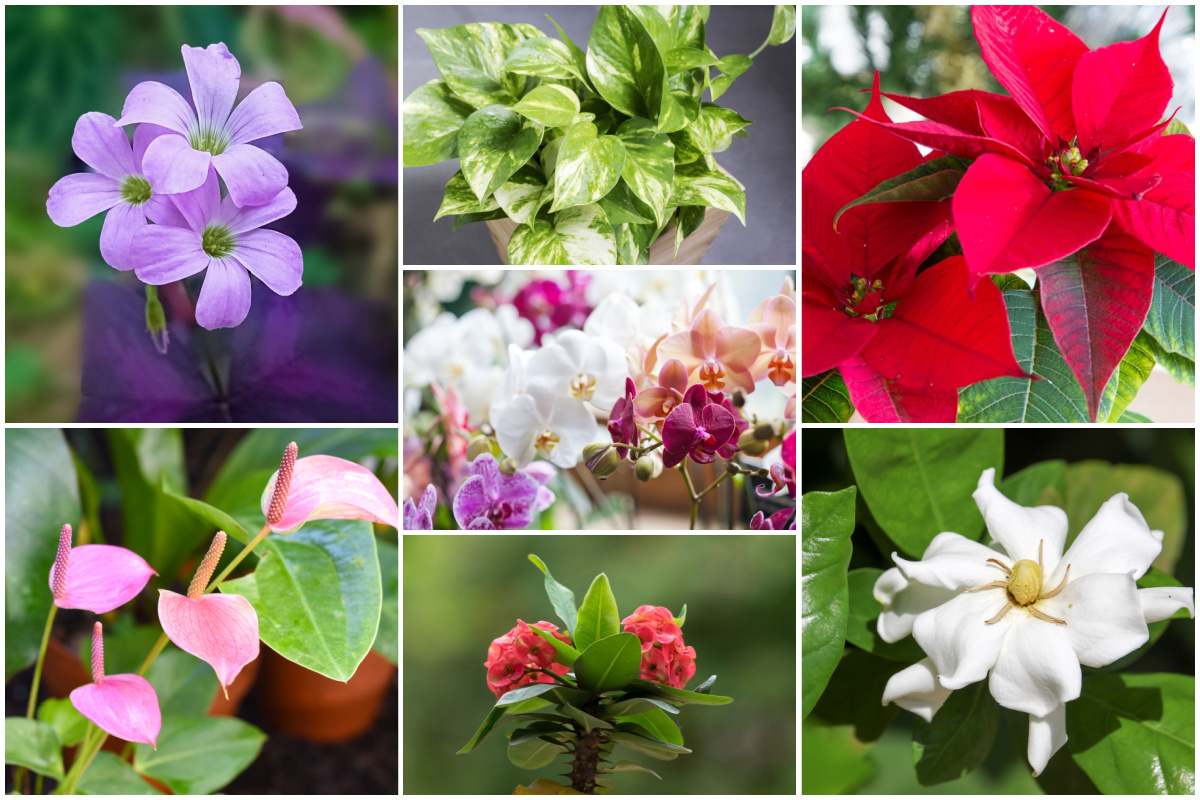 Knowing the right flowering plants to grow indoors can be fun and easy, even for beginners, once you know what to do. Note that once the natural habitat of most of these houseplants can be replicated indoors, it becomes easy to maintain them.
Christmas Cactus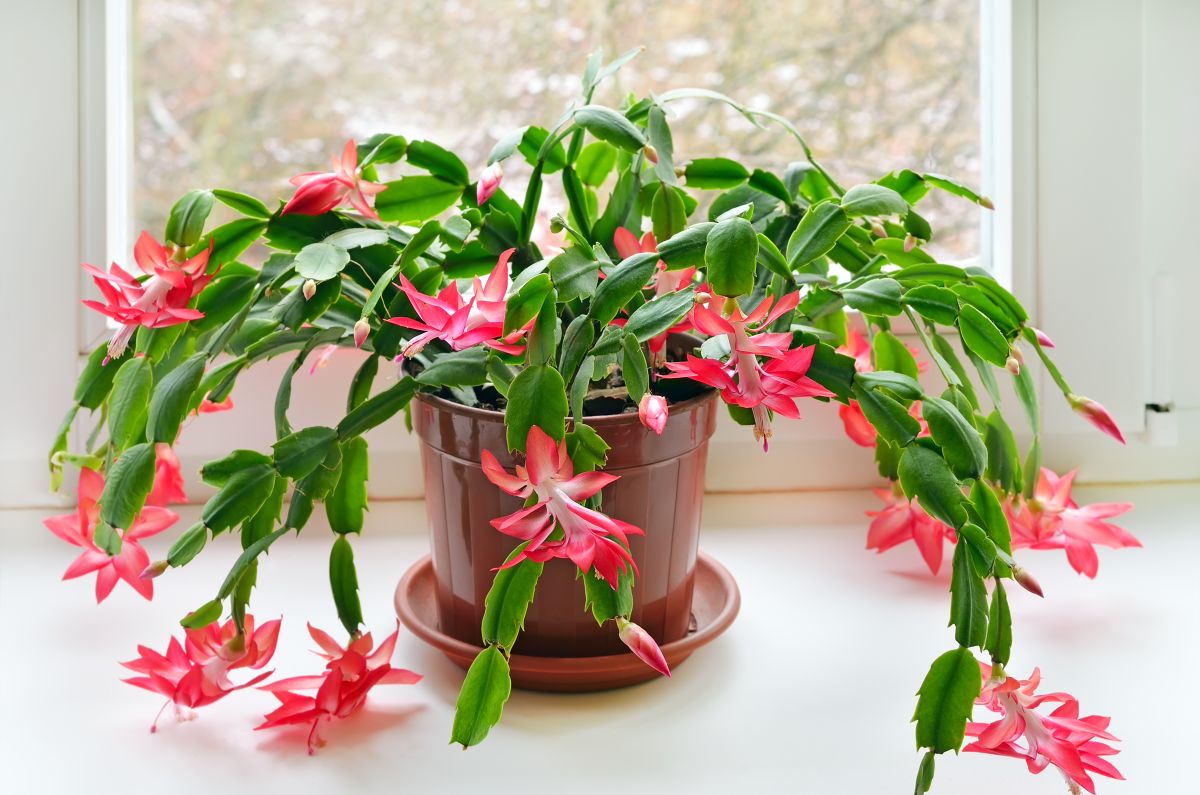 The first plant on our list is the Christmas cactus. Cactus plants, just like every other succulent, are easy to care for. The Christmas cactus plant is one of the few flowering cactus varieties that you can easily grow indoors. Once the humidity and water needs of the plant are met, they will last you for years.
Christmas cacti are epiphytic and are mostly found growing on trees, shrubs, and rock surfaces. This cactus produces bright pink, white, or reddish blooms mostly at the end of fall or early winter, which can help accentuate the beauty of your home.
Botanical Name: hybrid Schlumbergera ×buckleyi
Light Requirement: Bright, indirect sunlight
soil type: well-draining potting soil mix rich in peat.
Angel Wings Begonia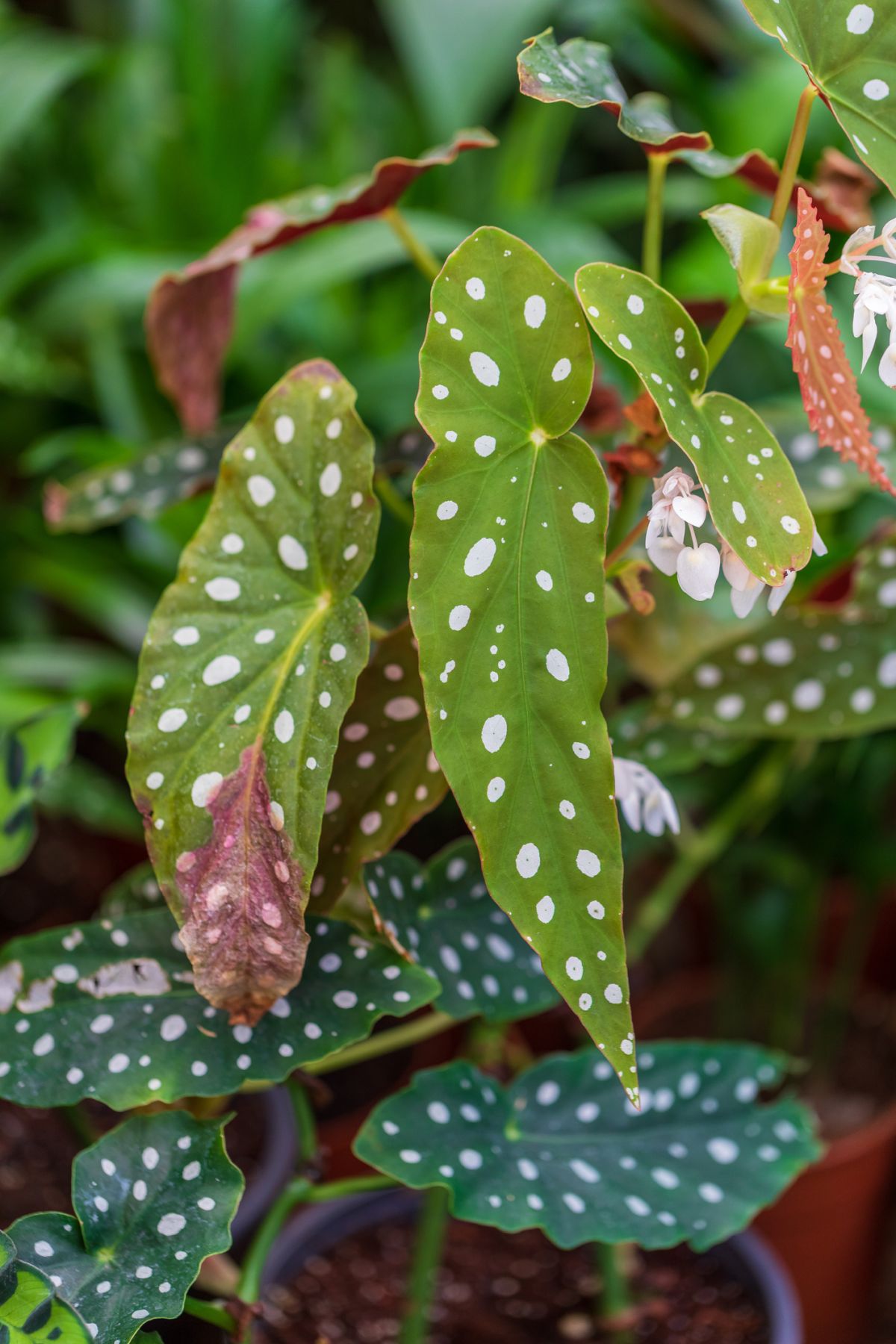 The angel wing begonia is probably the easiest begonia to grow and maintain. They are popular for their brightly colored leaves growing on fleshy stems in the shape of angel wings with metallic silver dots on them.
Another selling point of this plant is the flowers that grow throughout the growing months. They come in different colors ranging from pink, orange, red, and white, which will match and add to the beauty of most home interiors.
You should always grow your angel wing begonia in a humid, well-lit space in your home, protected from direct sunlight.
Botanical Name: Begonia coccinea
Light Requirement: Filtered or indirect sunlight
Soil Type: A moist and well-aerated soil mix
Orchids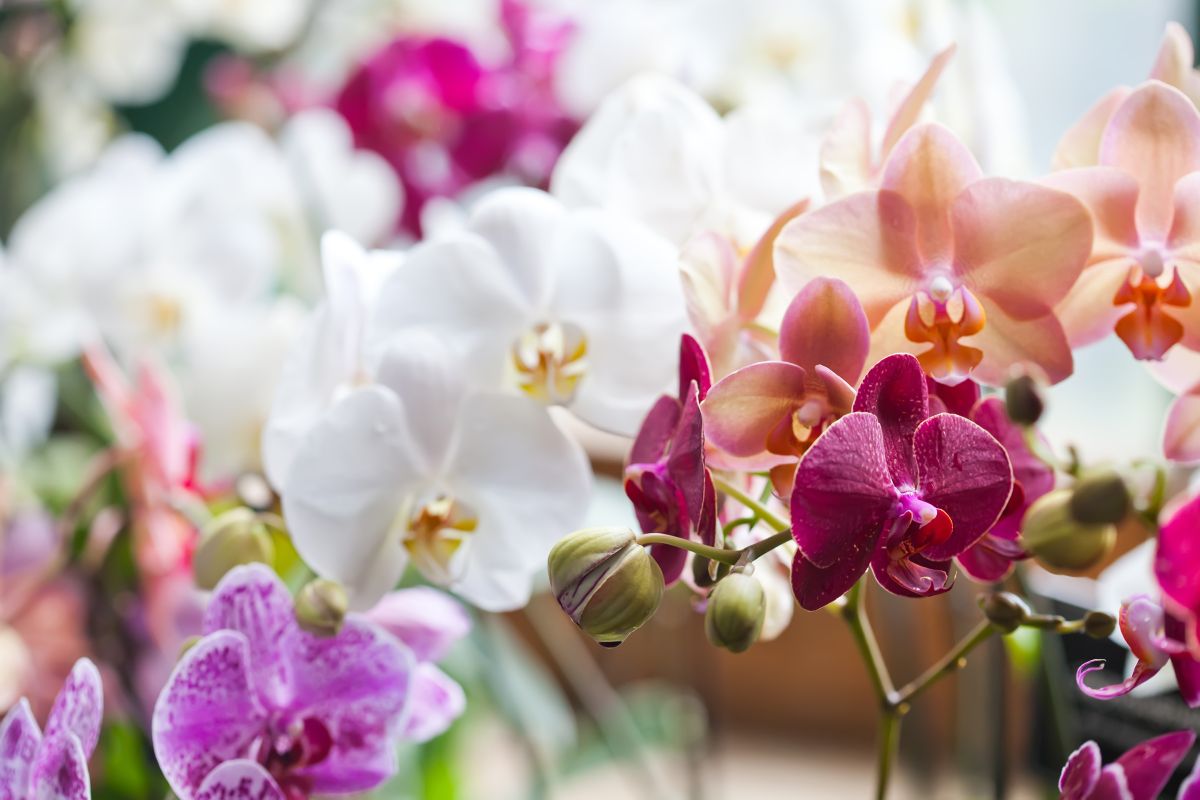 If you are looking for a low-maintenance plant, then you should consider growing an orchid. Orchids have some of the most exquisite flowering plants you can think of today.
Orchids belong to the Orchidaceae family of flowering plants. Orchidaceae is also the largest plant family, with over 20,000 species available. Each of these various species has distinctive flowers that distinguish them from each other.
One great example of an orchid plant you can try out is the moth orchid, which is arguably the easiest orchid to grow. They also produce beautiful flowers, which brighten up any space they find themselves in. They are epiphytes, so they require very little care as they get their nutrients from the surrounding air.
Watering: water once or twice a week.
Light Requirement: Filtered or indirect sunlight
Soil type: well-draining soil mix
Peace Lily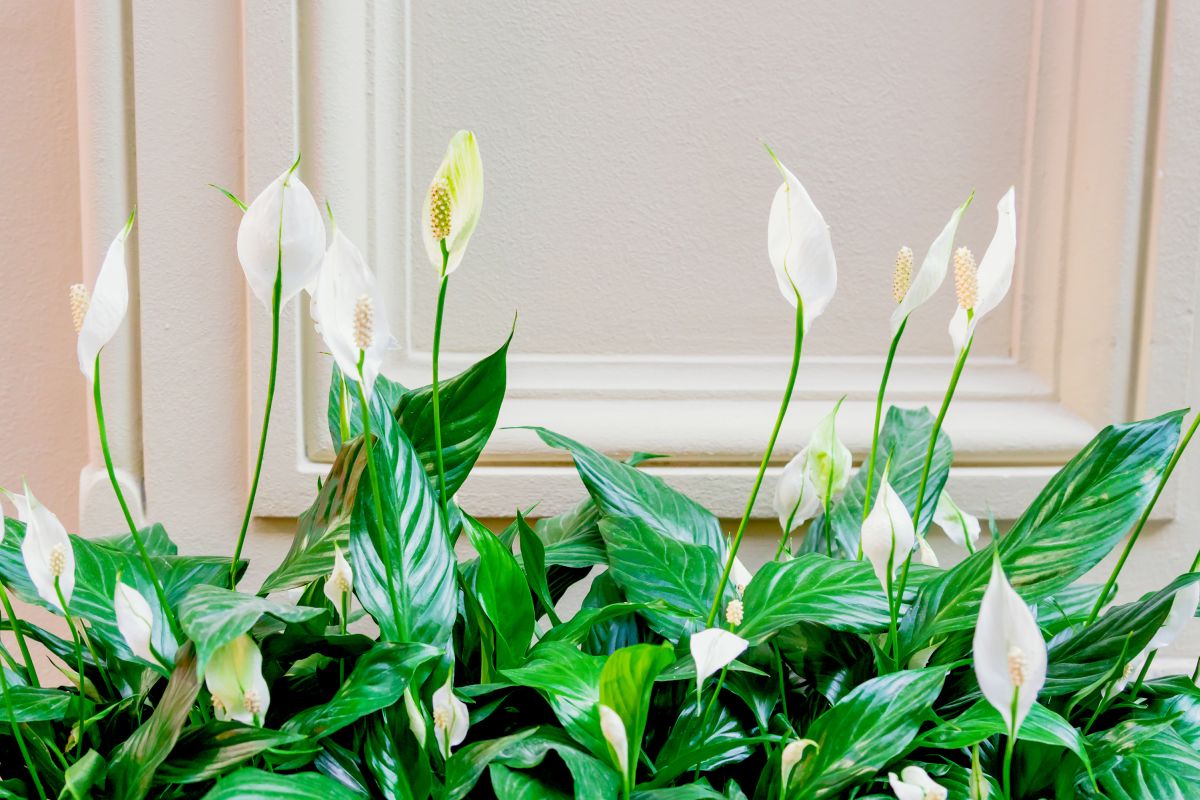 The peace lily is a great beginner plant partly because of its low light needs, which are great for growing indoors. Peace lilies are also sturdy, with oval-shaped, dark green leaves that shoot directly from the soil.
Apart from their beautifully shaped leaves, peace lilies also produce long-lasting white blooms. Their blooms or flowers also emit a nice aromatic fragrance. Keeping this fragrant plant in any living space will help calm the nerves of the occupants and also purify the air.
Botanical Name: Spathiphyllum wallisii
Light Requirement: Low light
Soil Type: fast-draining soil rich in peat moss and perlite.
Cape Jasmine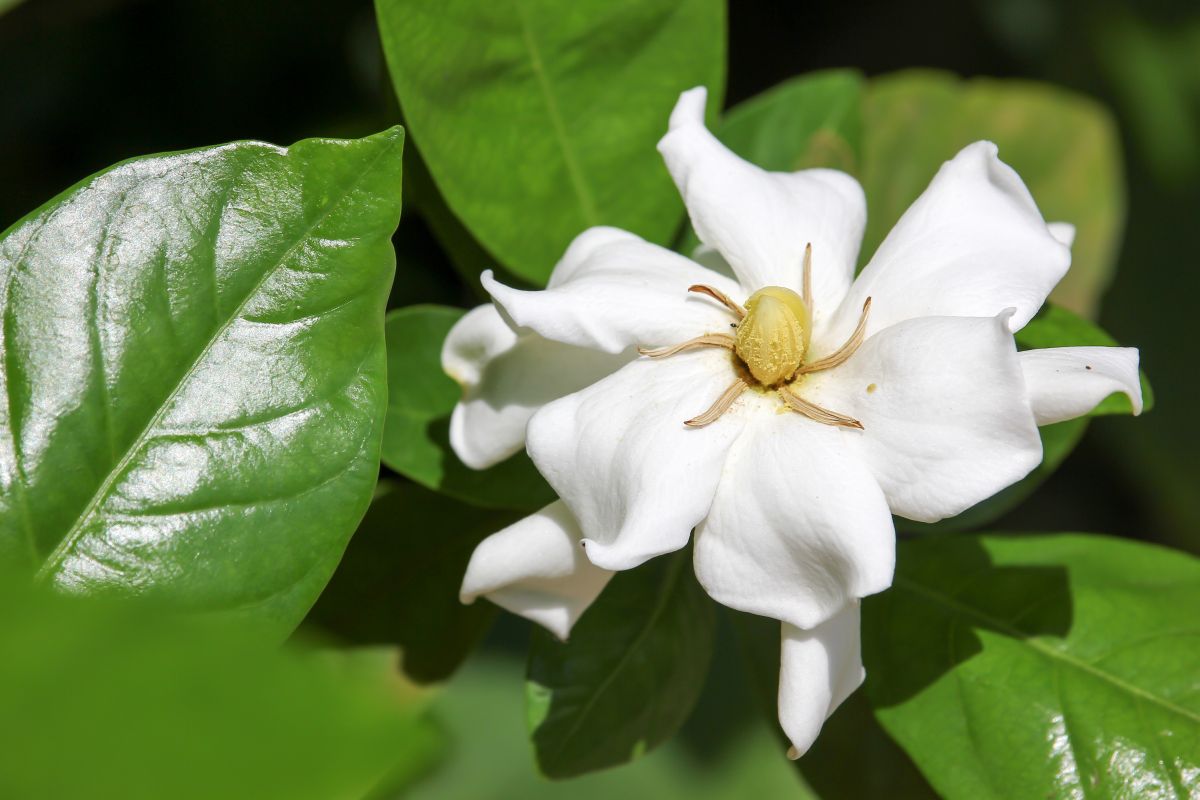 The next plant on our list is the Cape Jasmine plant, which is a tropical plant originating from Asia, the Pacific Islands, and Africa. Although many people might consider the Cape Jasmine plant a difficult plant to grow, it isn't, especially when growing indoors. As tropical plants, once their natural habitat can be replicated, they should blossom.
Also, the Cape Jasmine plant is ornamental, so having it in a living space would be great. They also have feathery, shiny, deep green leaves and milky white flowers, which produce a nice fragrance.
Botanical Name: Gardenia Jasminoides
Light Requirement: Bright, indirect sunlight
Soil Type: Moist but also well-draining.
Purple Shamrock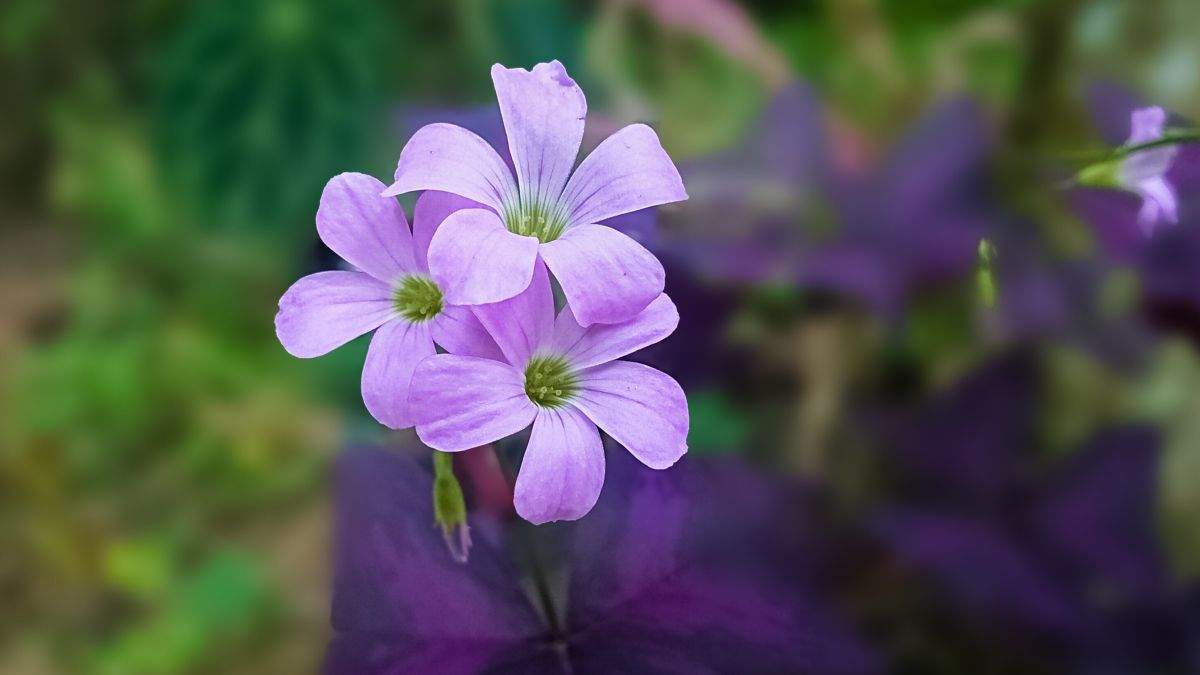 The purple shamrock, also known as false shamrock or oxalis, is an eye-catching ornamental plant. It features unique-looking foliage with a dark purple or black color, depending on how you view it.
The purple shamrock is a tropical plant that's part of the Oxiladaceae family of flowering plants. They are easy to grow and maintain. Their blooms are beautiful and also edible.
Botanical Name: Oxalis triangularis
Light Requirement: Full sunlight to partial shade
Soil Type: moist but also well-draining loam soil.
The Crown Of Thorns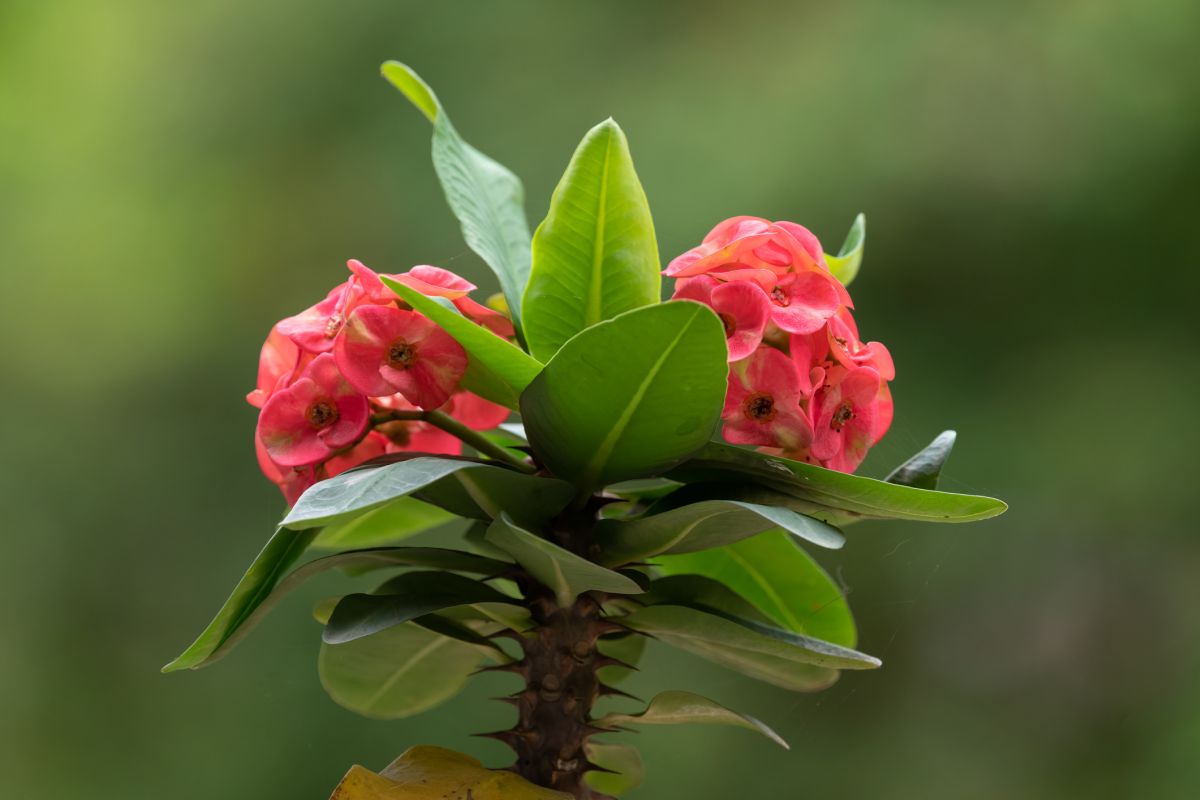 The crown of thorns gets its name from the shape and nature of its stem. They have long stems with tiny thorns around them, which is where their name comes from. It is a tropical succulent plant, which means it is drought-resistant, making it easier to maintain.
Their leaves are bright, thick, and green; they also produce green blooms, which will help enhance the overall appearance of your home. For proper and more mature blooms to grow, you need to provide them with enough sunlight, which you can easily access from any east-facing window.
Botanical Name: Euphorbia milii
Light Requirement: Direct sunlight to partial shade
Soil Type: Moist but also well-draining.
Poinsettia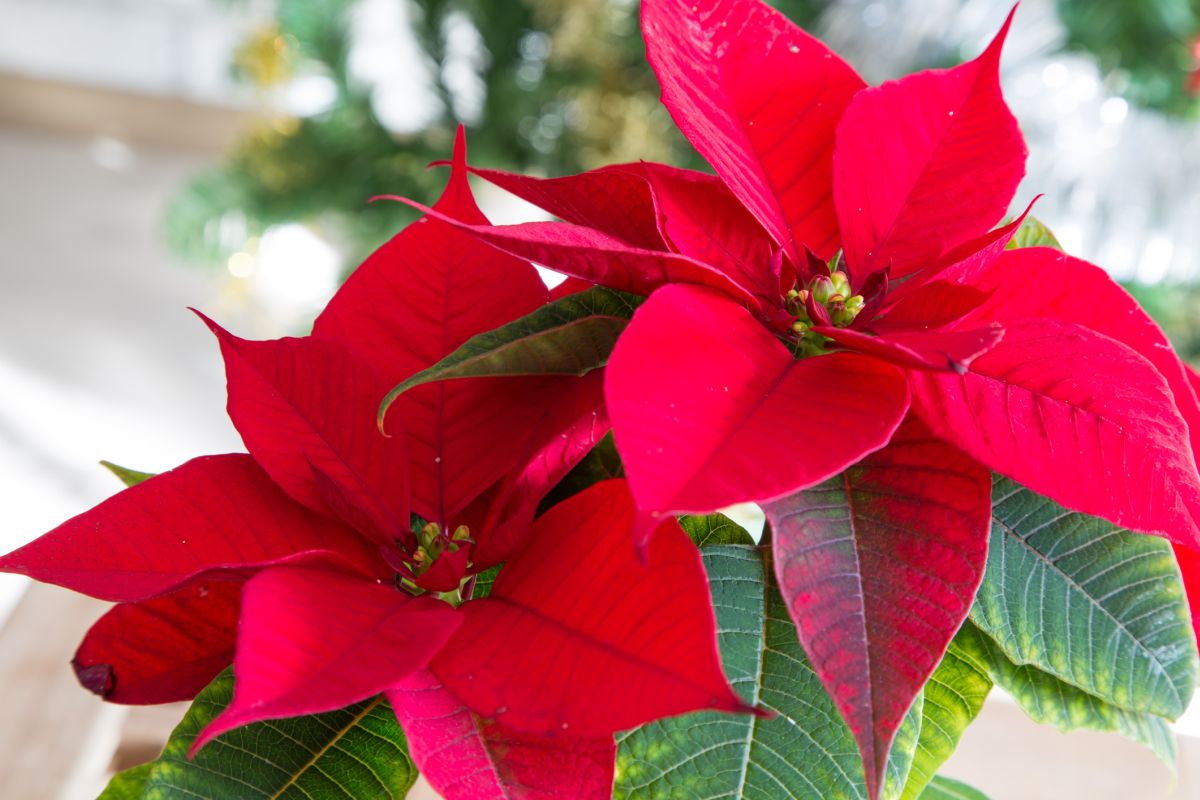 Poinsettia is another great indoor flowering plant. It is part of the Euphorbiaceae family of flowering plants, belonging to the genus Euphorbia, and is native to Central America and Mexico.
Just like the Christmas cactus, poinsettias are also great holiday plants. They are mostly used in Christmas floral displays due to their beautiful green and red colored leaves. The beauty of the plant lies in its ability, through the process of photoperiodism, to change the color of its leaves. Depending on the intensity of light reaching the bracts, it can change from green to other colors such as red, pink, or white.
Botanical Name: Euphorbia pulcherrima
Light Requirement: Bright, indirect sunlight
Soil Type: well-draining soil rich in perlite and peat moss.
Pothos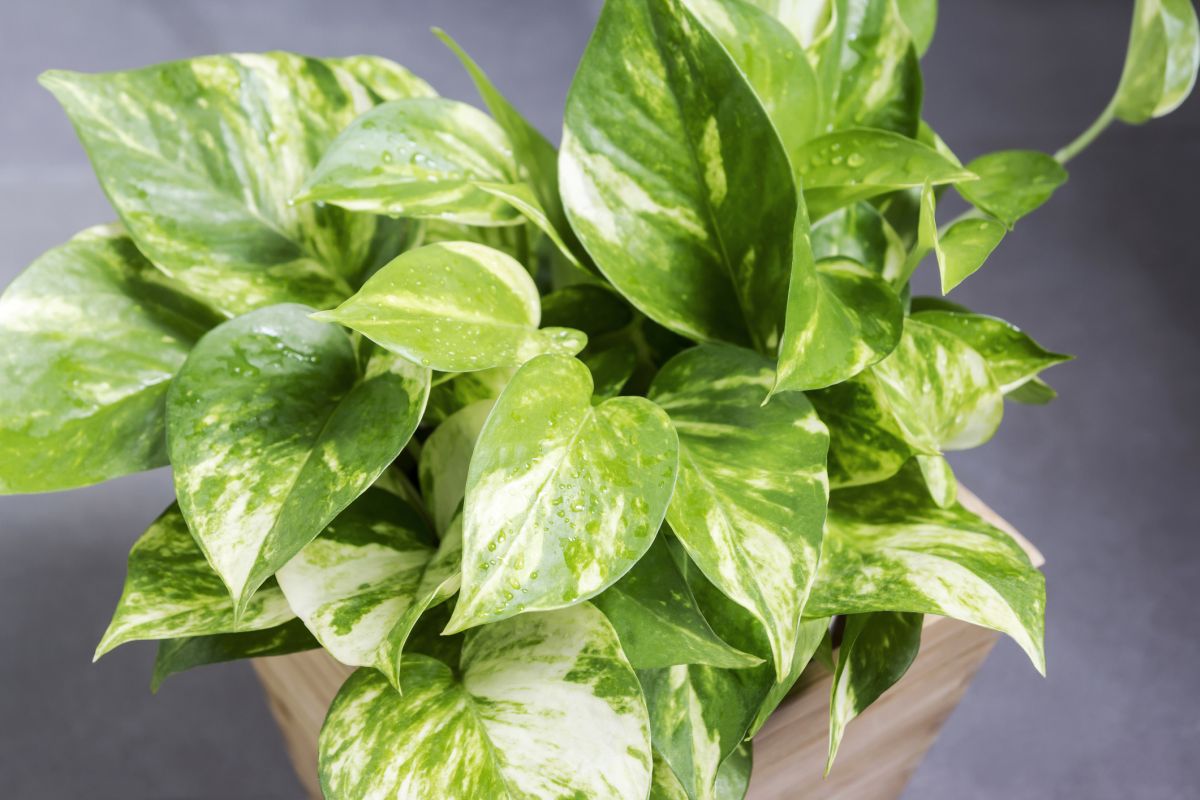 If you love hanging plants with long vines and variegated leaves, then you should consider getting the Marble Queen pothos. This plant is fast-climbing and can withstand low light conditions, making it very easy to grow indoors. They bloom during the summer months and produce white, cream, or green-colored flowers.
Any beginner gardener looking to venture into the world of growing vines should start with pothos, as they are the best option. There are several varieties of pothos you can try out, such as the snow queen pothos and jade pothos.
Botanical Name: Epipremnum aureum "Marbled"
Light Requirement: low to partial sunlight
Soil Type: Nutrient-rich soil with good drainage.
Flamingo Lily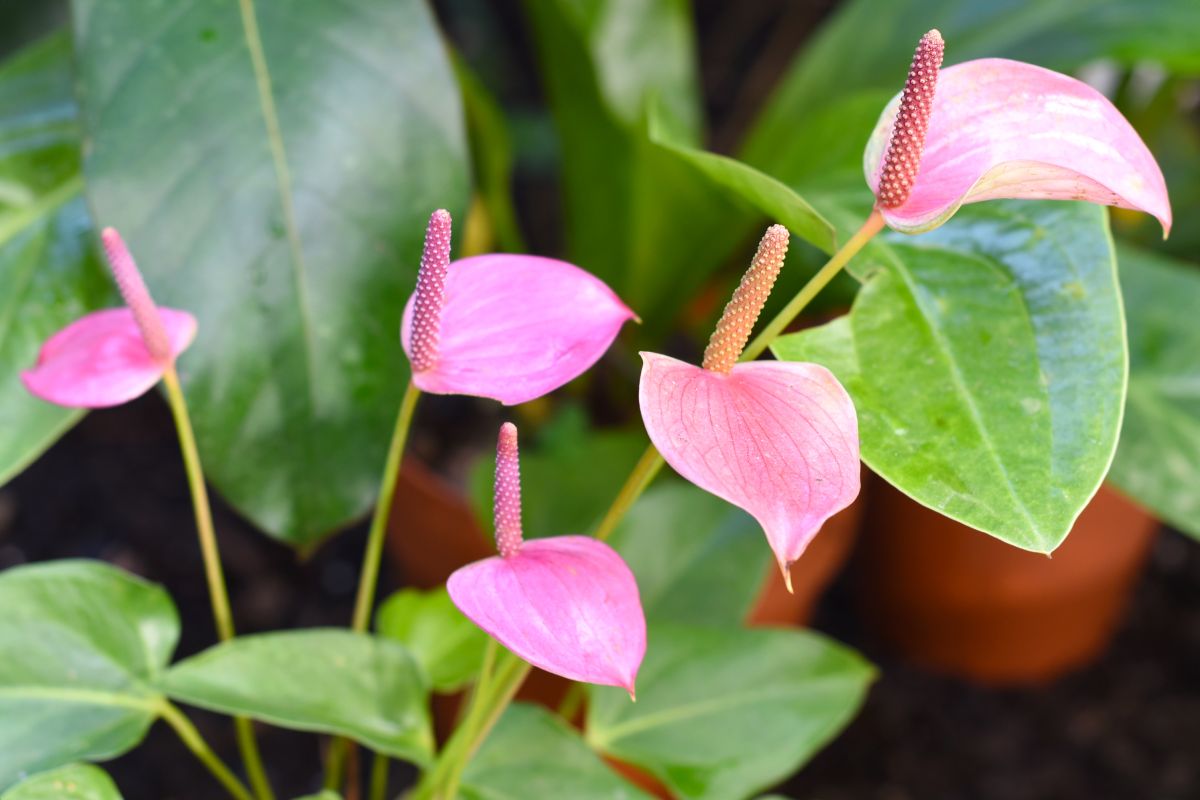 The flamingo lily plant is an exotic plant popular for its brightly colored flowers. They are easy to propagate, maintain, and care for; if their needs are met adequately, they can bloom all year.
The flamingo lily is a tropical houseplant native to the ventral parts of America. It belongs to the Araceae family of flowering plants and is part of the genus Anthurium.
Botanical Name: Anthurium andraeanum
Light Requirement: Bright, indirect sunlight
Soil Type: well-draining soil
FAQs
What is the easiest flowering plant to grow indoors?
Cactus are very easy to grow and maintain indoors. They can be grown at any temperature and are also drought-tolerant to some extent.
Are there benefits to growing houseplants indoors?
Growing plants indoors has lots of benefits. Some of these benefits include improving focus and boosting productivity.
Which indoor flowering plant blooms all year round?
The flamingo lily, if adequately cared for, can bloom all year round, producing brightly colored flowers.
Do epiphytes make good indoor flowers?
Yes, epiphytes can be grown indoors easily, provided support is made available so they can spread their aerial roots.
Examples of epiphytes that can be used as indoor flowering plants?
Some examples of epiphytes that can be grown indoors include cacti, orchids, ferns, and bromeliads.