In the language of flower giving, the red flower meaning is typically that of love, passion, and romance. While red roses are the standard bouquet, there are a wide variety of red flowers to choose from. Most of these flowers, along with their primary meaning, have secondary sentiments attached to make your flower message more personal.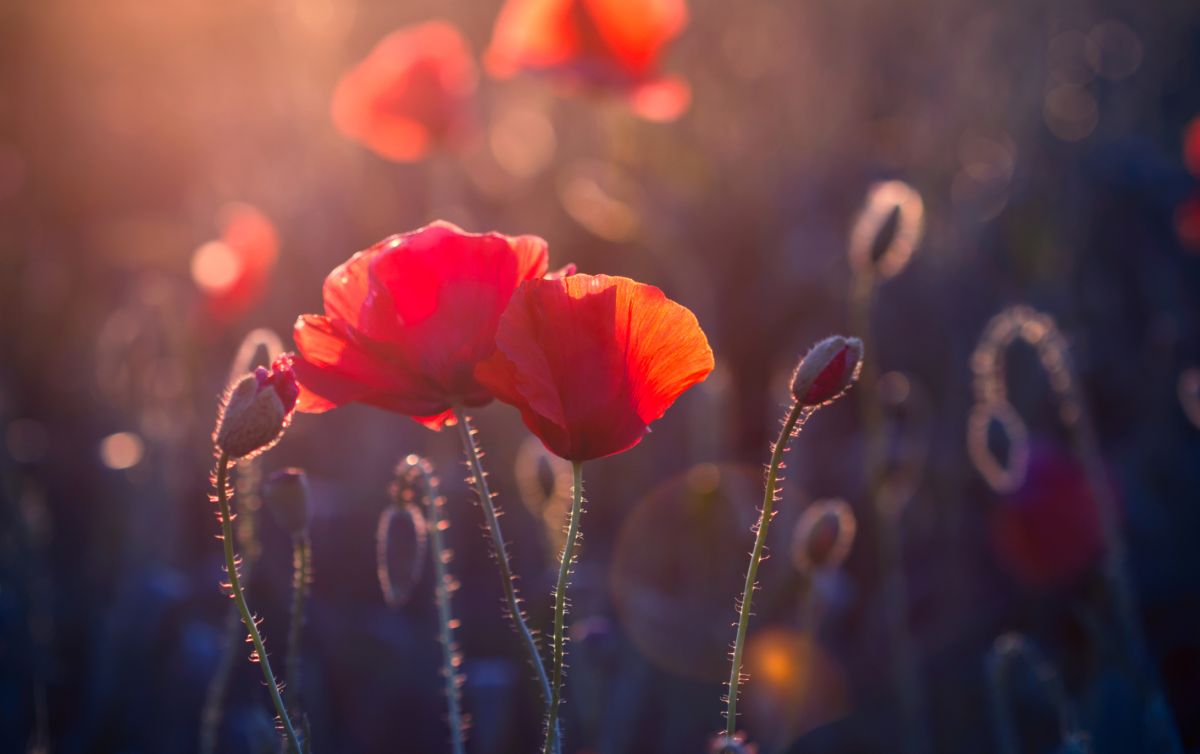 Red Flowers By Occasion
A bouquet of red flowers always makes a statement, no matter the occasion. To help you explore red flower symbolism and the choices available, here are some options to ensure your flowers are representing the sentiment you wish to convey.
Red Flower Meanings for Fall Bouquets
Red flowers complement fall's color scheme of warm colors. Reds play well off of oranges and golds, creating a stunning flower arrangement. Here are some red flowers that are available during the fall season.
Anemone: The Anemone is a wildflower associated with a Greek myth involving Aphrodite and Adonis. This red flower meaning focuses on loyalty and love. Anticipation is also associated with the Anemone because of the flower's habit of closing at night and reopening again in the morning. Relaxation and learning to enjoy the moment are additional sentiments attached to this flower.
Aster: The Aster flower meaning encompasses love, wisdom, and faith. The red Aster specifically symbolizes undying devotion. The word Aster is Greek for "star" which describes the shape of the bloom. A Greek myth tells the tale of the goddess Astera who cried when she saw how few stars were in the sky. As her tears fell to the ground, each turned into an Aster flower. In Victoria culture this red flower meaning was associated with daintiness, patience, and charm.
Chrysanthemum: Known as the Queen of Fall Flowers, these fall flowers symbolize happiness, longevity, and joy. Additionally, the red chrysanthemum stands for passion, love, and beauty. In Asian cultures, the color red is associated with good luck as well.
Alternate Red Flower Meanings for Valentine's Day
You may be wondering, what do red flowers symbolize if you're looking for flowers to give a special someone on Valentine's Day. Along with the traditional roses, there are several red flowers that make a beautiful and meaningful arrangement to celebrate your love.
Roses: The red rose is the traditional symbol of love with over 200 million roses being produced for the big day, Of those, 47 percent are red roses. While the red rose symbolizes romance, passion, and love, the number of roses given have additional meaning.
One red rose: Symbolizes new love, love at first sight, or one and only love.
Two red roses: Means mutual love and affection.
Three red roses: Three roses are the traditional amount to acknowledge your one-month anniversary.
Six red roses: When you give your partner six red roses it is meant to signal you wish to take your relationship to the next level.
10 red roses: Tell your love they are a "perfect 10" by giving them 10 red roses.
12 red roses: A full dozen roses symbolizes a feeling of fulfillment and a wholeness of your love and relationship.
Tulips: New life and warmth are conveyed with the much-loved Tulip. When a red Tulip is given you're also signifying the emotions of passion, lust, and love. This red flower meaning is perfect for newer couples or to express that "your feelings are true". Tulips are a great alternative if you're trying to win the affections of someone and feel red roses may be too strong a message.
Carnations: The carnation is a popular alternative to the rose. A dark-red Carnation symbolizes deep love and affection while a light-red flower means admiration or that you long for that person. Cut carnations will last up to three weeks and have a pleasant fragrance, making them an affordable and preferred choice instead of the rose.
Gerbera Daisy: Love, romance, and deep affection is the primary sentiment of the red Gerbera Daisy. If you're looking for a colorful and non-traditional Valentine's bouquet, mix the red Gerbera Daisies in with Daisies of different colors to broaden your flower language message. Choose yellow to include joy and pink to tell your special someone you admire them. 
Say Congratulations with These Red Flowers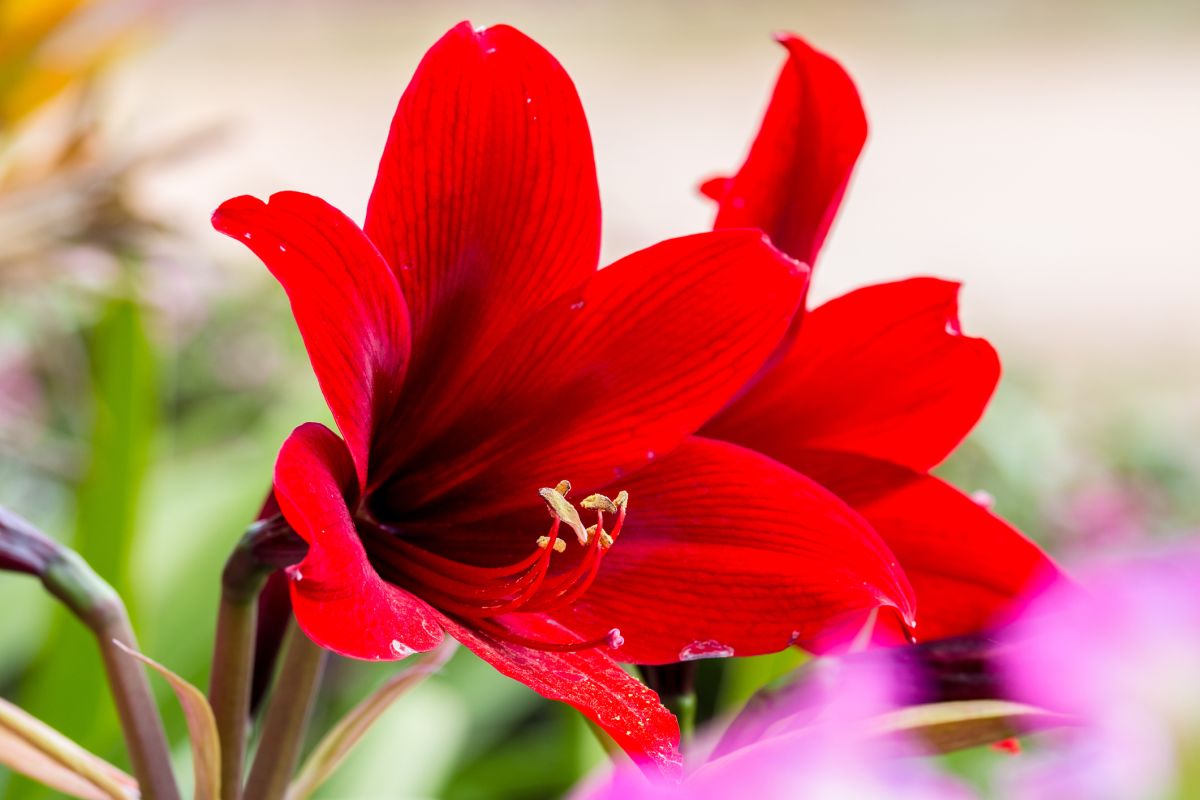 There are numerous occasions throughout the year in which you may want to congratulate someone on achieving a milestone or celebrating a special occasion. If you want to include a message of deep love in with that congrats, these red flower meanings fit the bill.
Amaryllis: These beautiful, tropical flowers have a primary meaning of determination, pride, and success. The red flower adds a sentiment of love and beauty, making the red Amaryllis a great choice to give a loved one who is celebrating a graduation or career success.
Alstroemeria: This flower conveys devotion and friendship, as well as wealth, fortune, and prosperity. Add the message of love and passion with a red Alstroemeria. This is the perfect choice to celebrate a new business or career achievement for a partner or close friend.
Rekindle Love or Grab Someone's Attention
Sometimes a bouquet of roses or carnations are too over-the-top. If you're looking for a more lowkey flower with a specific sentiment attached, try these two types of blooms.
Red Zinnia: The red Zinnia stands for steadfastness and family ties making it a perfect flower if you want to let that special someone know you're serious about making a commitment. This would work well for taking a casual relationship to the next level or letting an ex-partner know you want to try again.
Honeysuckle: The Honeysuckle flower symbolizes happiness. The red flower meaning conveys love and passion, especially in association with an old flame. If you're looking to rekindle a relationship, try giving them a beautiful bouquet of these red flowers.
Other Occasions
Red Poppies: The Poppy is associated with sleep, peace, and death, stemming from symbolism in both Greek and Roman myths. In Canada and much of Europe, the red poppy represents fallen soldiers who sacrificed their lives during war. It is tradition for people to wear red poppies on November 11th, called Remembrance Day. A poem called "In Flanders Fields" speaks of how red Poppies grew on the graves of soldiers.
Lilies: Lilies of many varieties have long been a symbol of purity and virtue, though they also have a strong association with the afterlife which makes them a traditional funeral flower. A red lily also signifies love and passion, along with fertility. Give these flowers to celebrate a pregnancy or birth.
Red flowers add the message of love, passion, and devotion to the language of flower giving. Choose your red flower based on the receiver's preference, the red flower meaning you want to convey, and seasonal availability.
Red Flower Meaning FAQ
What are the Most Common Pollinators of Red Flowers?
Due to the color red being outside of many insects' visible spectrum, birds are often the biggest pollinators of red flowers.
What are Some Common Red Wildflowers in North America?
Some of the most prolific red wildflowers in North America are the columbine, Trillium, Prairie Smoke, and Scarlet Morning Glory. 
How Long Do Cut Roses Last?
Roses, when in a flower arrangement, typically last one week.
What are Some Long Lasting Cut Red Flowers?
Alstroemeria will last up to two weeks if expired blooms are immediately deadheaded as they die off. Carnations and Calla Lilies will also last up to two weeks if well taken care of.
What is the Oldest Type of Red Flower?
Roses are likely one of the oldest flowers still around today. Rose fossils were found and dated as far back as 35 million years ago.