There are many seeds to plant in the fall. Choose the right ones and adopt the right strategies and you can create a garden that looks good and is productive not only in summer but throughout the year.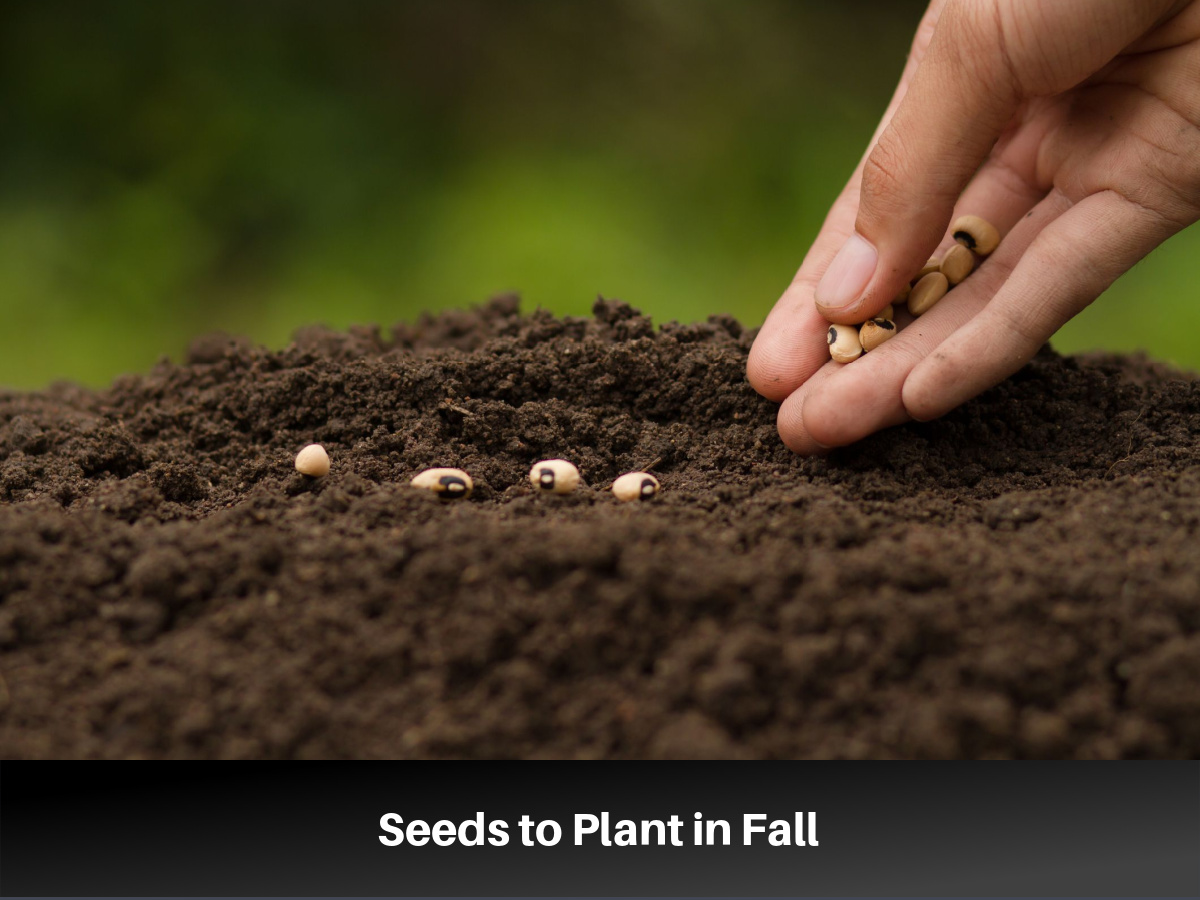 How to Choose Which Seeds to Sow in Fall
The best time to sow seeds will depend on where you live, on your specific garden, and on the growing methods you have chosen. But as you learn more about different plants and how to grow them, you can build up a better understanding and learn what to sow each month where you live.
To choose which seeds to sow, think about:
Where you live, and the specific location where you will be sowing and growing. And the conditions to be found there.
Matching the needs of specific plants to the growing conditions. And finding the right plants for place and purpose.
Where plants fit in within your garden, home, or growing plans as a whole. And how to integrate plants and create cohesive, holistic schemes.
In summer, you will often reap rewards from your gardening efforts. But you should also be planning ahead.
As summer turns to fall, in warmer climate zones with longer seasons, you can continue to sow crops and ornamental plants. Even in cooler climes, you may still sow plenty of seeds in fall – especially if you have undercover or indoor areas in which to sow them.
Where to Sow Seeds
Depending on where you live, your climate zone, hardiness zone, and specific details of your location, you may sow seeds in many different spots. You might sow them:
Directly where they are to grow, outside in a garden.
In a bed or border in a greenhouse, polytunnel, or other undercover structure.
Indoors (either to transplant later to other growing areas or to grow indoors longer-term).
Indoors, seeds are sown into seed trays, small pots, or other reclaimed containers, or into soil blocks. Normally, the growing medium will be a special seed-starting potting mix, which is moist yet free-draining, light, and not compacted.
How to Sow Fall Seeds
To sow seeds in fall, you need to remember what seeds need to germinate. To germinate, or sprout, seeds need:
The right temperatures.
Light (or darkness) depending on the seed in question.
Moisture.
Oxygen.
Creating the right conditions for germination to take place is a big part of the puzzle when it comes to propagating plants from seed.
You need to know where to sow seeds, the right time to sow them where you live, the conditions they require, and the depth to which they should be sown.
Vegetable Seeds to Sow in Fall
As summer turns to fall, in many temperate climate zones, you can continue to sow a range of vegetable crops. Some are quick-growing crops to eat later in the season. Some may be for winter harvesting. And some will be harvested the following spring.
After you harvest summer, warm season crops, you can fill in the gaps that emerge. And continue to plan for year-round growing and eating from your garden. (Though remember that in colder zones, winter protection will usually be required.)
After the summer harvests, remove the summer crops (but leave legume roots in the soil). Consider sowing, for example:
brassicas (cabbage family crops)
winter lettuces (and other leafy greens)
fava beans
winter peas
onions
garlic
radishes
turnips
In colder climate zones, especially where winter protection cannot be provided, it may be better to plant a cover crop. Cover crops are often used for winter – especially where it would be more challenging to keep crop plants alive due to more extreme winter cold.
A cover crop will protect the soil, add fertility, or improve soil structure when it dies back naturally or is chopped and dropped in spring. Mustard, winter rye, clover or vetch, and field or fava beans are all options to consider.
Cover crops do not require any care. They simply remain in place or die back over the winter months. These cover crops or green manures are often planted in the fall in cooler temperate climates.
Flower Seeds to Sow in Fall
Good gardening is not only about sowing edible crops. Many flowering plants can also be sown in fall. It is important to sow for blooms over as much of the year as possible in an organic garden. And naturally, we enjoy flowers for aesthetic reasons too, wherever they grow.
In the fall, you might sow:
Hardy annuals.
Biennial plants.
Perennial species.
Which flowers will be best for fall sowing will depend on where you live, and you should always consider native plants where possible. But some popular flowers to sow in fall include:
Ammi majus
Blanket flower
Calendula
Cleome
Columbine
Cornflowers
Cosmos
Delphinium
Dianthus
Echinacea
Forget-me-not
Foxgloves
Gypsophila
Hollyhocks
Lunaria
Nasturtiums
Nigella
Pansies/ Viola
Penstemon
Poppies
Rudbeckia
Snapdragons
Stocks
Sweet peas
Veronica
Remember though that what and where you should sow each month depends on the specifics of the situation and location. There is no one size fits all solution for fall sowing. The seeds to plant in fall in one place won't be the same as those to sow in the next. So always make plans specifically for where you live and grow.