Mums flowers are one of the most popular container flowers in the world. These colorful blossoms come in a startling array of different colors and bloom types, and they're perfect for adding a pop of color to your fall flower beds.
How to Care for Mums Flowers
Light
Mums require at least six hours of sunlight a day. Since these flowers don't do as well in hot climates, they appreciate receiving some afternoon shade in warmer temperatures to avoid scorching the blooms and foliage.
Can Mums Grow in Shade?
Mums can grow in shade. Lack of sun will prevent the plant from blooming as profusely as it would if it was planted in direct sunlight.
Can Mums Get Too Much Light?
Even though mums only require six hours of sunlight a day to do well, mums can tolerate up to twelve hours of sunlight a day. The more sunlight mums get, the more blossoms they will produce and the hardier the plant will be.
Watering
Compared to many potted plants and landscaping flowers, mums require a lot of water to do well. Potted mums should be watered approximately every other day in dry weather and need an inch of water a week to avoid drying out.
Soil
Mums like moisture, but they need to be planted in loamy soil that drains well. Potting soil has an ideal composition for mums to grow vigorously, so it's a good idea to amend the topsoil with potting soil or compost if you're planting mums in a border or flower bed.
Temperature
Mums prefer cooler temperatures and thrive in a range of sixty to seventy degrees. It's important to note that the warmer temperatures are, the fewer flowers mums will produce and the more likely they will wilt early.
Mums perform better if they're planted after fall temperatures have begun to turn cool, especially at night.
Humidity
As an autumn blooming flower, mums do best with high levels of humidity. If you're trying to grow mums in a drier climate, they benefit from being misted a few times a week to help keep the plants moist.
Fertilizer
Mums produce more blooms when they are fertilized, and the plant's foliage grows more densely if it has plenty of nutrients. Use a fertilizer that contains the following combination of essential minerals to get the most out of your mums:
40-120 ppm (parts-per-million) calcium
30-60 ppm magnesium
25-75 ppm sulfur
A commercial fertilizer designed to encourage flowering plants should provide enough nutrients to keep your mums blooming throughout the fall season.
Tips for Growing Mums Flowers
Mums are a simple plant to grow, but knowing some tips for maintaining them can help you keep them looking their best:
Put your mums in a new pot. Repotting the mums and gently breaking up the root ball can encourage new root growth and a healthier plant once it is replanted.

Divide mums to keep them healthy. Each spring, take each clump of mums and divide out the fresh, healthy sprouts on the edge of the clump from the woody, dead centers left over from the previous season.

Protect mums in winter. Mums can be kept as perennials if the plants are allowed to die back naturally, and the base of the plants is protected with straw or mulch to prevent cold damage.
When to Plant Mums
Potted mums should be planted in late August or early September. Be sure not to plant mums too early at the end of summer, as late summer heat can lead to smaller and less frequent blooms.
When to Cut Mums
Mums should be trimmed back after the first frosts of the fall season. Mums will come back in the spring if they aren't trimmed to the ground and if the plants are planted early enough in the fall.
Dead-heading mums and mulching them for upcoming freezing weather can make it easier for mums to come back vigorously when the weather gets warm again.
20 Types of Mums Flowers
White Mums
1. Butter n' Cream Mums (Chrysanthemum morifolium 'Butter n' Cream')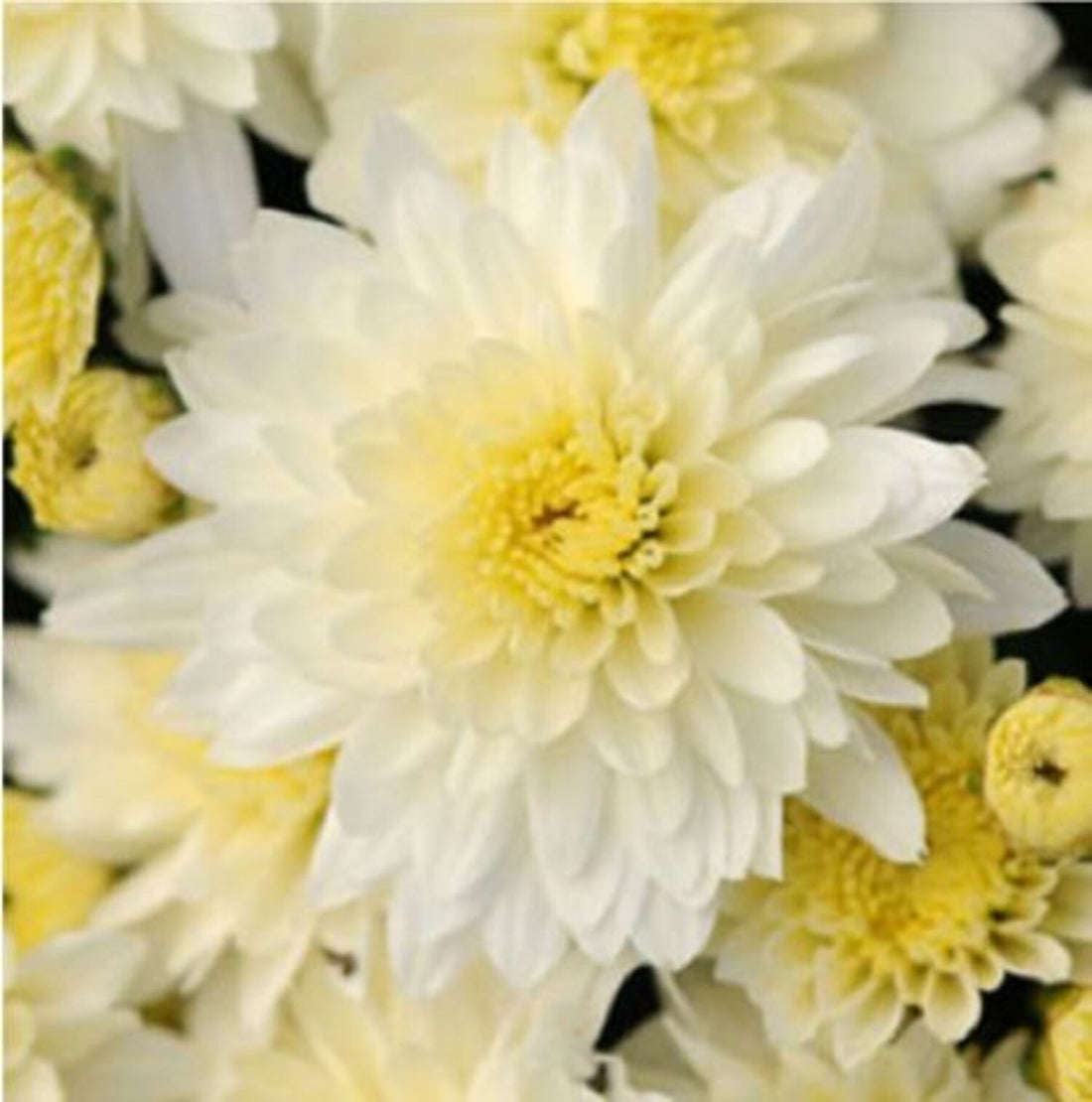 Butter n' Cream mums are white decorative mums with ivory or yellow centers in the middle of each snow-white blossom. These mums keep well and do well in warmer Southern climates.
2. Celestial White Mums (Chrysanthemum morifolium 'Celestial White')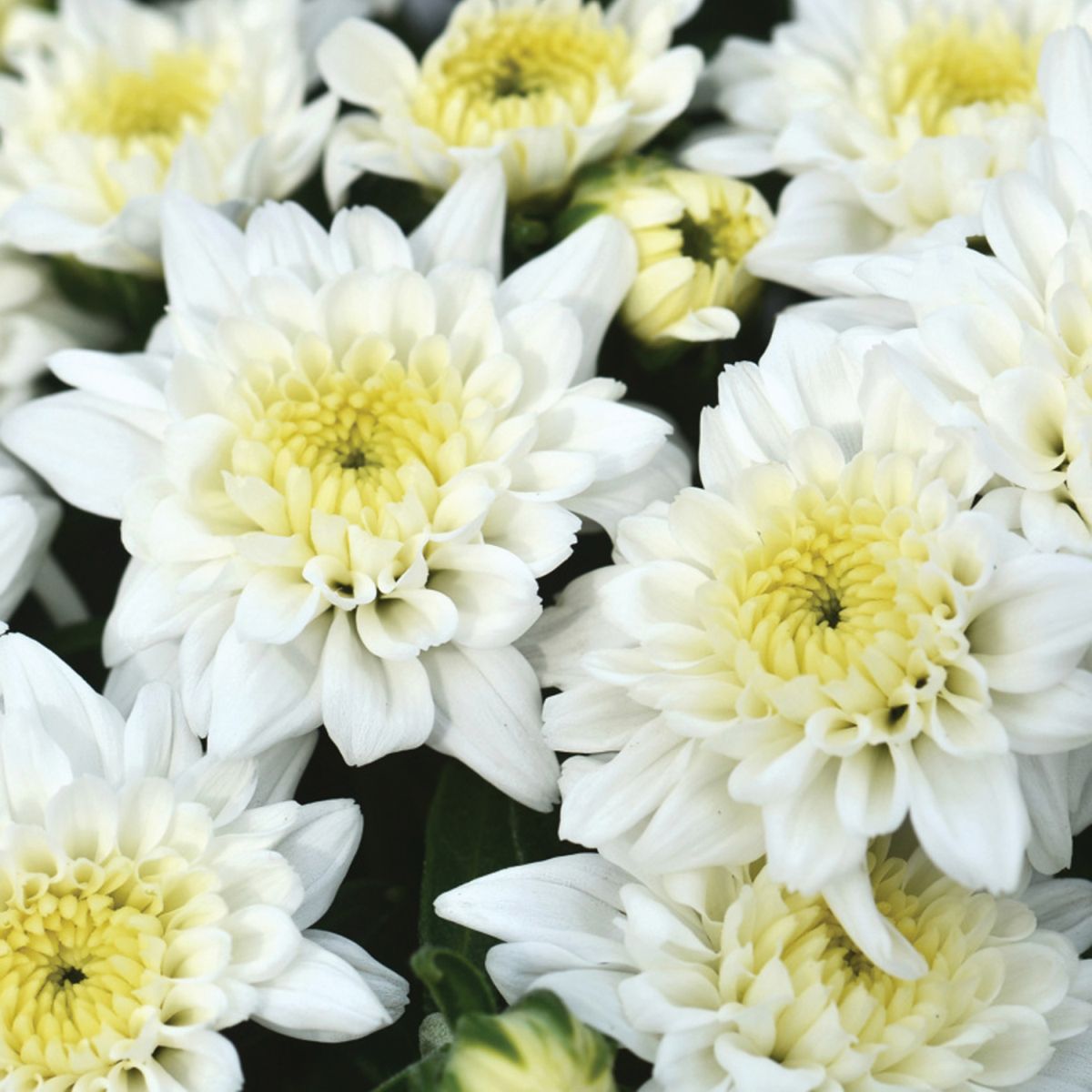 Celestial White mums are similar to Butter n' Cream mums, but bloom later in the season. Celestial Whites are decorative mums with a white blossom containing an ivory-colored center.
3. Chelsey White Mums (Chrysanthemum morifolium 'Chelsey White')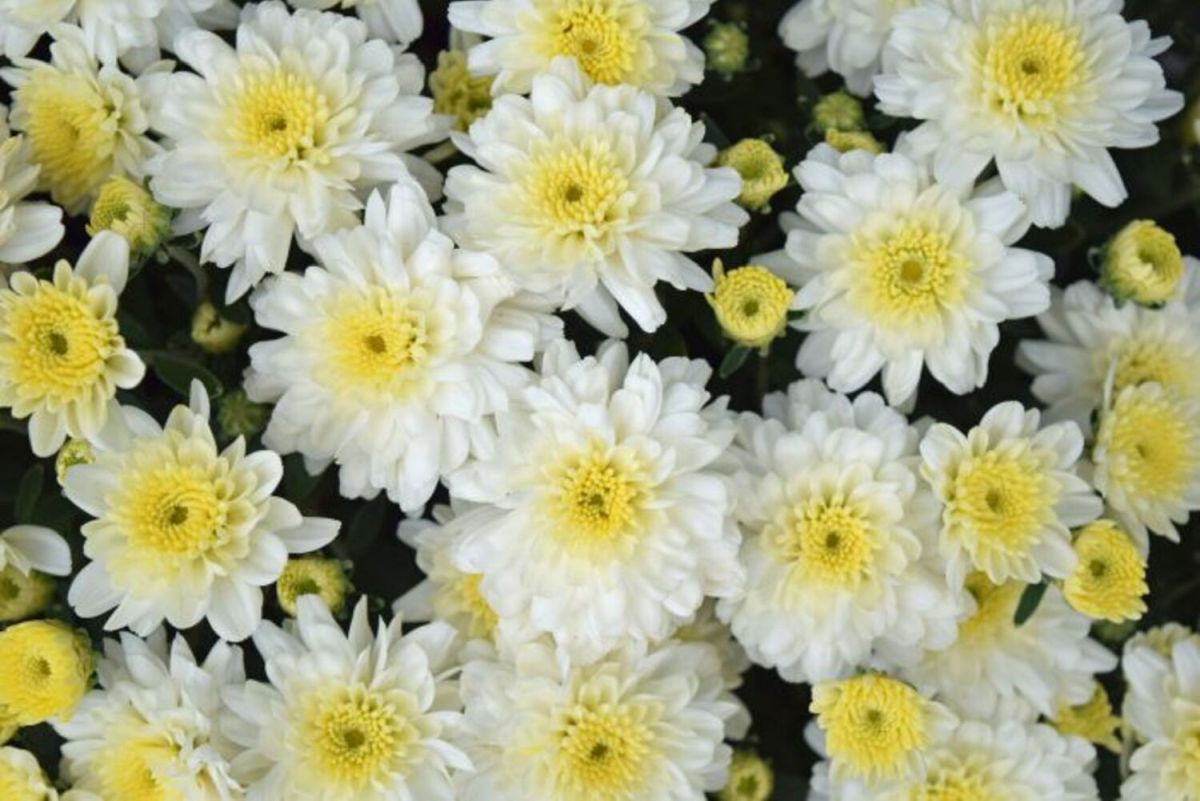 Chelsey White Mums are known for their uniform growing habit and proliferation of small white blossoms that come on in the early to middle of the growing season. White mums act as a stark contrast for other darker-colored mums in a mixed landscaping design.
4. Anastasia Mums (Chrysanthemum morifolium 'Anastasia')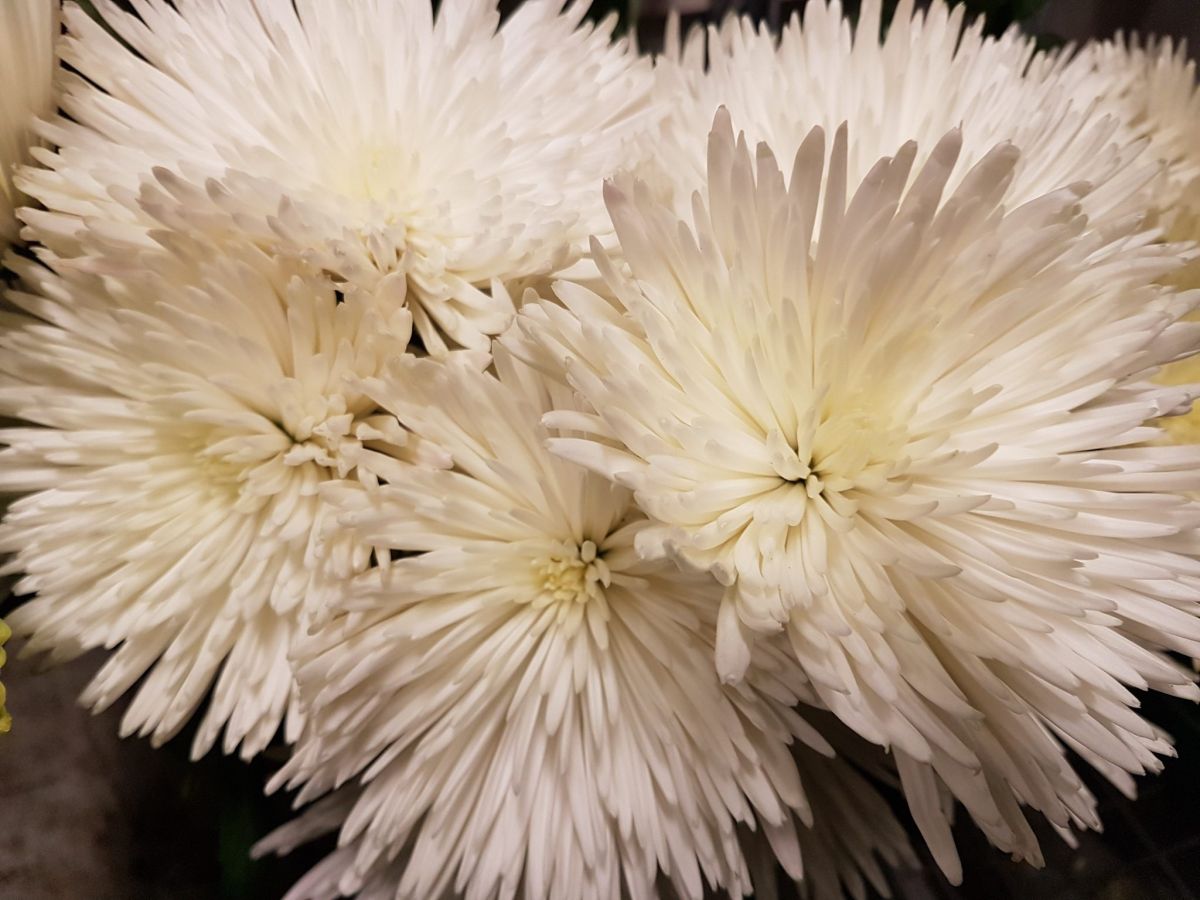 Anastasia Mums are spider mums, a blossom type with a center that sends slender sprays of petals in all directions that are reminiscent of a spider's legs. White spider mums are a long-lasting mum variety that is a popular addition to wedding bouquets.
Yellow Mums
5. Beverly Gold Mums (Chrysanthemum morifolium 'Beverly')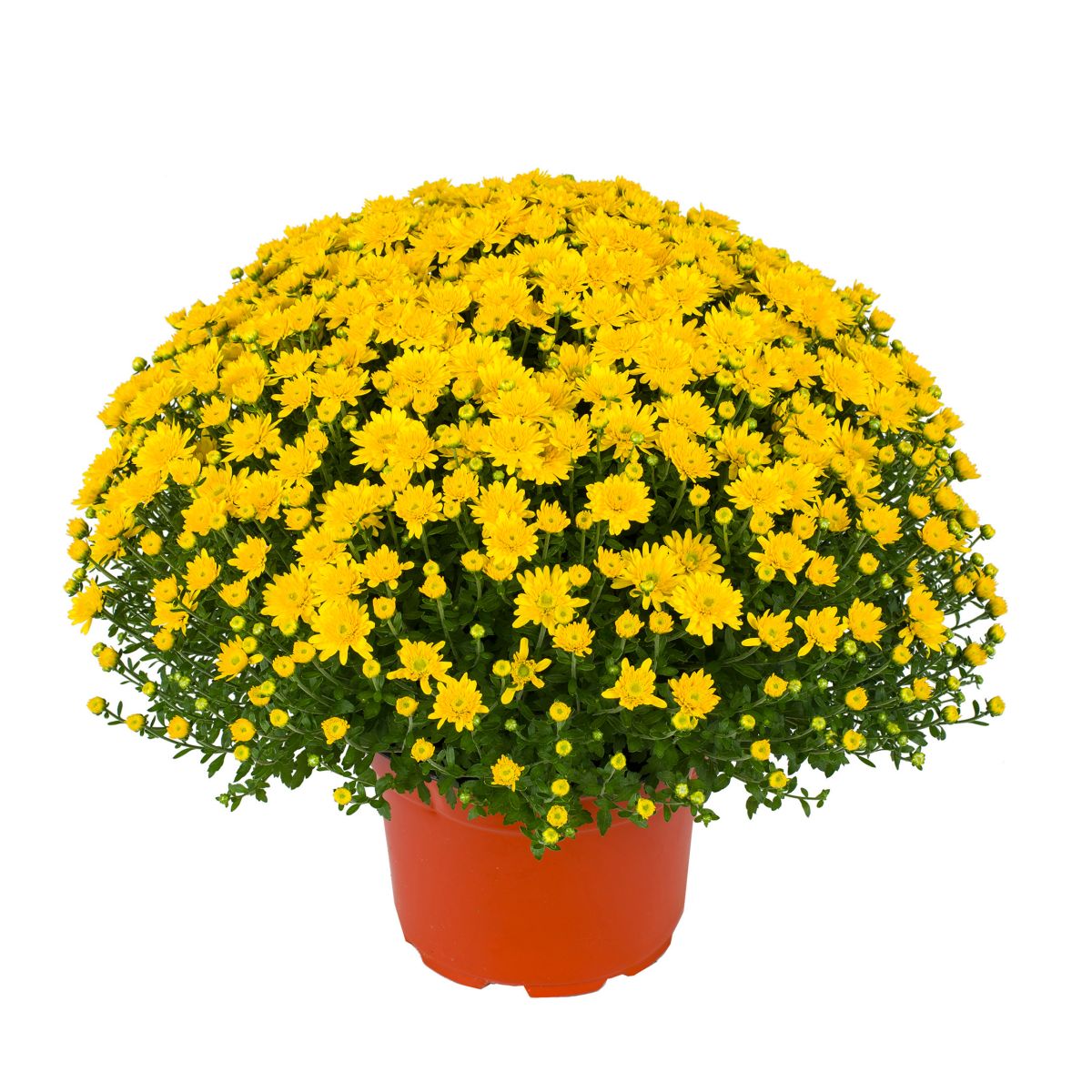 Beverly Gold mums have a bright, striking butter-yellow hue and a round growing habit that makes them an eye-catching addition to borders and flower beds.
6. Buttercup Yellow Mums (Chrysanthemum morifolium 'Buttercup Yellow')
Buttercup Yellow mums are a European variety that keeps well and grows plenty of long-keeping yellow blossoms all season. Their colorful blooms are also a strong attractant for butterflies and bees.
7. Elena Gold Mums (Chrysanthemum morifolium 'Elena Gold')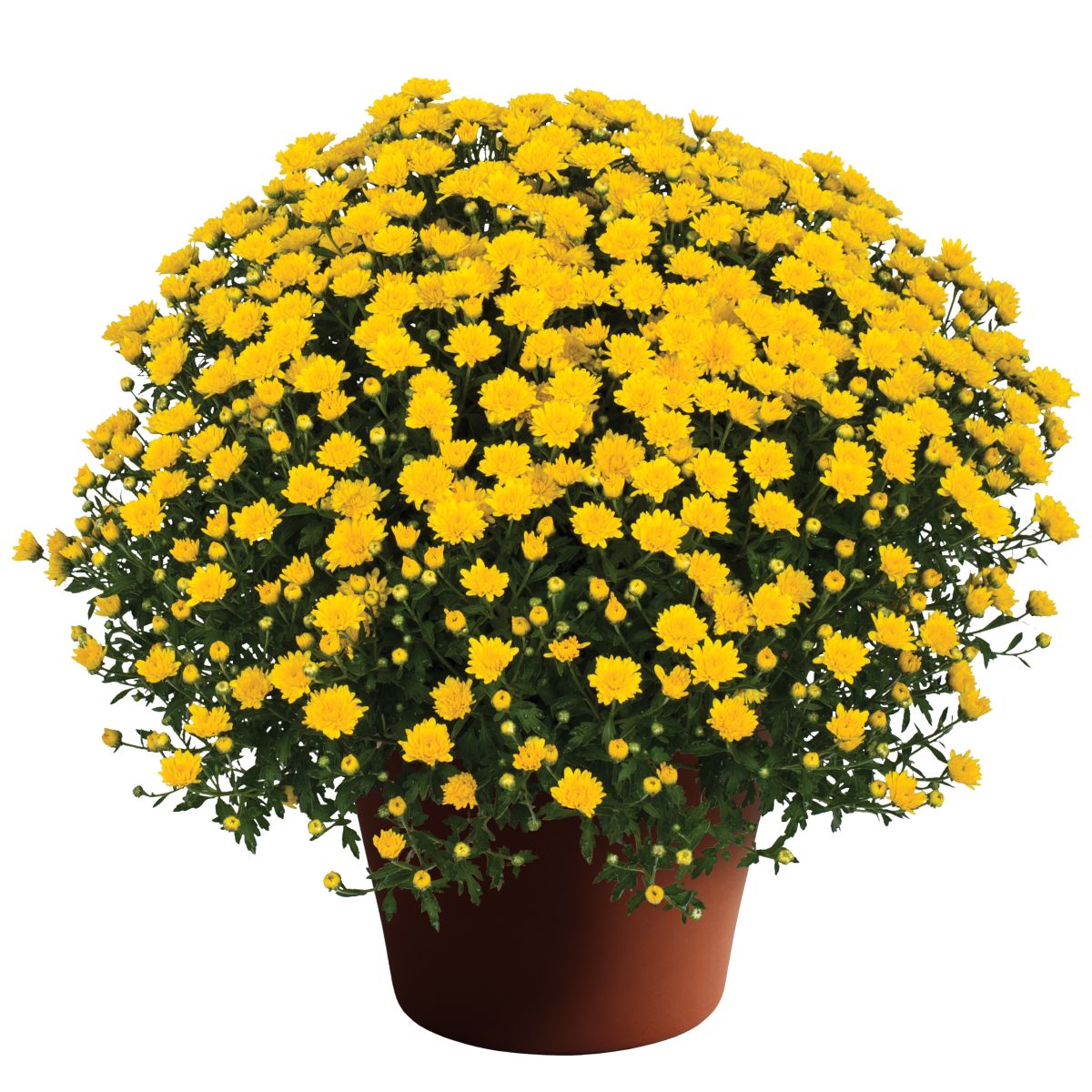 Elena Gold Mums are an early-blooming decorative variety that still manages to last well into the late fall.
8. Gold Rush Mums (Chrysanthemum morifolium 'Gold Rush')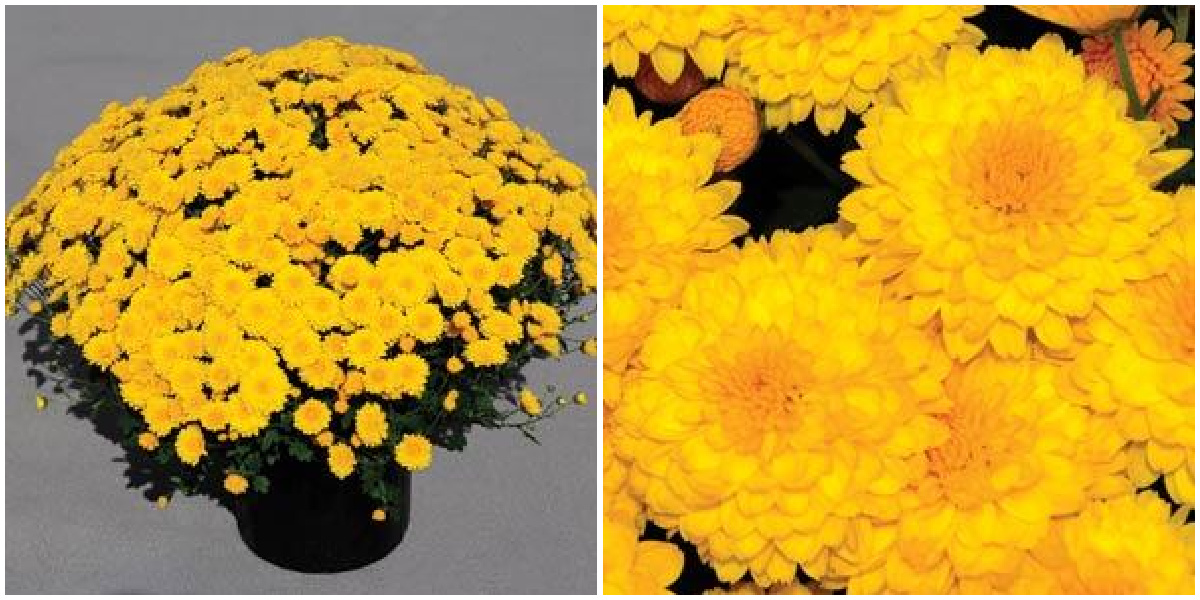 Gold Rush Mums begin blooming in early September and will grow throughout October. This mum variety is cold-resistant and has very dark foliage to act as a contrast to its bright yellow blooms.
Red Mums
9. Autumn Sunset Mums (Chrysanthemum morifolium 'Autumn Sunset')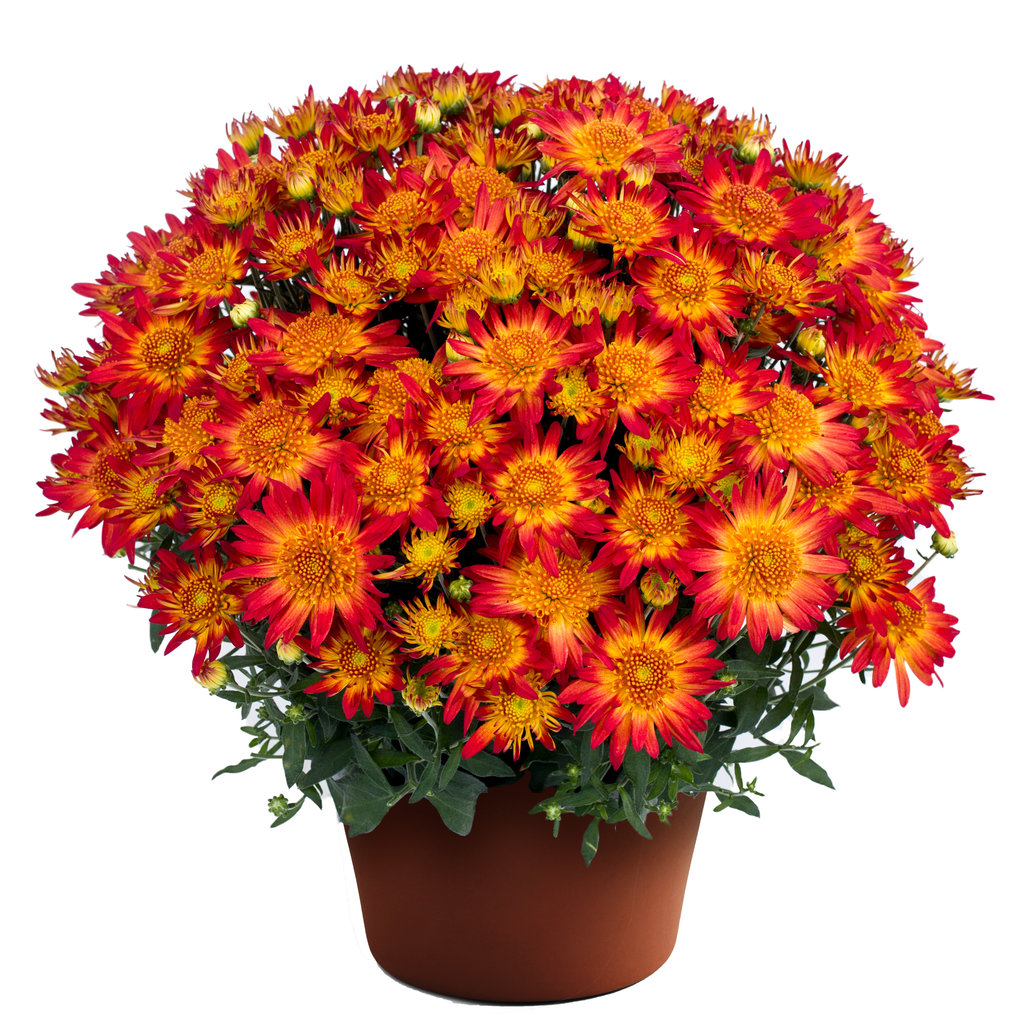 Autumn Sunset Mums are a stunning bicolor variety that feature an orange-and-yellow center with bright red outer pedals. These plants have large blooms and flower reliably.
10. Cranbury Red Mums (Chrysanthemum morifolium 'Cranbury Red')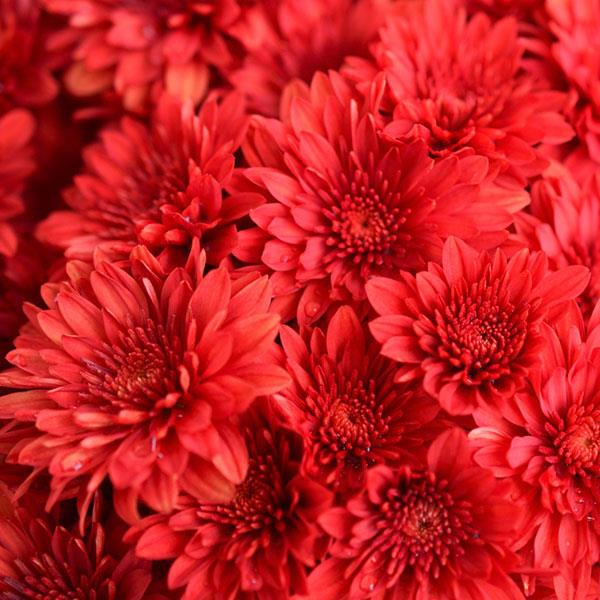 Cranbury Red Mums are popular for their deep, uniform crimson color and their ability to retain it throughout the growing season.
11. Cynthia Scarlet Mums (Chrysanthemum morifolium 'Cynthia Scarlet')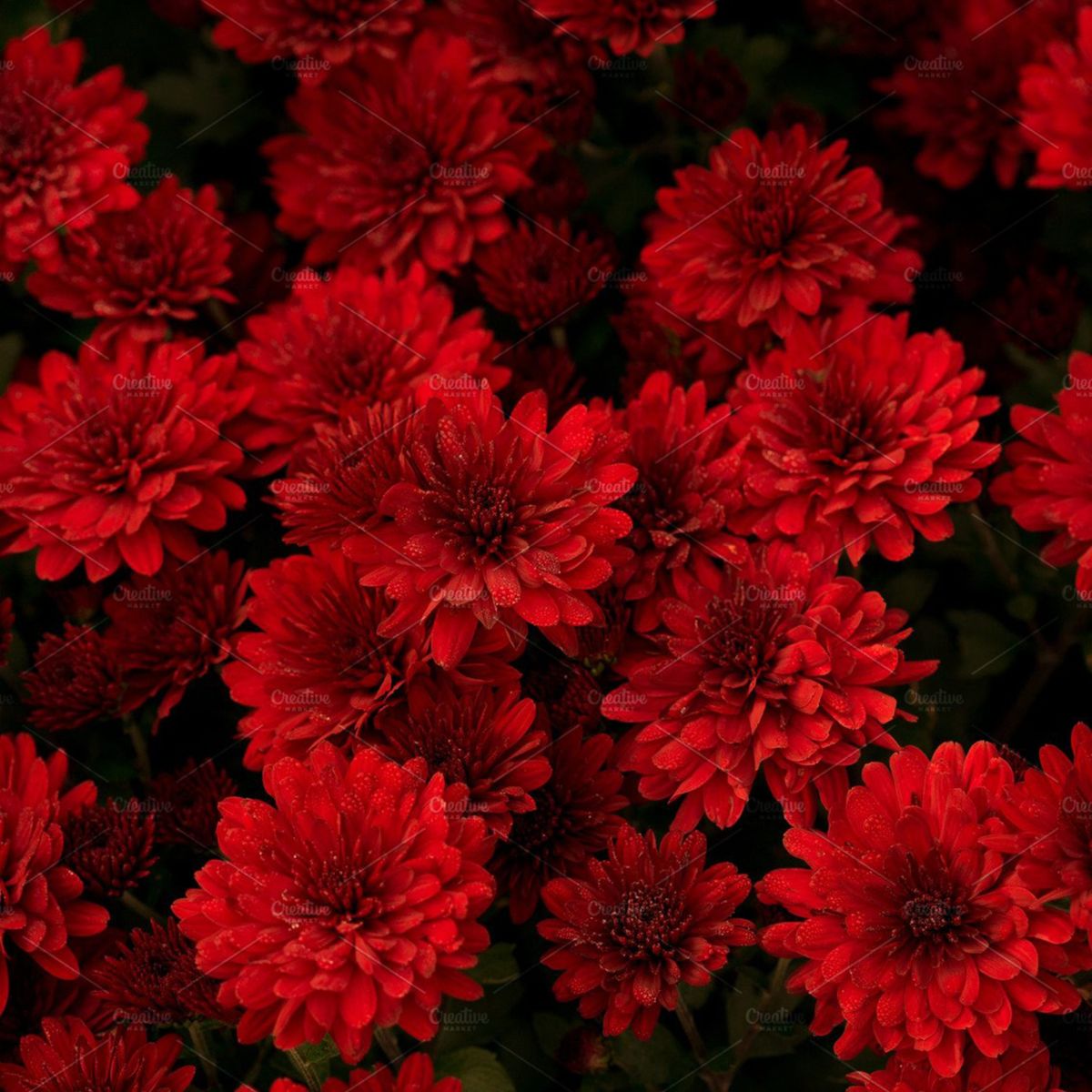 Cynthia Scarlet Mums have a deeper red color than many red mums, making them a good complement to white mum varieties for contrast. These mums are a late-blooming variety and planting them can help you extend the blooming season of your flower beds.
12. Five Alarm Red Mums (Chrysanthemum morifolium 'Fire Alarm Red')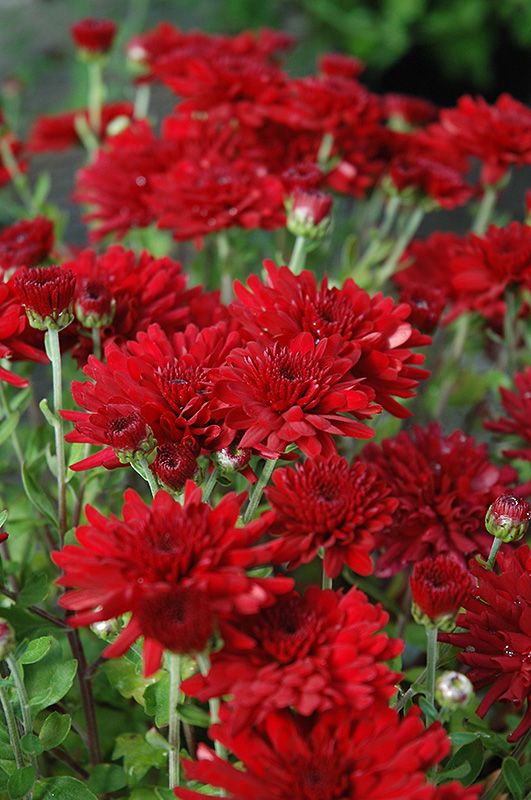 Five Alarm Red Mums are one of the more adaptable types of mums and can thrive in less-than-optimal lighting and soil conditions where other mums may wilt. Five Alarm Reds are a popular variety of mums for cutting because of their strong stems.
Orange Mums
13. Crush Orange Mums (Chrysanthemum morifolium 'Crush Orange')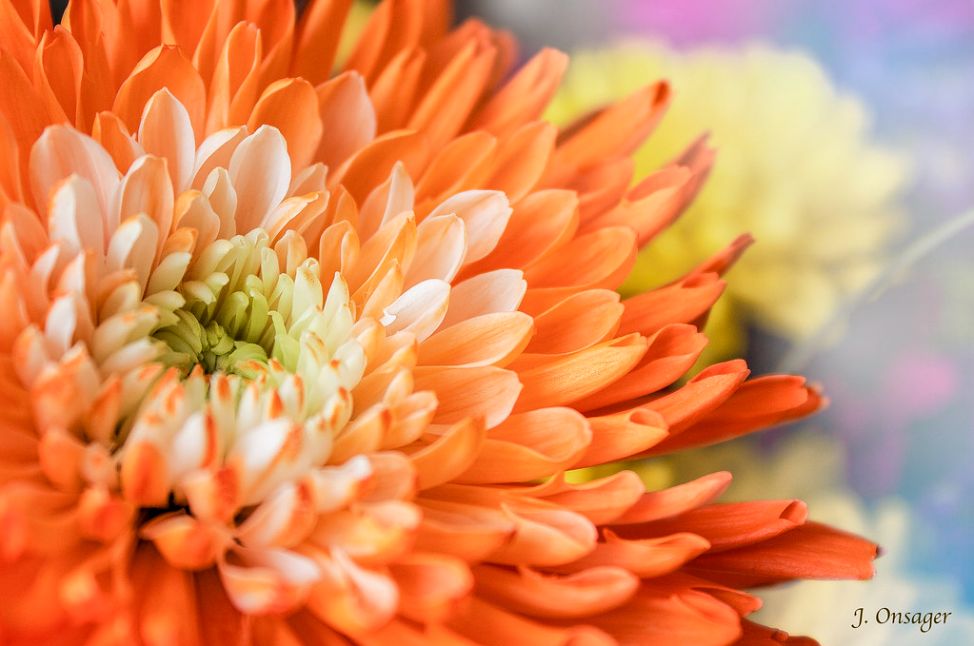 Orange mums are among the most common colors found since they are a popular addition to fall and Halloween themed decor. Crush Orange Mums feature orange blooms with a dark orange center.
14. Dazzling Stacy Mums (Chrysanthemum morifolium 'Dazzling Stacy')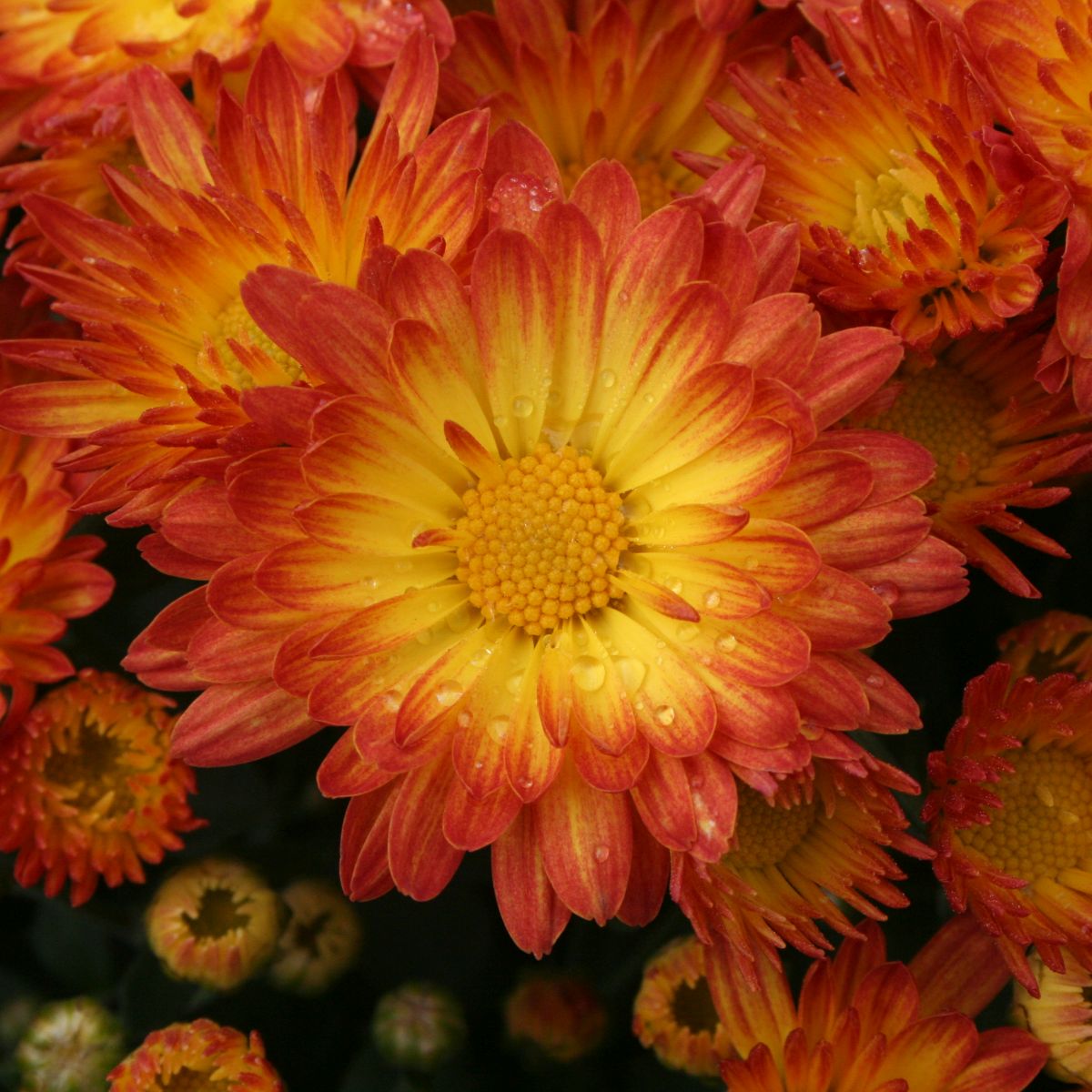 While Orange Crush Mums have light orange blooms with a dark orange center, Dazzling Stacy Mums are the opposite – dark orange petals brightening to a stunning yellow center. These mums do best with plenty of sunlight.
15. Miranda Orange Mums (Chrysanthemum morifolium 'Miranda Orange')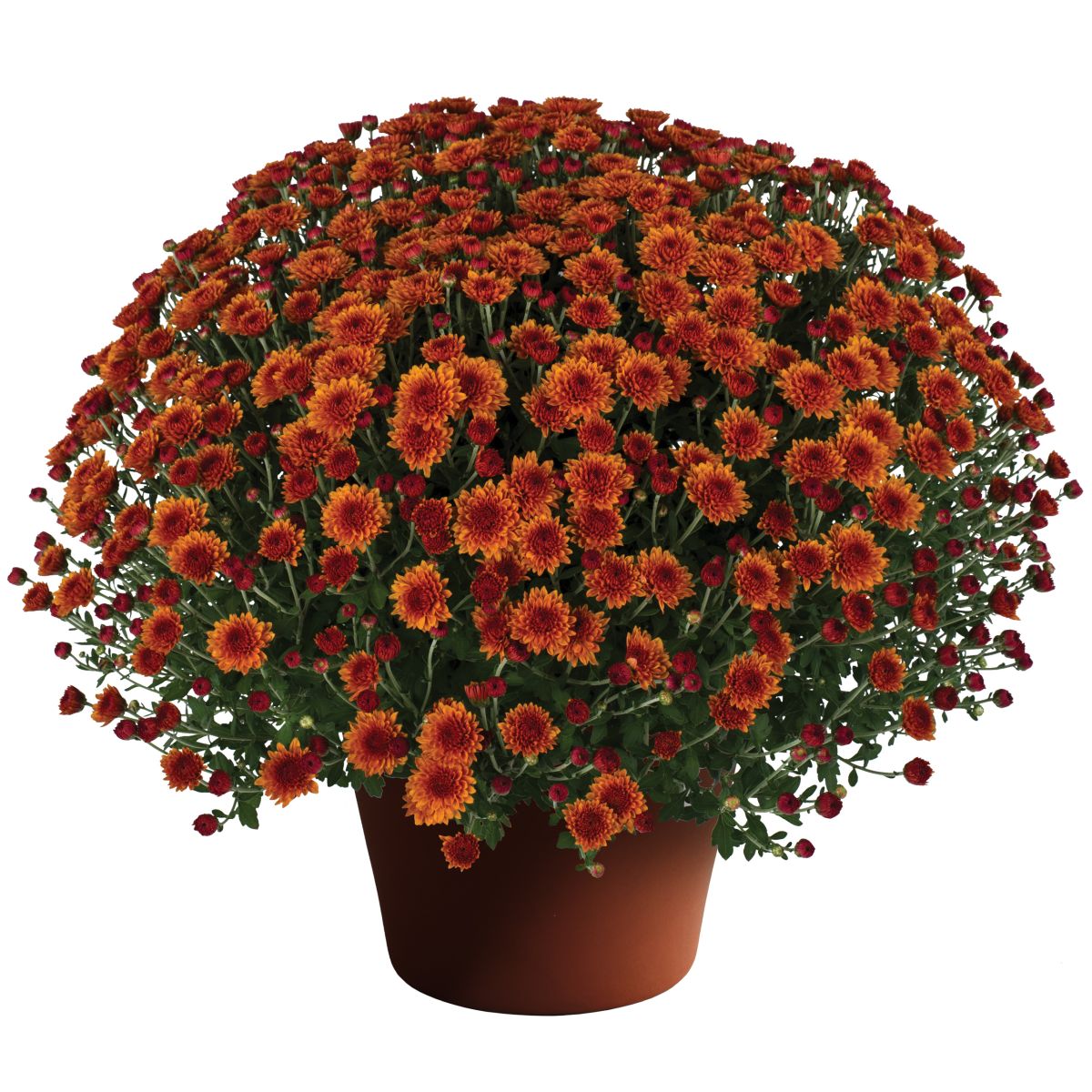 Miranda Orange Mums are an ideal choice for gardeners who are looking for a dark orange mum variety.
16. Sunset Orange Mums (Chrysanthemum morifolium 'Sunset Orange')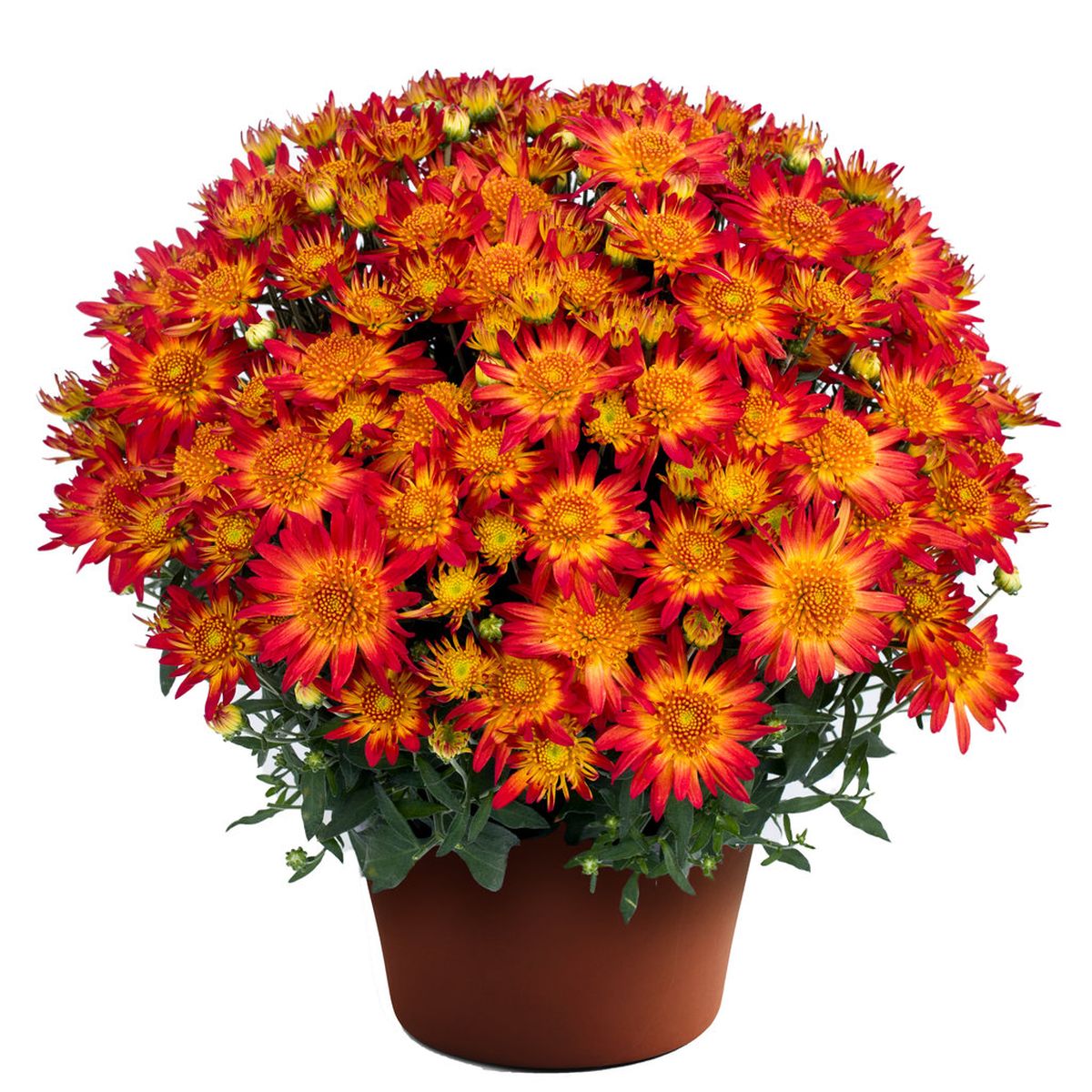 Sunset Orange Mums are a unique mum type because they have a variegated coloring. Some of the blossoms on these mums are a pastel orange, while others darken to bronze or feature shades of coral and yellow.
Purple Mums
17. Lagoon Purple Mums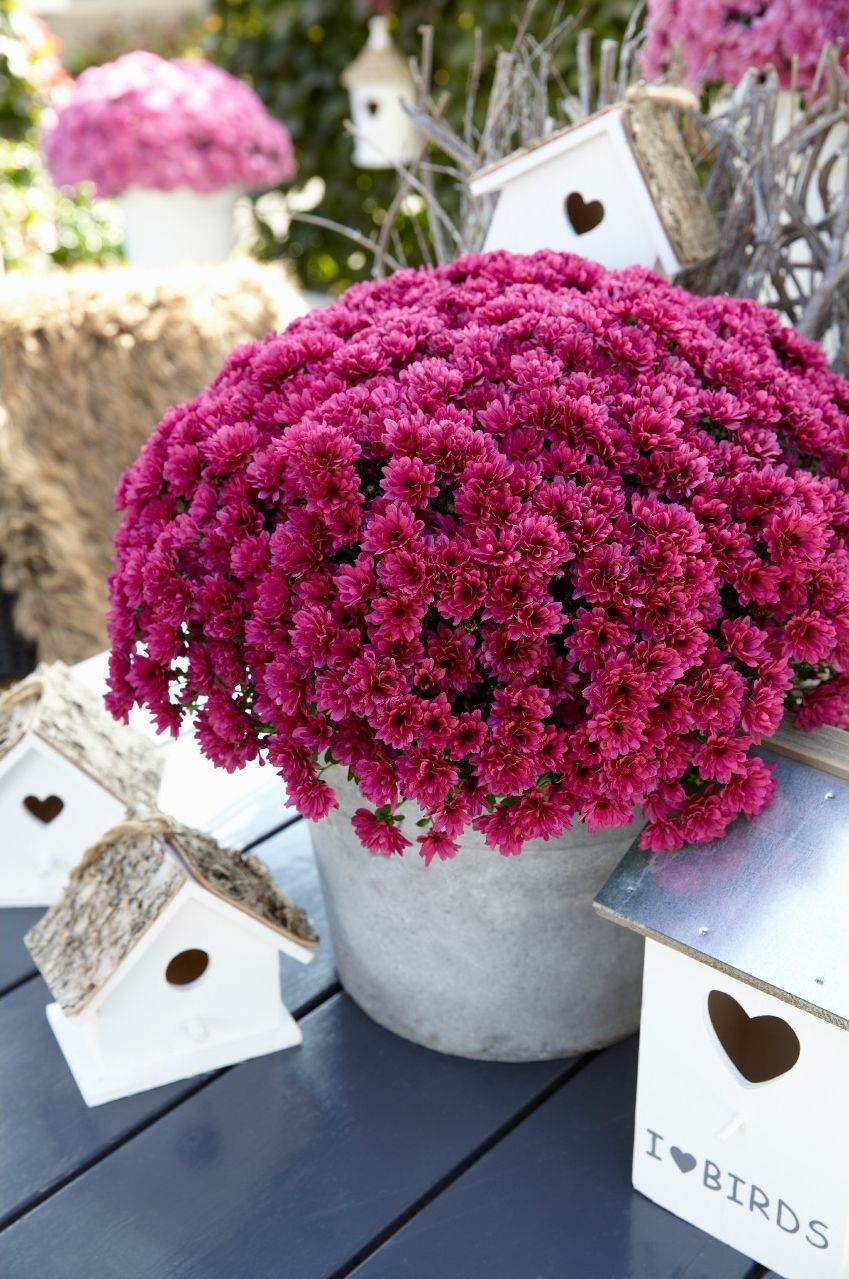 Lagoon Purple Mums feature a spherical growing habit covered in lush magenta blooms. These mums are one of the earliest blooming mum varieties available.
18. Venus Purple Mums
Venus Purple Mums have a semi-mounding habit, making them a practical choice for window boxes and other long containers.
19. Patty Purple Mums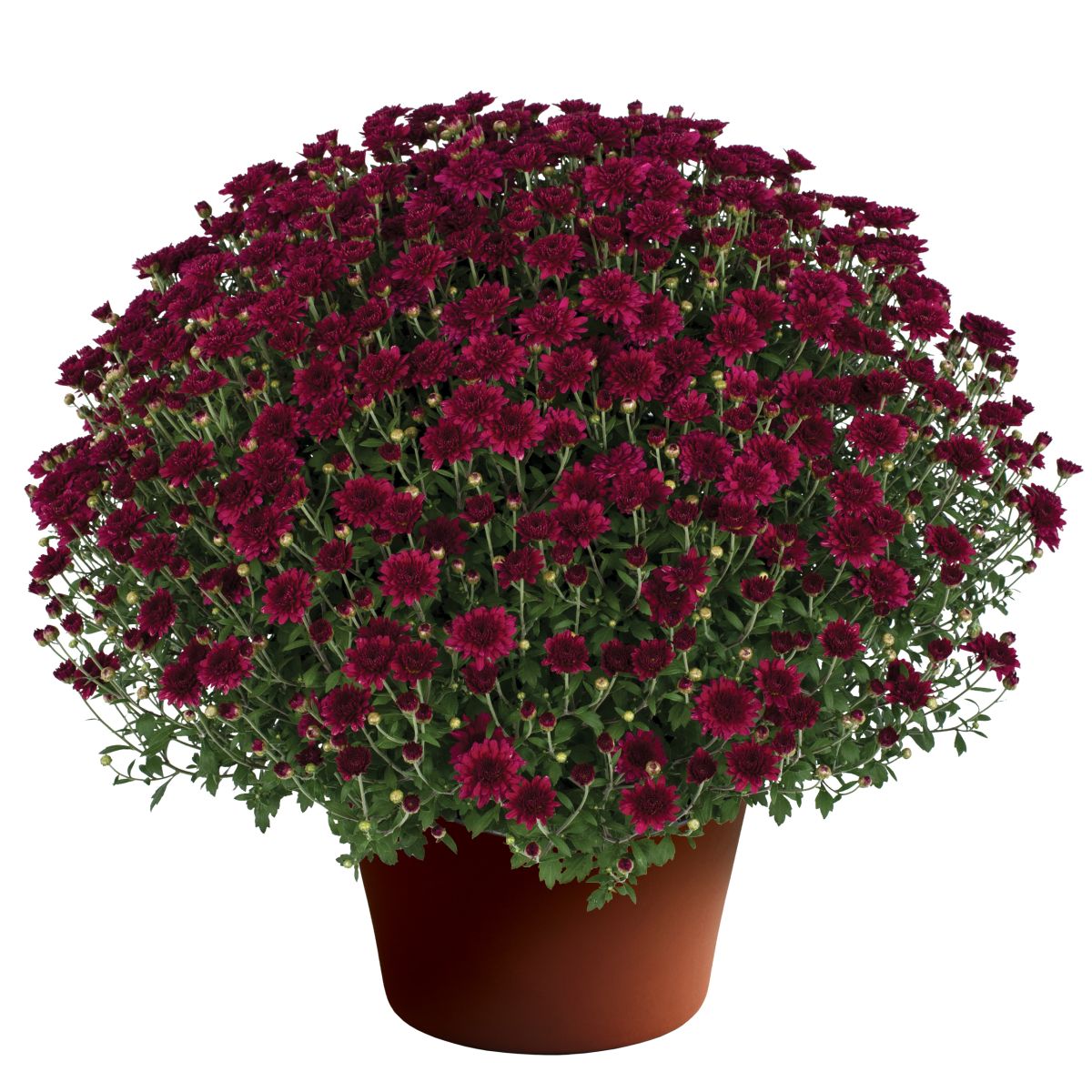 For those gardeners looking for a darker purple mum, Patty Purple Mums feature dark fuchsia blooms that bring to mind a glass of good wine. These mums are an early-blooming variety.
20. Morgana Purple Mums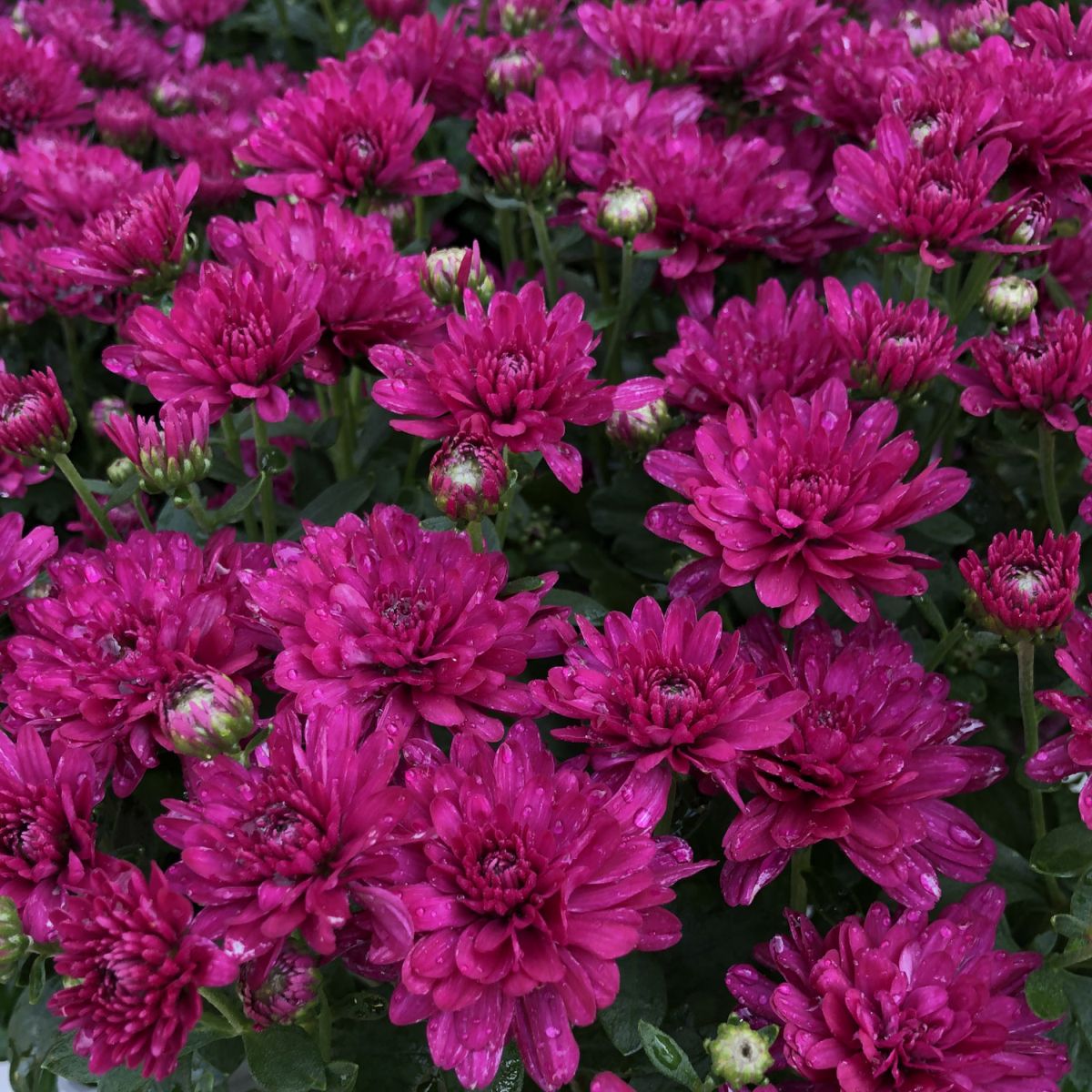 While many purple mums are early-blooming varieties, Morgana Purple Mums are a late season mum that is ideal for extending your growing season. These mums have large blooms that make a dramatic addition to flower arrangements.
How to Preserve Mums Flowers
Step 1. Prepare the flowers for drying. First, cut the mums from the plant using sterile scissors or garden shears. Cut away any extra leaves you don't want as part of your dried flower and trim the stem to six inches. Next, you should gather a grouping of cut flowers and bind their stems together with a rubber band.
Step 2. Dry the flowers. Hang the cleaned and bound mums up to dry in a cool, dark, well-ventilated area for 2-3 weeks. Avoid hanging the mums in direct sunlight to ensure that they retain their color while drying.
Step 3. Preserve the flowers. Finally, after the flowers have been completely dried, spray the dried mums with unscented hairspray to keep them in good condition.
fAQ
How Long Do Mums Flowers Last?
If cared for properly, mums can last four to eight weeks. Mums in warm climates don't last as long as mums in cooler temperatures. 
Do Deer Eat Mums Flowers?
Mums are generally deer resistant because deer don't prefer eating them. Some deer may accidentally damage mums while grazing if they are planted in borders with other plants that deer want to eat. 
To prevent deer damage to mums, plant mums in containers as close to the house as possible. Another method for preventing deer damage to mums is to plant them alongside strongly scented plants that drive deer away, such as mint and lavender. 
How Do I Save My Potted Mums for Next Year?
To save potted mums for the following season, trim the plant back to its bare stems after the first freeze of the fall and cover the top of the container or the base of the plant with mulch or straw to protect the plant against cold damage. Cutting back mums will cause them to go dormant and allow them to come back the following year. 
When Should You Buy Mums? 
Mums should be bought at the beginning of the fall season to get the best selection of plants. However, if it is still warm in your part of the world at the beginning of summer, you may want to hold off a few weeks since mums don't tolerate temperatures over 70 degrees well. Look for mums whenever the weather begins to cool in early autumn. 
How Do You Pick the Best Mums? 
When choosing mums at the nursery or home improvement store, there's a few ways to tell whether you're getting the best mums available. 
Avoid mums with soggy soil. Mums sometimes get overwatered at gardening centers. This can cause root rot and other moisture-related diseases. Choose plants with moist soil, but not soil that is wet.

Avoid wilted mums. Mums don't tolerate drought well, and wilted mums are a sign of mums that may be at the end of their blooming season. Instead, choose fresh-looking mums that have a bunch of unopened buds on them. This will ensure that you continue to have blooms for several weeks after planting. 
Mums Are the Perfect Fall Flower
Easy enough to take care of for beginners and garden veterans alike, the popularity of mums flowers is well-earned. These beautiful blossoms will keep your containers and landscaping borders colorful all autumn long.