Annual flowers come in an array of colors, shapes, and textures. There are several common annual flowers available at your local garden center that are easy to grow and will instantly enhance your garden. For the biggest impact, choose a variety of annual flowers with consecutive bloom times to ensure continuous blooms from spring to fall.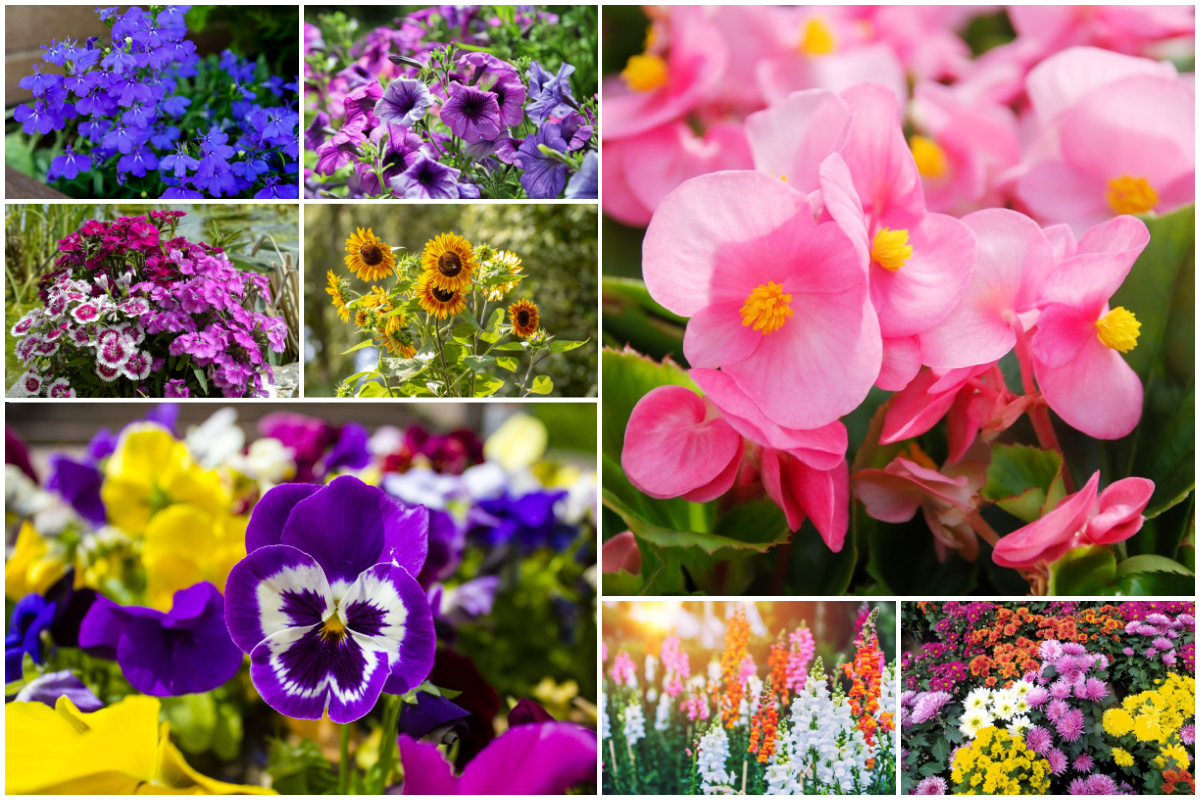 What is an Annual Flower?
The common definition of an annual flower is a flower that completes its life cycle in one growing season. A complete life cycle includes germination, growth, flowering, seed setting, and dying. These flowers are traditionally planted in the spring, once the risk of frost has passed, and will continue to bloom for a period of time, the length of which depends on the plant.
The Benefits of Planting Garden Annuals
While new annual flowers often need to be replanted at the beginning of each growing season, there are still many benefits to adding annual flowers to your garden and landscape design.
Instant Color
One of the most rewarding benefits of planting annual flowers in the spring is the instant gratification you feel. Most common annual flowers are started in massive greenhouses weeks before they are available for purchase. Therefore, when you buy them from the garden center, they already have blooms on the plant. In as little as an hour or two spent outdoors, you can have bursts of color throughout your yard in just about every color imaginable.
Enhance Your Garden Design
Most gardeners will agree a good foundation of perennial plants is essential to a long-lasting and diverse garden design. The addition of garden annuals is a quick and easy way to add texture, depth, and variety to your garden design. Annual flowers are perfect for filling in bare spots between your growing perennial plants. Clusters of blooming plants also work well to camouflage the less visually appealing areas of your larger perennial plants, such as at the base of flowering bushes.
Attracts Pollinators
No matter whether you're growing perennial plants and trees, fruits, or vegetables in your garden, if the plant produces flowers or food it needs to be pollinated to be successful. Planting brightly colored annual flowers close to your other plants will attract bees and other pollinators to your food-bearing plants. The best annual flowers for attracting bees are those in the blue and purple color spectrum. Butterflies and hummingbirds are also attracted to several types of annual flowers and will likely move on to pollinate your other garden plants once they're done with the annuals.
Common Annual Flowers to Plant
Whether you're an experienced gardener or just starting your growing journey, it never hurts to incorporate some of the most common annual flowers into your design. These flowers have become popular for good reason–they're hardy and produce great blooms. To help you design a garden that continuously blooms throughout the growing season, we've divided these annuals into their respective flowering season.
Spring Annual Flowers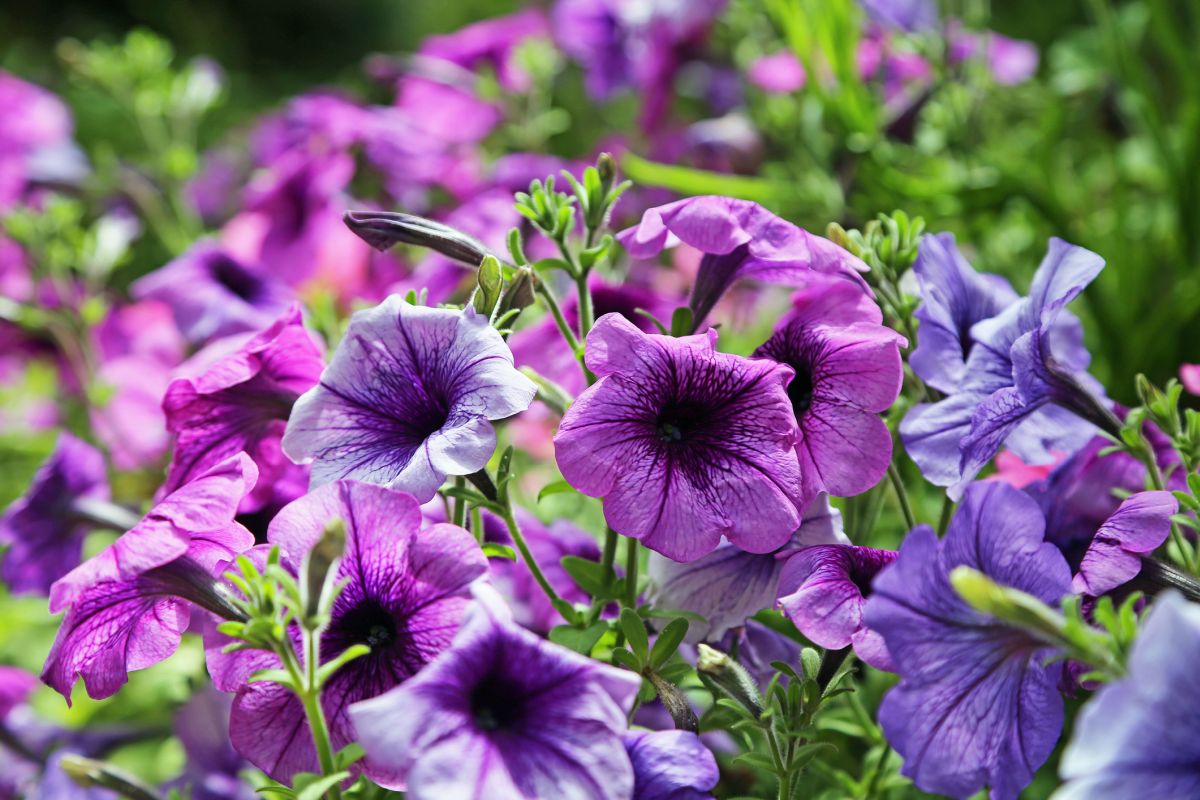 Petunias: One of the most prolific annuals available, Petunias perform beautifully from spring to fall with proper care. These annual flowers are available in a wide array of colors and work great in garden beds, pots, and hanging baskets. Plant Petunias as soon as the risk of frost has passed to add instant color to your budding spring garden. Provide full sun for optimal blooming and keep the soil consistently moist but not soggy. Fertilize once per month with a balanced, flower fertilizer and deadhead expired blooms to encourage new blooms.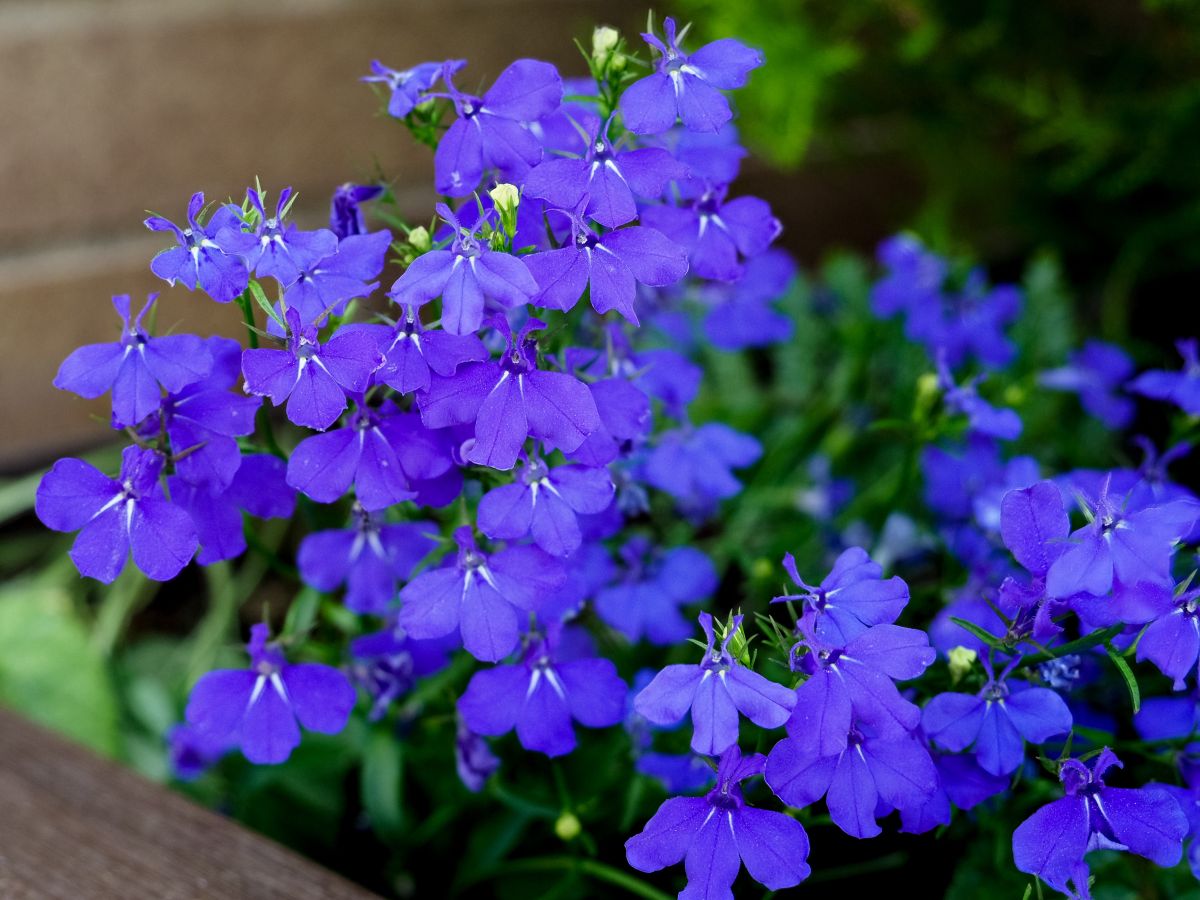 Lobelia: These small but vibrant blooms are perfect fillers for hanging baskets or as boarders in your garden. The flowers are either a striking blue or purple tone and are deer resistant. These blooms thrive in either full sun or partial shade and are somewhat cold hardy once the risk of frost has passed.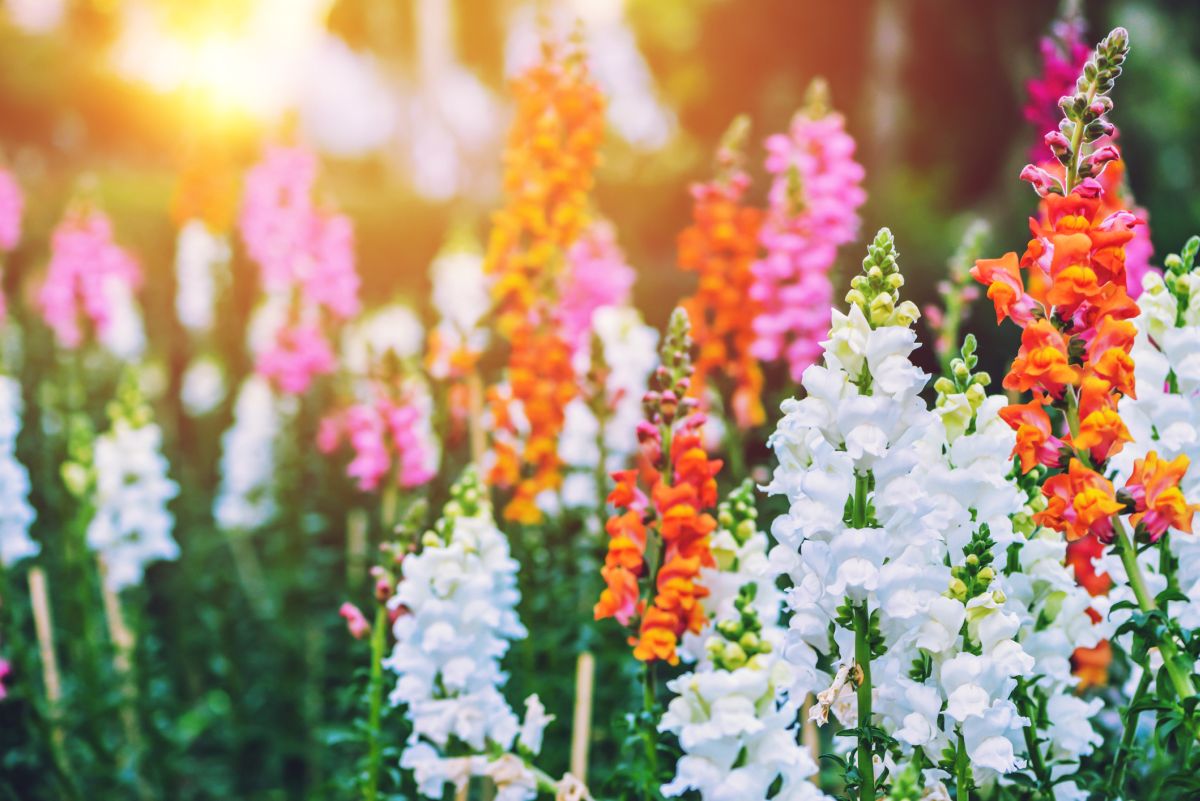 Snapdragons: Snapdragons are perennial flowers for zones 7 to 11, but are grown as spring annual flowers in colder climates. These cold-hardy blooms will grow between six inches and three feet tall, making them a great choice to add height and dimension to your garden. There are lots of colors to choose from to suit your garden's color theme.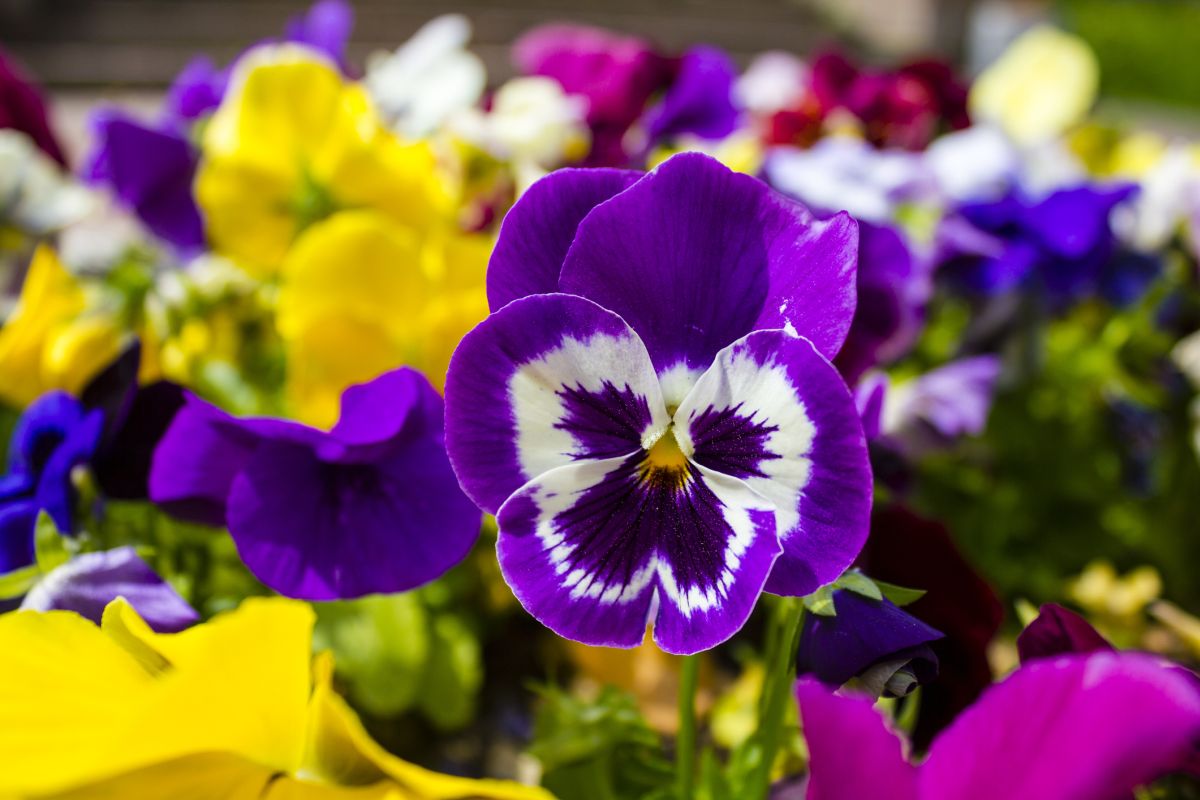 Pansy: Small but tough, Pansies are another spring-friendly flower to add color to your garden. Plant these small flowers in containers or directly into your garden as a groundcover. If planted close enough together these flowers will bush out and act as a weed inhibitor for bare spots in between your larger perennials.
Summer Annual Flowers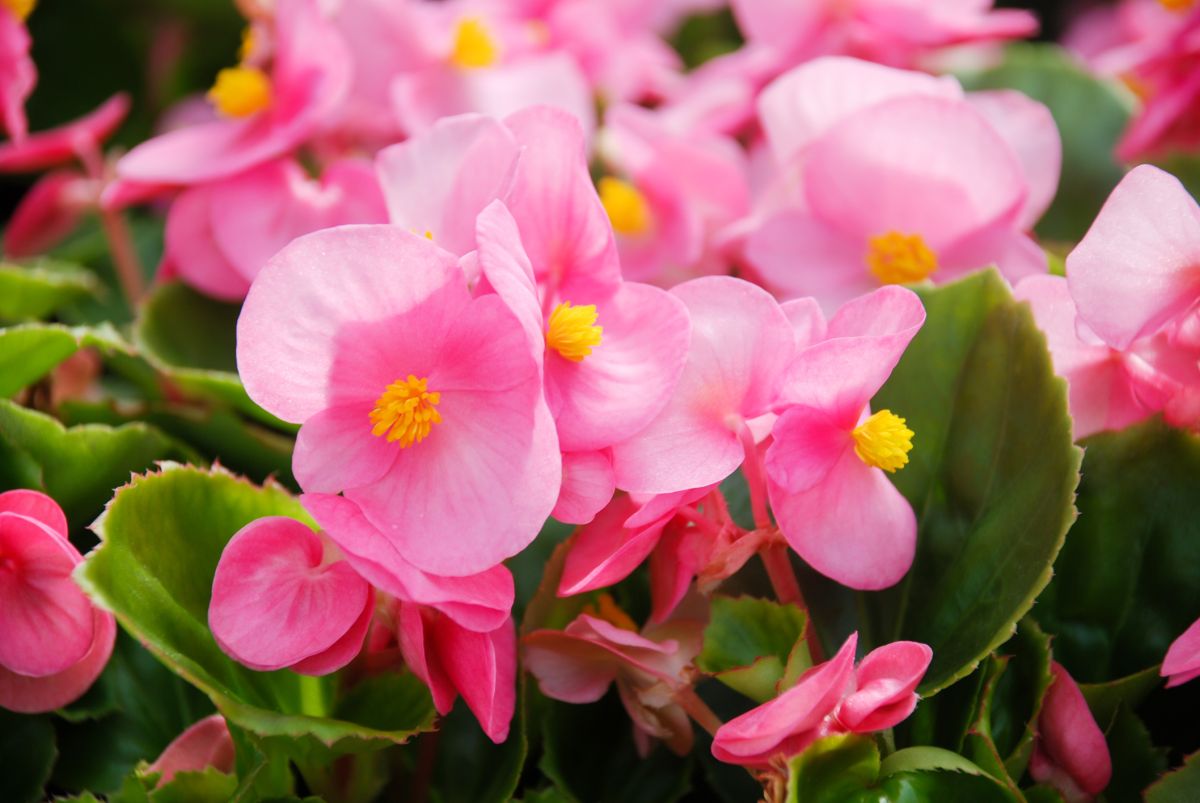 Begonias: Grow these long-blooming flowers in any sunlight conditions and they'll still do well. These low-maintenance plants don't require pruning or deadheading, perfect for those who want an easy splash of color. While these flowers are considered annuals, you can dig up the tubers and store them for replanting next spring.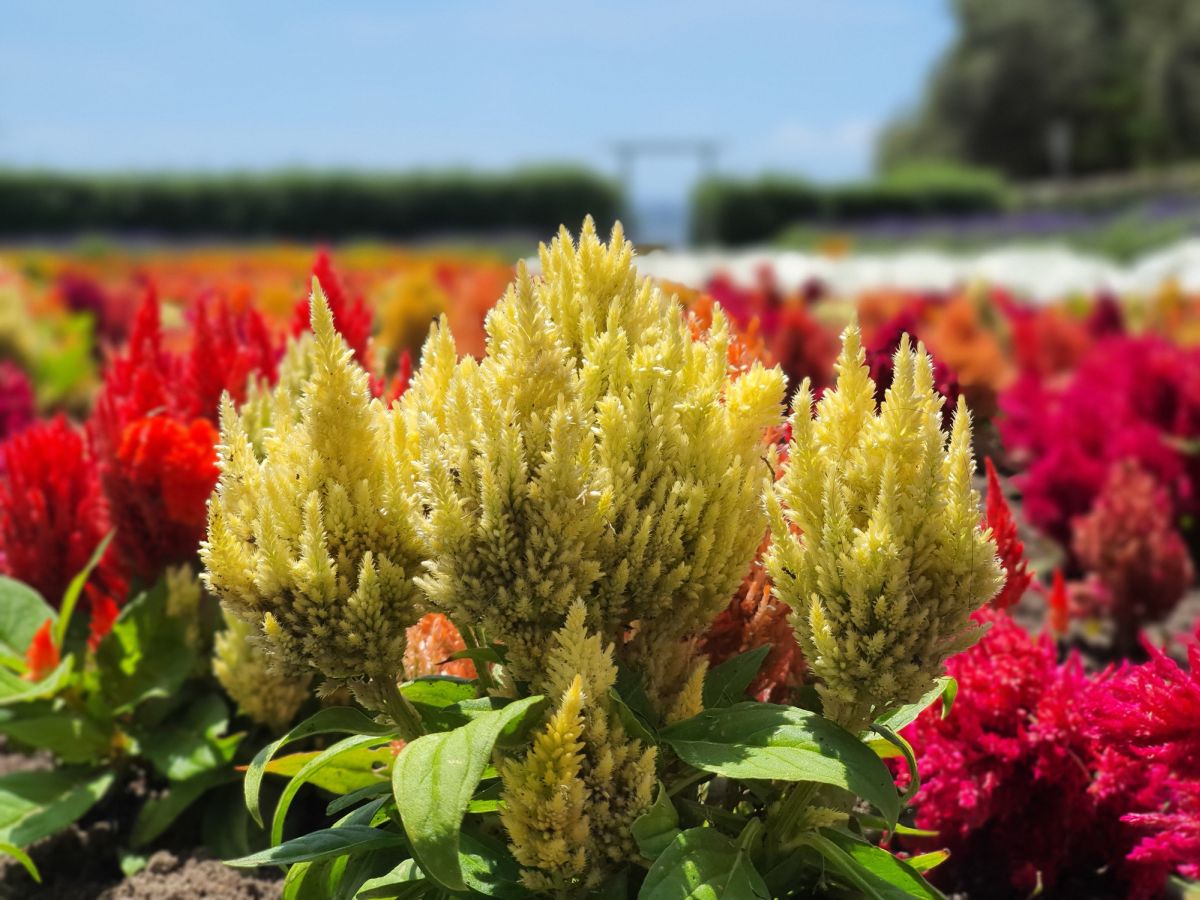 Celosia: Flowers don't get more fun than the bright and beautiful Celosia. Almost whimsical in appearance, these feather-like flowers come in a variety of very bright colors that stand out even in a crowded garden. These flowers make great focal points in a container arrangement and grow fast to fill out even a large flower pot.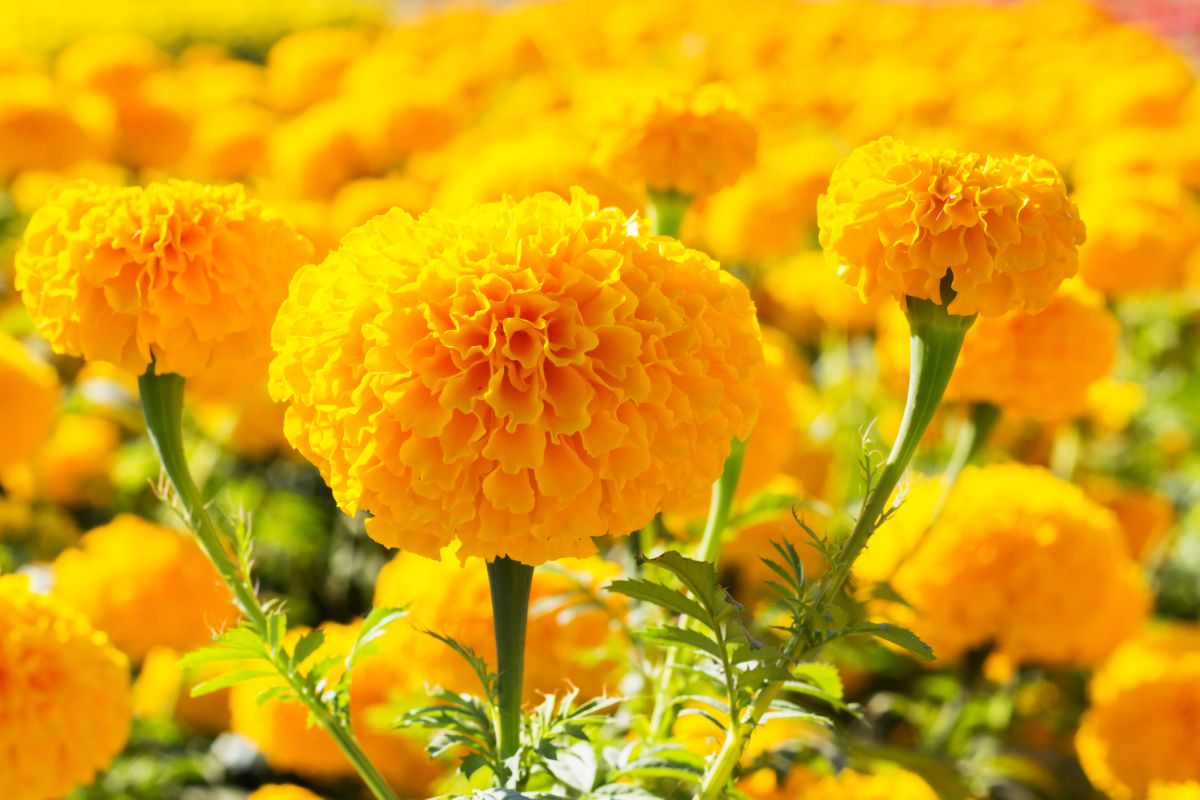 Marigolds: When you need an annual flower that bushes out and fills in a pot or space quickly, Marigold's fit the bill. Marigolds are the best annual flowers for low maintenance flower pots as they'll fill in early and don't require much maintenance beyond watering and deadheading. Provide full sun for optimal blooming.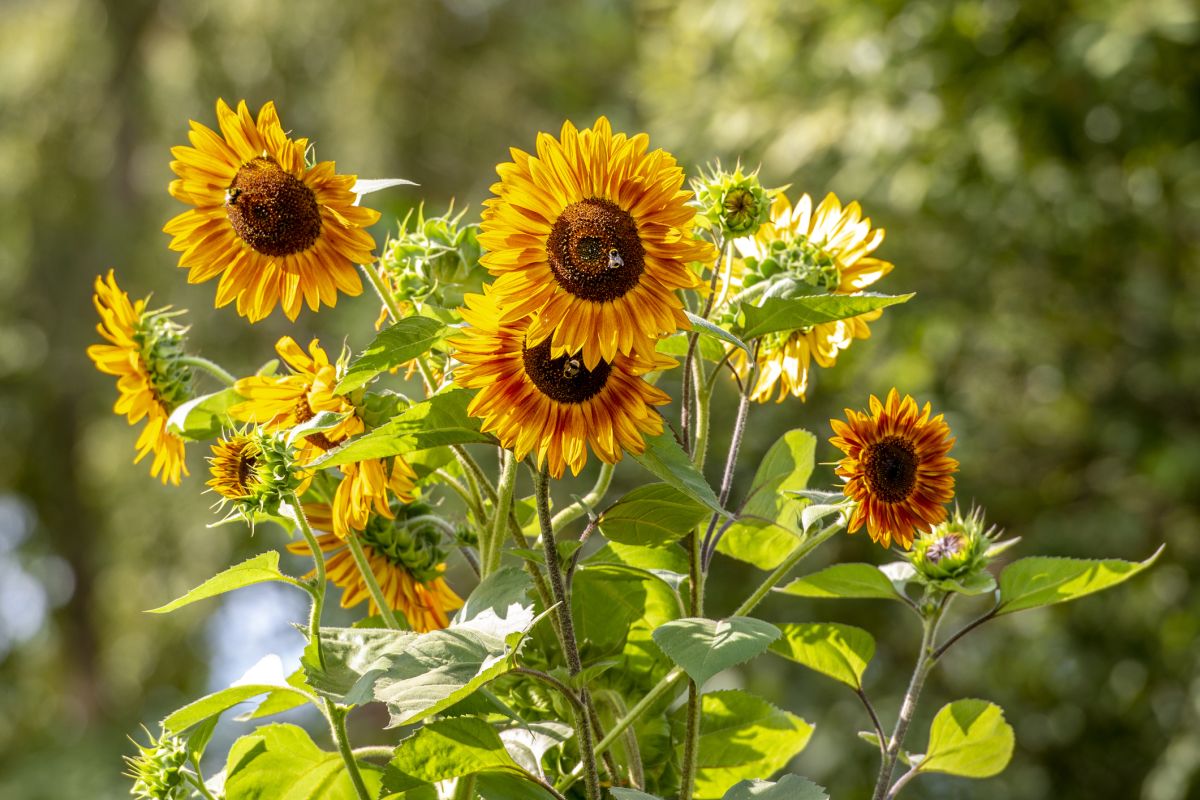 Sunflowers: Include these large, joyful flowers in your garden to add a splash of bold, sunny color. You can choose to grow the traditional yellow Sunflowers or get creative by choosing other varieties in red, white, orange, or pink. Sunflowers bloom from summer to fall and will grow several feet tall when well cared for.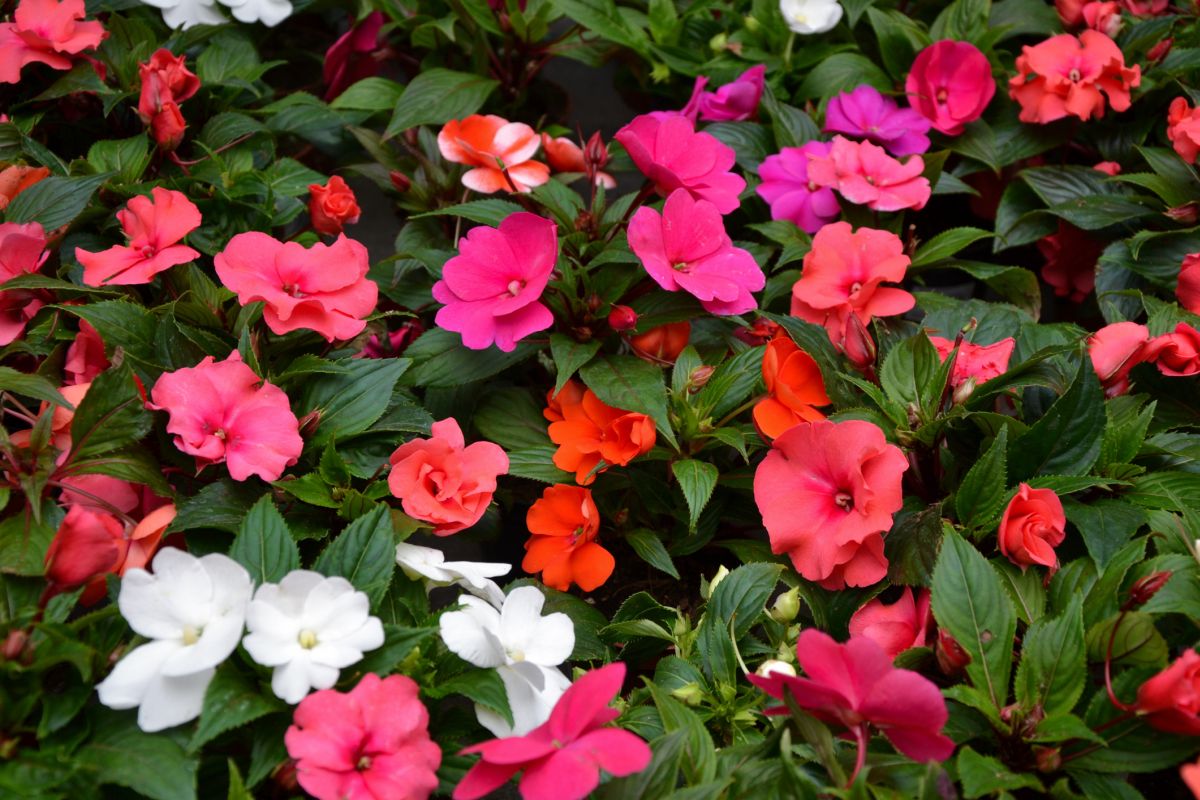 Impatiens: Finding bright annual flowers that thrive in shade can be a challenge. Impatiens thrive in low light and fill in quickly to create stunning borders or fill in pots. Keep their soil moist and fertilize at least once per month to encourage continuous blooming. Choose from single or double-bloom varieties in a variety of colors.
Fall Annual Flowers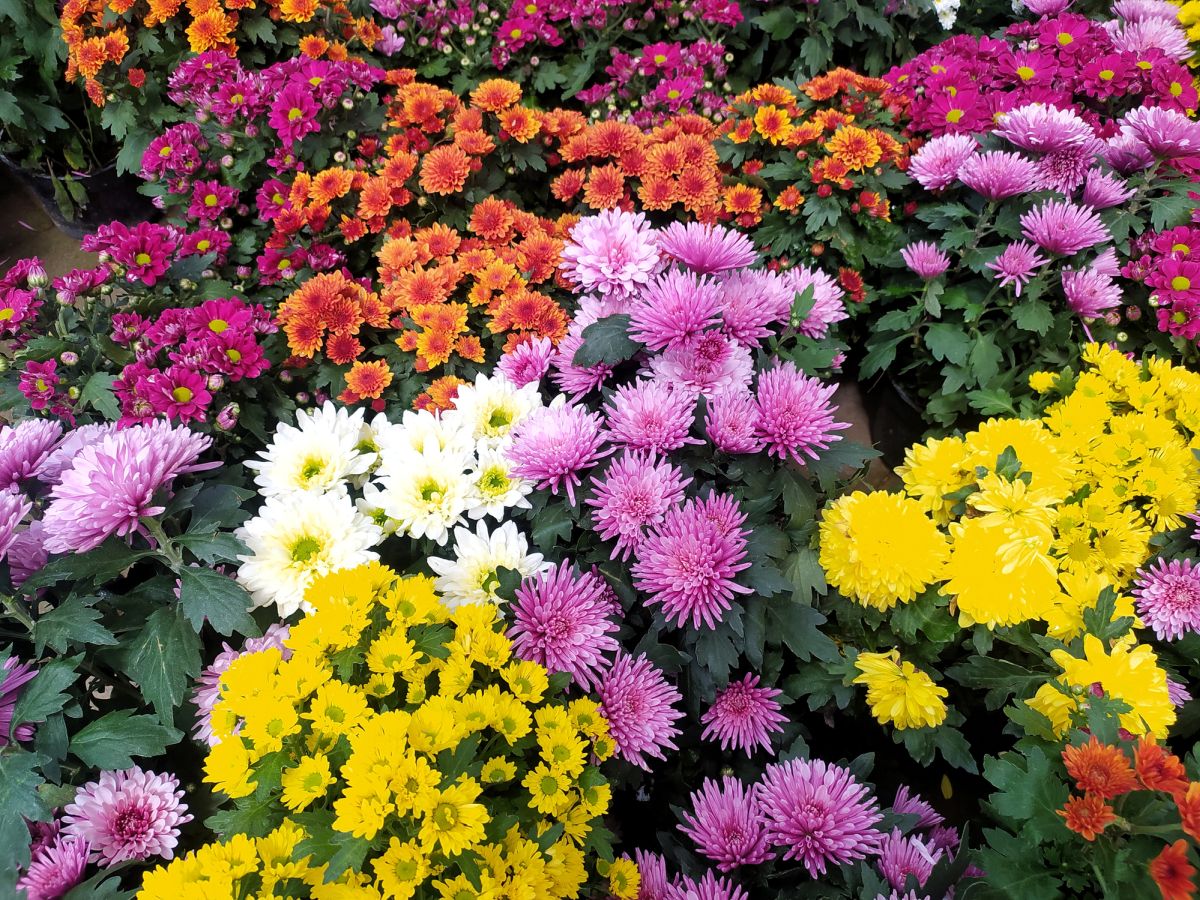 Chrysanthemums: While there are perennial varieties of Mums, the potted annual flowers you can buy in the fall will likely only last until frost hits. That aside, these blooms are available in rich tones in either small or extra-large bloom size. Mums make it easy to add a late-season color to porches, decks, or walkways.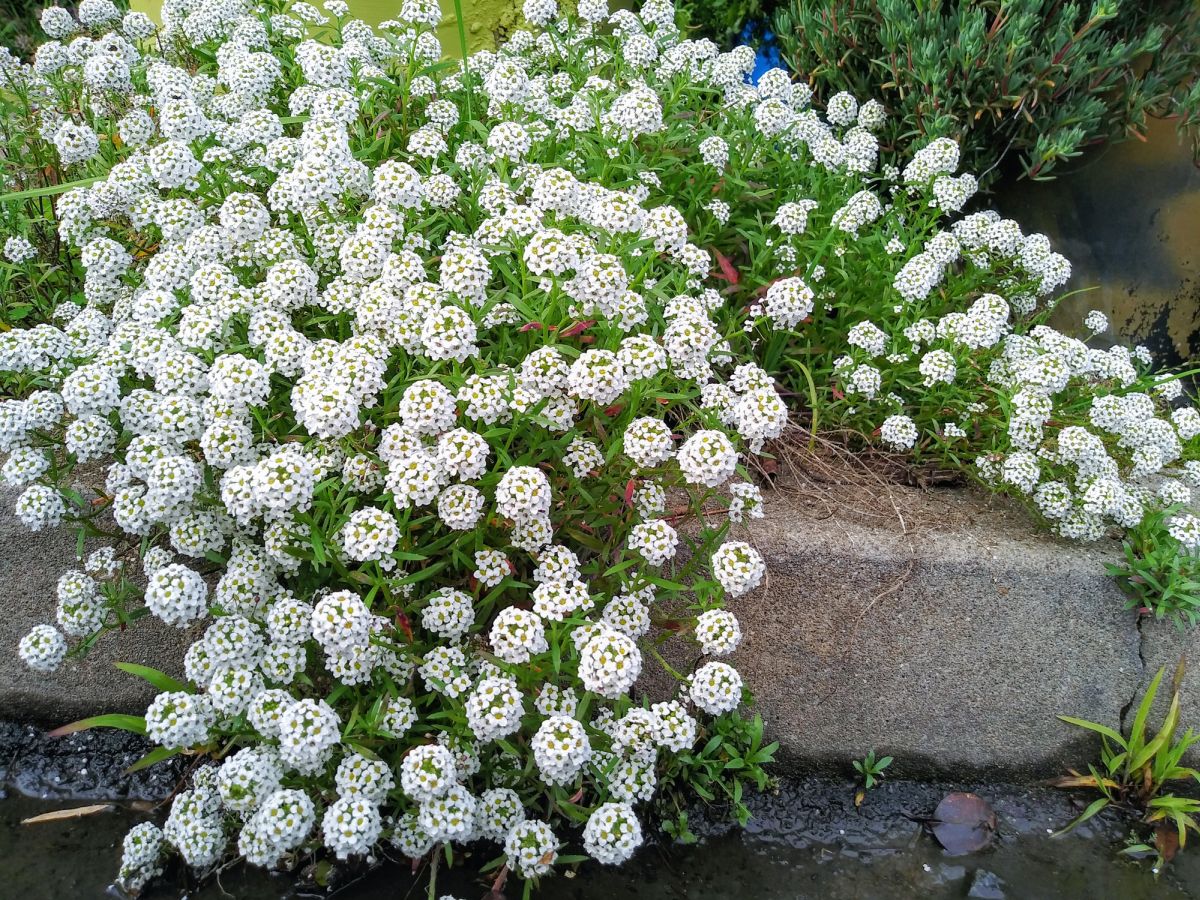 Sweet Alyssum: These delicate blooms make a stunning groundcover in the garden or a colorful spiller in container arrangements. Though they are small, Alyssum is cold hardy and will bloom all fall and even into the winter in warmer climates. As a bonus, these flowers have a wonderful fragrance to enjoy.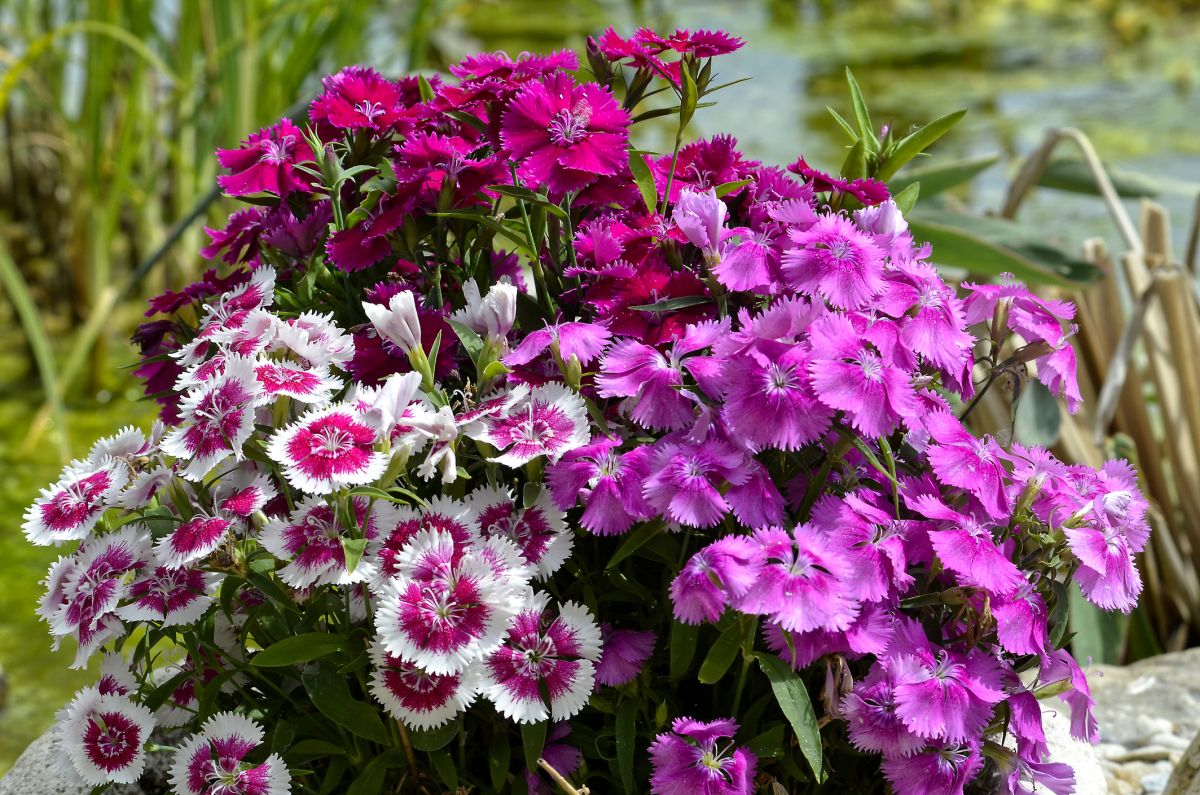 Dianthus: Another fragrant fall flower, Dianthus look like miniature carnations and come in a variety of colors and color combinations. Dianthus prefer at least six hours of sun per day, but will grow in partial shade if needed. Choose these hardy blooms for raised flower beds at the front of your home for an instant boost in your home's curb appeal.
Adding garden annuals to your landscaping endeavors lends depth, color, and variety to your outdoor spaces. There are annuals that bloom in just about any season or sunlight conditions so no area of your yard needs to be devoid of colorful blooms. Consider including annual flowers in your garden to complement your perennial plants and improve your landscape design.
Annual Flowers FAQ
Should I Fertilize My Annual Flowers?
Growing and blooming continually requires a lot of energy. To provide these needed nutrients, feed your annual flowers at least once per month, up to once per week. Use a granular or liquid fertilizer, depending on the flowers you're feeding. 
What Should My Annual Flower Fertilizer Include?
The nutrients annual flowers need to thrive depends on what annuals you're growing. Nitrogen is considered the nutrients that help plants produce new stems and foliage–in other words, become a bigger plant. Phosphorus is often associated with bloom production. Get to know your flowers and learn which your flowers need.  
What Type of Soil Do Annual Flowers Prefer?
Annuals prefer a light, well-draining soil. If you're growing flowers in pots, choose a quality potting soil. For garden planting, amend your soil with either peat moss or compost to lighten the soil and ensure sufficient nutrients.
How Far Apart Should You Plant Annual Flowers?
As a general rule, take the height your flowers will grow to at maturity and divide that length in half. Use this number as a spacing guide to plant your annuals. 
What Are the Best Annual Flowers for High Heat?
The best heat-tolerant annuals include Sunflowers, Zinnias, Celosia, and Marigolds.