It's the ideal hanging plant, with its heart shaped leaves growing on thin vines that can eventually trail for feet and feet.
But what do you do when your string of hearts (also known as Ceropegia woodii) gets a little too long or too scraggly? Hanging plants can lose a bit of their charm after a while, but fear not! The solution to these issues consists of simple propagation, which allows you to shorten the vines, root them and place them back in the original pot or create an entirely new plant. 
How? Keep reading to find out how to propagate your string of hearts to create infinite rooted vines.
---
Note: Are you looking for more information on growing a string of hearts beyond just propagation? You can find a full string of hearts caresheet over here that contains everything you need to know.
---
Propagating string of hearts | Water method
My favorite propagation method is water propagation. It's easy, almost always works and allows you to see how far along the rooting process is. I also just love the look of pretty glass vases all around the house.
If you want to propagate your string of hearts using the water method, all you need is a little vase, clean scissors and some water. Simply snip off the vine pieces you want to root and place them in the vase. That's it. All you need after this is some patience and a nice light, warm location to place the vase.
If all is well, roots should appear after anywhere between a few days and a few weeks. How long it takes depends on factors like light and temperature. After the vines have rooted you can pot up your plant as described in the string of hearts caresheet (link above) or just leave them in the vase indefinitely.
Propagating string of hearts | Soil method
Prefer your plants in pots rather than vases? The soil method is another super easy way to propagate your string of hearts that comes in especially handy when your plant has gotten too long or scraggly and you want to shorten it or give it a fuller look in the same pot.
How do you do it? Well, as with the water method this is quite easy. Just snip off the vines the way you prefer. Remove some leaves on the side you want to plant and stick the vines into the soil. Make sure at least a few nodes (tiny bumps on the vine that leaves or roots can grow from) are covered in soil or at least touching it. Then, spray the parts that touch the soil once a day or so to encourage rooting. Voilà! Once roots have appeared you're good and new growth should start to pop up soon as well.
Not sure what kind of soil a string of hearts needs? It's described in the caresheet.
Propagating string of hearts | Tuber method
If you've had your string of hearts for a while you might have spotted some small, round and almost "potato-like" growths on the vines. Parasites? Disease? No, aerial tubers! These useful beads can actually be used to propagate your plant.
To propagate a string of hearts using the tuber method, try to find the largest tuber that's on the plant. A fingernail-sized specimen would be a great option. Once you've located a tuber there are two options. One is to just leave the tuber on the vine and press it into the soil. This has almost a 100% chance of success: the tuber will root and start sprouting more vines.
If you want to remove the tuber from the main vine, try to at least leave some foliage on it. Place it in a pot and mist daily to keep the soil ever so slightly moist. After a few weeks the tuber will likely have rooted. If it's rooted but taking its time to produce vines, don't worry! It's likely working hard underground to strengthen the root system first.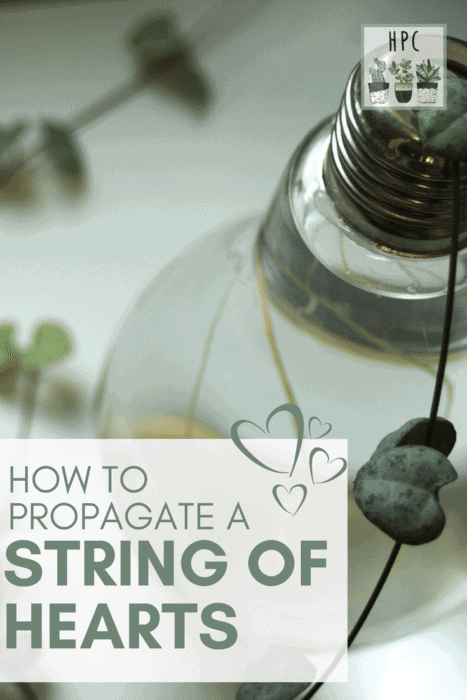 ---
Bitten by the propagation bug? Have a look at the propagation category on Houseplant Central for more propagation inspiration.
---
Subscribe to the Houseplant Central mailing list!
---